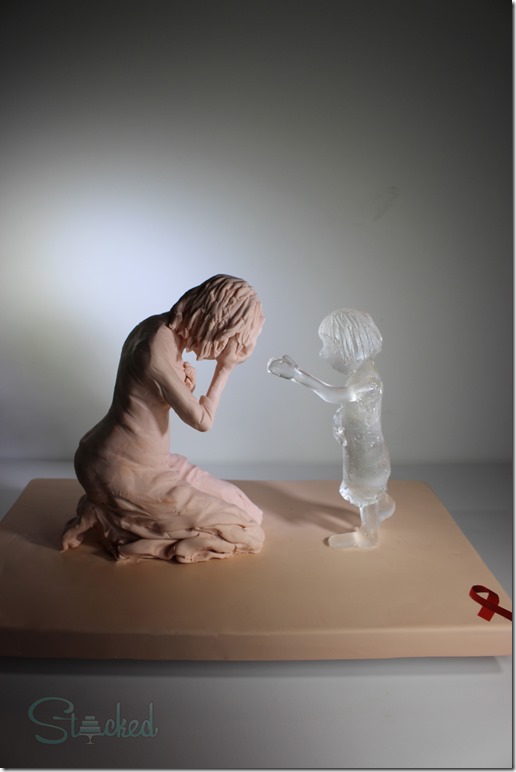 This Mother and Child cake was made by Erin Schwartz from Stacked in Virginia.
BeTeamRed – Inspire and Act to Create Change
BeTeamRed is a collaboration of 200 sugar artists from around the world focusing on World AIDS Day.  This is one post of a series of posts that feature edible creations of cakes and cookies for December 1st, i.e. World AIDS Day.
Please click on the links below to contribute to The Global Fund to support their war on HIV/AIDS , TB, and Malaria in countries in need.
You can also purchase  UN Sugar Art Magazine  and  the UN Sugar Art Tutorial Booklet  to support The Global Fund. 
The World AIDS Day cake above was made by Erin Schwartz from Stacked.
This Latin American Mother and Child Cake was Made by Florence Devouge from Corazon de Azúcar in Sant Cugat del Vallès, Spain
Florence Devouge was born in Argentina, but she has lived in Spain for the past 13 years. She has been baking and decorating cakes for 3 years.
She made her first decorated cake for her eldest son's birthday. She enjoyed creating an idea and moving it to a cake. Her specialty is modeled figures. It's what she loves to do and she has her own unique style. She is passionate about 3D carved cakes. She teaches Cake decorating courses across the country and enjoys it very much!.
Her cake is a tribute to Latin American mothers. It is full of color and joy because there is hope of eliminating the mother to child transmission of HIV, because Cuba has become the first country in the world to do so.
Soy Argentina de nacimiento pero vivo en España desde hace 13 años. Llevo horneando y decorando tartas desde hace 3 años. 
Mi primera tarta decorada la hice para el cumpleaños de mi hijo mayor y me di cuenta de lo feliz que me hacía creando una idea y trasladándola a una tarta. Mi especialidad son las figuras modeladas. Es lo que más me gusta hacer y creo que he logrado tener un estilo propio. Pero también me apasionan las tartas en 3D talladas. 
También me dedico a enseñar lo que sé. Doy cursos por todo el país y lo disfruto muchísimo!.
Mi tarta es un homenaje a las madres latinoamericanas.  Está lleno de color y alegría porque existe la esperanza de eliminar la transmisión de madre a hijos, como lo ha hecho Cuba al convertirse en el primer país en el mundo en conseguirlo.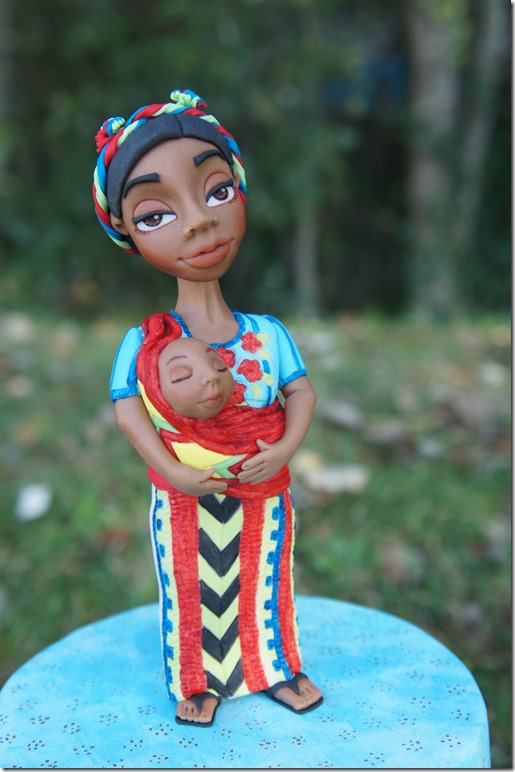 This Mother and Child cake was made by Hajnalka Mayor from Zorica's Cake Art by Hajnalka Mayorin British Columbia, Canada.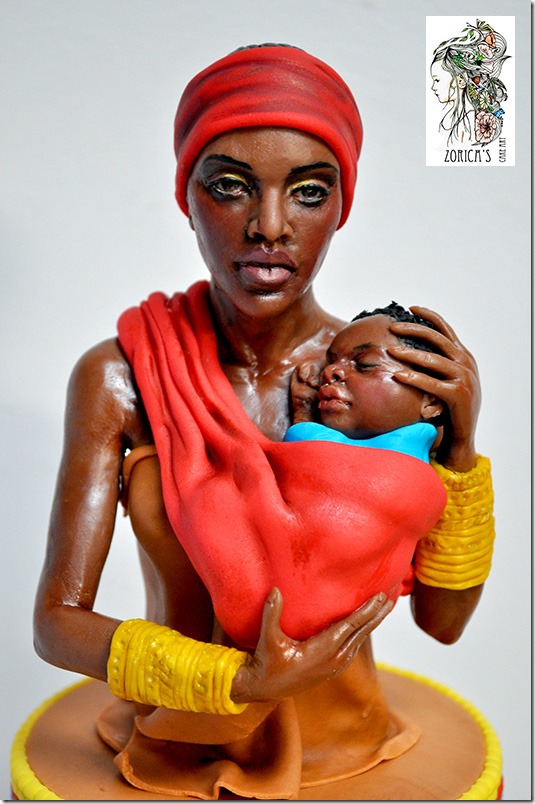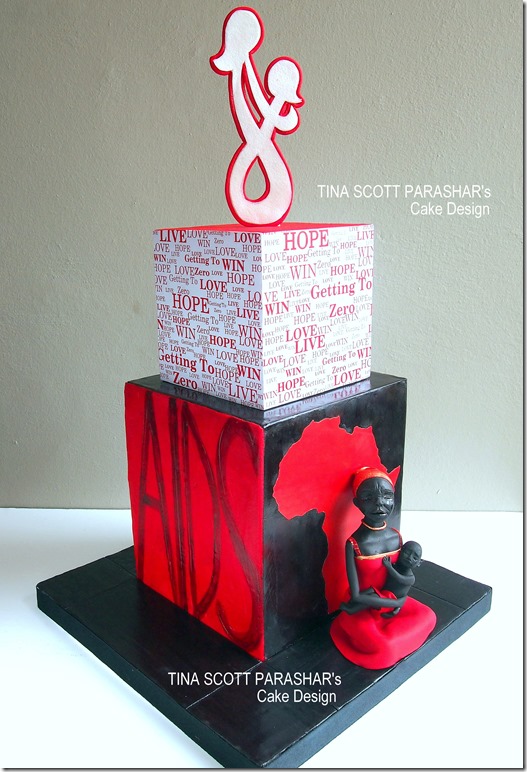 This World AIDS Day Cake was Made by Tina Scott Parashar from Tina Scott Parashar's Cake Design in Johannesburg-South Africa.
Tina Scott Parashar is a hobby cake decorator who entered this industry 3 years ago. She has a modern style that is clean and very detail oriented. In 2014, she won Gold and 2nd place in the World Orchid Conference and in 2015, again Gold and 2nd prize in Cake International, London. 
She has a post graduate degree in Fashion Communication and worked in the electronic media industry for 6 years but then decided to quit after the birth of her son. This break from her professional career gave her an opportunity to explore her creative side and her love for Art by delving into the world of cake decoration. She is originally from India but she has been based in South Africa for the past 2 years. 
Through her piece she wanted to focus on the AIDS epidemic in Africa, and how it impacts the most vulnerable – the mother and child. The mother's tears represent her desperation and frustration at being unable to help her child. The bottom tier depicts the suffering caused by HIV and AIDS. The upper tier represents hope and the triumph over this curse of our society and the hope of complete victory over mother to child transmission. 
The symbol on top, which is also shaped like the AIDS red ribbon, represents the infinite love between the mother and child.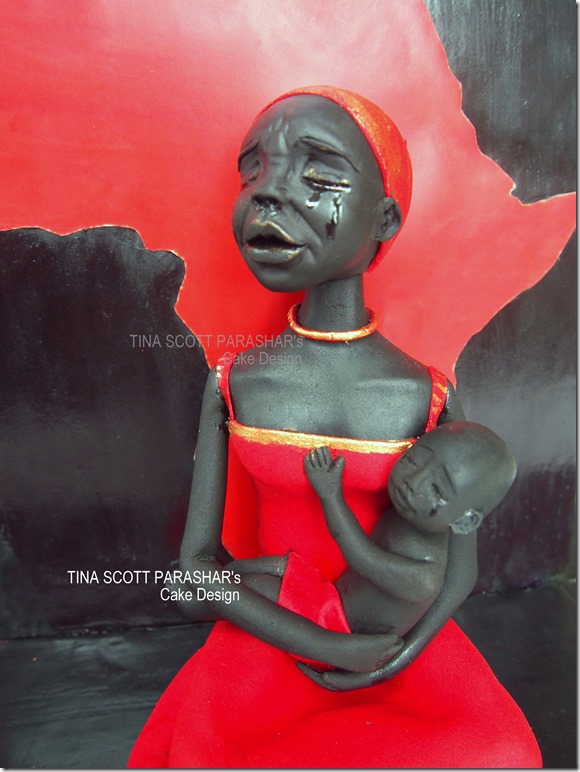 This cake was made by Vicki "Cleo" Louise Smith from Incredible Edible's in Flint, UK.
This cake was made by Aga Leśniak from Handmade with Love by Aga in Dublin, Ireland.