BeTeamRed – Inspire and Act to Create Change
BeTeamRed is a collaboration of 200 sugar artists from around the world focusing on World AIDS Day. This is one post of a series of posts that feature edible creations of cakes and cookies for December 1st, i.e. World AIDS Day.
Please click on the links below to contribute to The Global Fund to support their war on HIV/AIDS , TB, and Malaria in countries in need.
You can also purchase UN Sugar Art Magazine and the UN Sugar Art Tutorial Booklet to support The Global Fund.
The World AIDS Day cake above was made by Versa Walker from Verusca Walker Cakes in Sydney, Australia.
Cake Inspiration:
"My inspiration was you Zawadi. One simple idea to helping others and spread the message about life. One idea (a light globe) full of life inside represented by Butterflies and of course in red color to represent blood."
"One simple idea can change lives"….. Verusca Walker
Verusca Walker is a Brazilian born Cake Artist who has been living in Australia for the past 16 years. With a background in Fine Arts and Bakery Studies, Versa loves to mix mediums to create edible art that defies gravity. She is well known for her colourful and sparkly cakes and for her 3D cakes that appear very life-like.
She was the winner of LifeStyle FOOD Cake Challenge 2014, and her work has been featured in numerous magazines, newspapers and blogs including Cake Masters.
She was the artist and the lead architect of the 2014 life size wedding "CAKE" chapel featured at the Melbourne Cake Bake & Sweets Show 2014 – where a couple won a competition to be married inside it!
Versa travels all over the world teaching the art of cake decorating. With an incredible fun personality she has a very unique way to teach and to create her cakes. It is a must have experience to be part of Versa Walker's classes! She is the Satin Ice Artist of Excellence and has partnership with Kitchen Aid and Magic Colours to represent them all over the world. She also as been the Cake Masters Award Judge for 2 years now.
This World AIDS Day cake was made by Berna Garcia from Illusiona Cakes in Madrid, Spain
Inspiration for her cake: She says,
"I was inspired by some African masks that I have in my living room. From there it all began! The masks represent the hypocrisy of the powerful (countries, Governments) that turn a blind eye to the drama that this people lives, and worldwide.
She represents the helpless human being, mutilated, with a face without identity, reflecting many anonymous struggle against this pandemic and that only hope left them."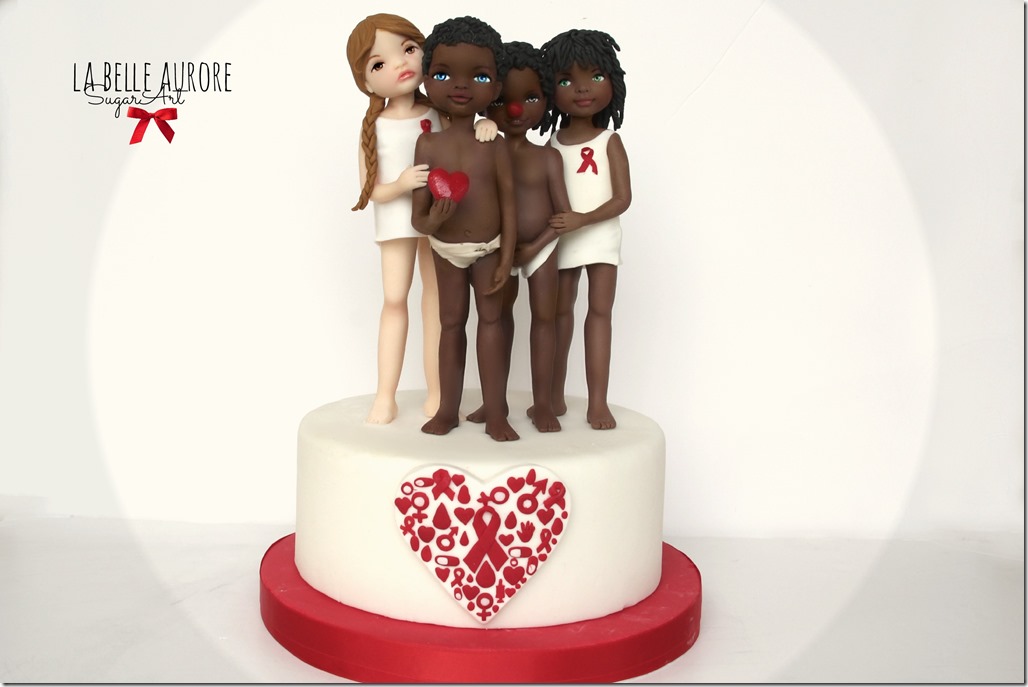 This Children of the World cake was made by Aurora Bonafide from La Belle Aurore in Lazio, Italy.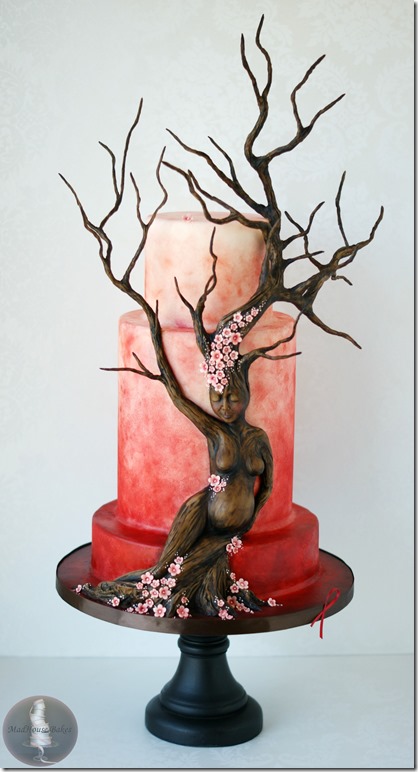 This World AIDS Day cake was made by Tonya Alvey from MadHouse Bakes in Missouri.
Tonya Alvey has always loved to bake, but had never tried sculpting or painting with cakes (or anything else) until 2011, and it was because of her children' birthday requests. She fell in love with it and is always pushing herself to learn more and to be unique. She especially loves tree art, and is continually inspired by trees.
For her inspiration for this cake she says: "For this collaboration piece, I incorporated my love of trees, with the gift of motherhood. It is my wish for all pregnant women to experience the beauty and peace I associate with pregnancy."
One fun fact about myself:
"I started face and body painting last year, and love it! I do it frequently throughout the year at fairs, festivals, and private parties."
This cake was made by Cassie Brown from Cassie Browns Designs in Worcestershire, UK.
Cassie Brown has been a part of the cake decorating and sugar craft world since the age of 14. She has run a successful cake making business, designed lots of articles for cake magazines world wide, produced several DVDS,and written 2 books Airbrushing on Cakes and Sugar Sensations. She loves designing cakes and products to help others create stunning cakes. Her other favorite thing is judging, she loves seeing people succeed in their dreams.
Her Business has developed and changed a lot over the years from making cakes for special events to traveling the world teaching people how to create their own stunning cakes. She has worked on QVC TV and she is now a regular guest presenter on Create & Craft TV and Cake Academy. She has 3 beautiful children, so she is also a full time mum and wife.
This cake that represents a Box Sculpture of Mother and Child was made by Joanne Wieneke from The Little CakePatch in Connecticut
The inspiration for her cake was a Box Sculpture of Mother and Child by Artist : Susan Clinard. Joanne got permission from the original artist to use this piece as inspiration.
Joanne says of her piece,
""Because with my offspring I will fight with the fangs of the wolf and the claws of the dragon and no one and nothing will stop me from protecting them"
"I have made you, and I will carry you, I will sustain you and I will rescue you".
A powerful literary quote and a verse from the Book of Isaiah that guided me as I worked through the expressions to convey emotions of a Mother's love, strength and devotion. From the time a mother conceives, she instinctively nurtures her child and will protect from all forces that will cause harm to her child, in health, heartaches, physical pain and the hardships in life, she will secure her children's future and even unselfishly give up her life if needed…"
These sugar pieces were 2d hand sculpted and were made from 70% gum paste and 30% modeling chocolate.
Joanne's journey with sugar crafting started almost 10 years ago when she realized that her skills for culinary, crafting and painting could be combined to a perfect Edible Sweet Art. This art has led her to experience beautiful, sweet and lasting friendships. It has been her honor and pleasure to have served her edible art on many life events and shared her knowledge and skills through teaching and demonstrations. She will continue to learn and create and enjoy the world of sugar craft as long as her hands and imagination allow.