This cake with a mother and child was made by Jodie Marshall from Little Lady Baker in Port Kennedy, Australia.
BeTeamRed – Inspire and Act to Create Change
BeTeamRed is a collaboration of 200 sugar artists from around the world focusing on World AIDS Day. This is one post of a series of posts that feature edible creations of cakes and cookies for December 1st, i.e. World AIDS Day.
Please click on the links below to contribute to The Global Fund to support their war on HIV/AIDS, TB, and Malaria in countries in need.
You can also purchase The UN Sugar Art Magazine and the UN Sugar Art Tutorial Booklet to support The Global Fund.
The World AIDS Day cake above was made by Jodie Marshall from Little Lady Baker in Port Kennedy, Australia.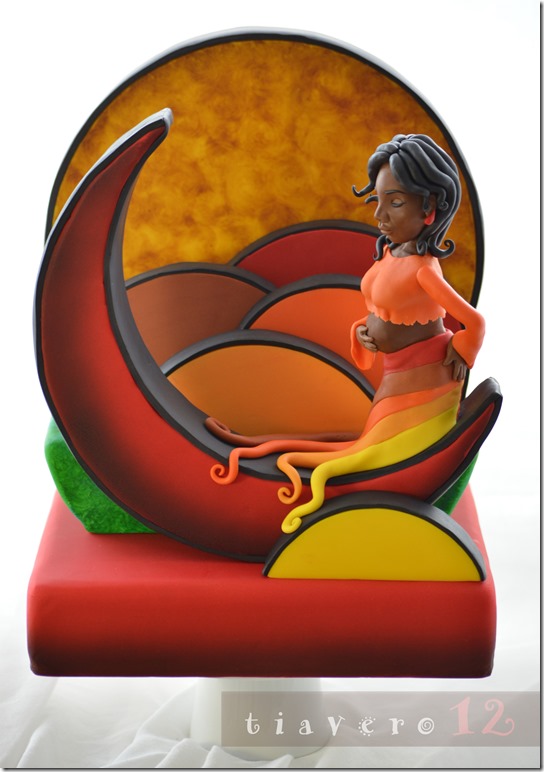 This World AIDS Day cake was made by Veronica Tiavero from tartas da tiavero – tartas da tiavero Facebook page in Garcia, Spain.
Veronica started as amateur in 2005, making cakes for her nephews. That´s where her name "tiavero12" comes from. In 2010, she began a more professional career, taking a class in Portugal in ANCD from a well-known international artist coming from Cake Design. She has won many awards due to her original designs and their big and clean execution. Her education as an architect gave her tools to create many of her pieces. Her passion is sugar modeling and cake sculpting together with taking part in competitions where cakes are made alive. She loves challenges and working under pressure. She currently teaches courses to share with everybody her love for this sweet art. She lives in A Coruña, Galicia, in Northwest Spain.
Her piece was inspired by the relationship of the Lunar cycle with the cycle of women. She represented a woman connected to the Red Moon, taking from it the energy needed to bring her child into the world healthy .

Pequeña Biografía
Comencé en este mundo de la repostería creativa de un modo autodidacta en el año 2005 realizando las tartas a mis sobrinos de ahí mi nombre "tiavero12", a partir del 2010 comencé de un modo más profesional formándome en Portugal de la mano de la ANCD con grandes artistas internacionales del Cake Desing, asociación con la que he participado en numerosos concursos logrando gran cantidad de premios gracias a mis originales diseños y su gran limpieza de ejecución. Mi formación como arquitecta me ha ayudado a la creación de muchas de mis obras dulces. Mi pasión es el modelado en azúcar y las tartas esculpidas así como los concursos en los que se realizan las tartas en directo ya que me encantan los retos y trabajar bajo presión.
En la actualidad me dedico a impartir cursos para compartir con todos mi amor por este arte dulce.
INSPIRACIÓN
Me he inspirado en la relación del ciclo Lunar con el ciclo de la mujer. He representado a la mujer conectada a la Luna roja tomando de ella la energía necesaria para traer a su hijo sano al mundo.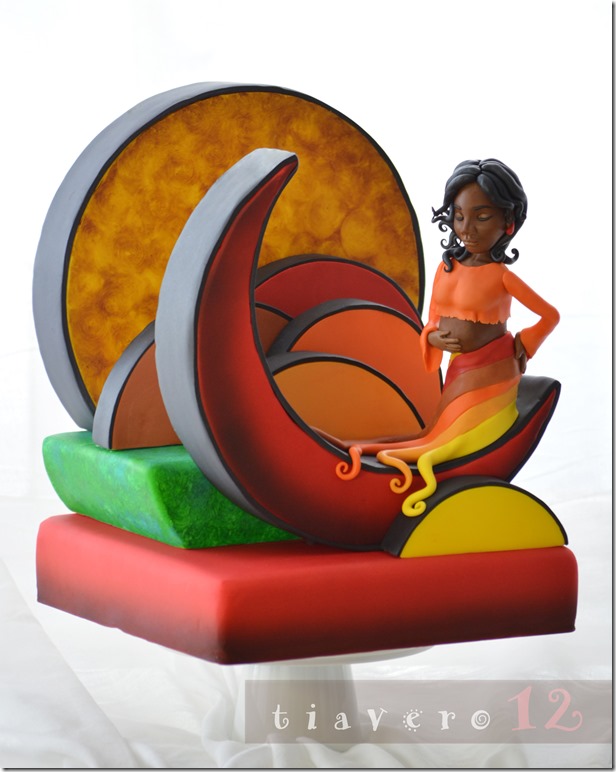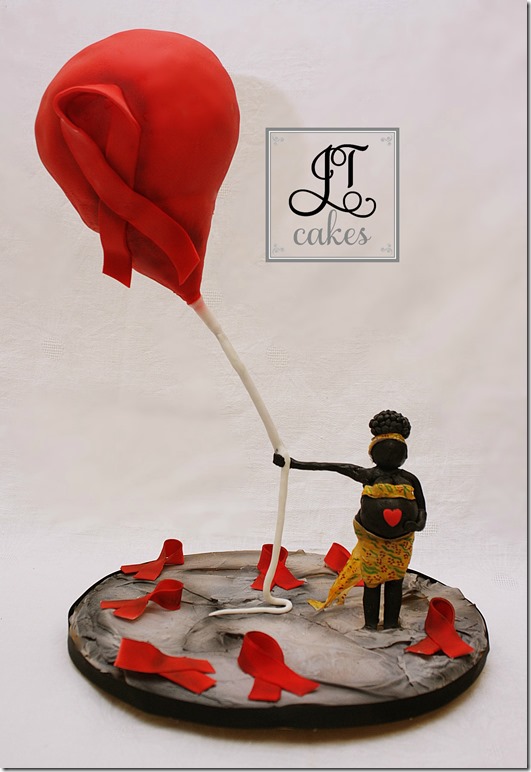 This cake with a Woman with a Gravity defying balloon was made by Jonathan Theuma from JT Cakes in Birkirkara, Malta.
Jonathan's contribution is a gravity defying cake balloon. The balloon represents the Red ribbon for AIDS. He did a pregnant figure holding the balloon cake. The heart on the pregnant figure's belly represents the love for the baby. The balloon is rising up from the grey dark cake board. The grey dark cake board covered in red gum paste ribbons represents the sadness of AIDS.
This cake was made by Trudy Smith from The Chain Lane Cake Co. in Sussex, UK.
Trudy is from East Sussex in the UK. She is a stay at home mum with 2 children. She has always loved baking, but once she had children she bought a couple of Debbie Brown's cake books and had a go at making cakes for her childrens' birthdays.
She made a ladybird cake for her daughter's 1st birthday and a racing car for her son's 3rd birthday that same year and that was 8 years ago. After a few years friends and family asked her to make them cakes too, her hobby grew along with her passion for designing and decorating cakes.
She started The Chain Lane Cake Co. in 2013. The Chain Lane Cake Co. was named after the road she lives on.
Interesting fact about her: She has stroked a tiger and been in enclosures with a lynx and a serval.
She took inspiration for her piece from two separate images – the image of a mother and her baby and the image of a beaded AIDS flag pin. She painted the first image onto a sugar paste disc. The first image is an image of a mother gazing adoringly at her baby who is swaddled in her shawl. The other image was a beaded AIDS flag pin. The pattern of this image was used around the top tier by cutting out lots of sugar paste dots and arranging them to look like the AIDS Day ribbons. She also decided to use a silhouette of a mother and a child repeated around the base tier.
This World AIDS Day cake was made by Reva Alexander Hawk from Merci Beaucoup fine cakes & pastries in California.
Reva's work has been featured in Brides Magazine, Wedding Bells, People Magazine and many local publications and her work has been seen nf E entertainment, Food Network UK, and Style Network. She was recently featured on Duff Goldman's new series "Duff till Dawn" and was part of a winning team on Food Network's "Cake Wars." Reva's fun, whimsical and award winning style is the result of her personality, a true cake decorator who's goal is always to make people smile.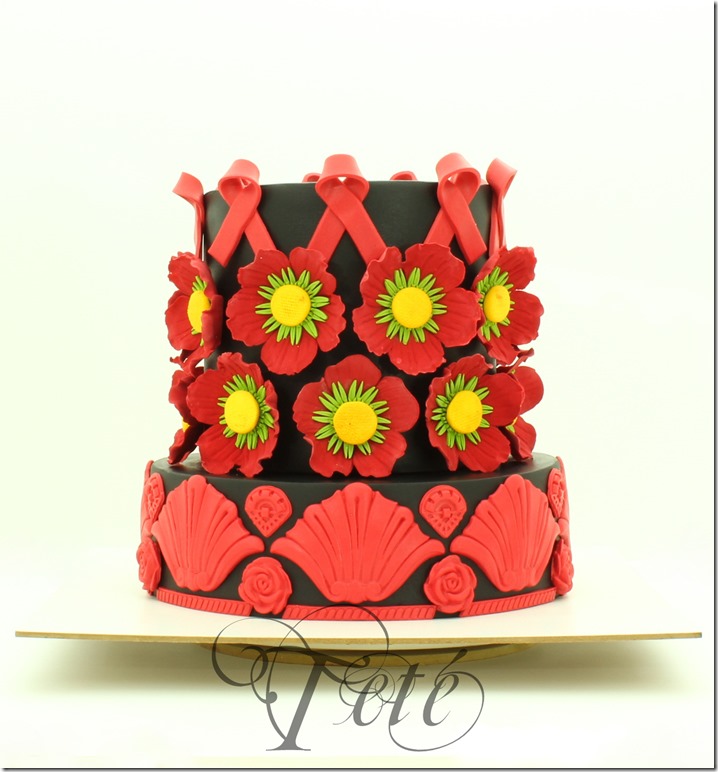 This cake was made by Teté Canastrelli from Teté Cakes Design in Argentina.
Teté is from Argentina. She has had a passion for pastry and cake decoration since childhood and has been making cakes as long as she can remember. In 2012 she started decorating cakes professionally. She is a mother of two children. Her husband helps her with the structures for the cakes
She says, "[He] actually helps me with a lot of other things, but we will not give much credit! Haha! I hope you enjoy my work and they can see all the love you put into it." Teté
Hola a todos, mi nombre es Teté, soy Argentina, y mi pasión por la pastelería y decoración de la torta viene desde mi desde la infancia, desde el 2012 me dedico a ésto profesionalmente, pero hago pasteles desde que tengo memoria. Soy una madre de dos niños, y mi marido me ayuda con toda las estructuras que forman parte de algunos pasteles, en realidad me ayuda con un montón de otras cosas, pero no le vamos a dar mucho crédito! Haha! Espero que disfruten de mi trabajo y puedan ver todo el amor que pongo en él. Teté