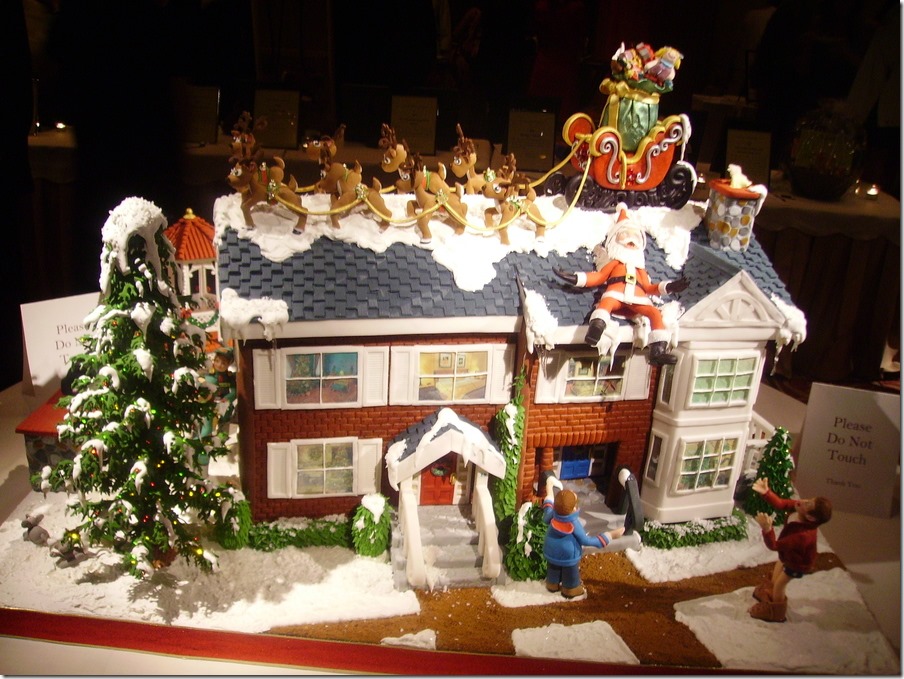 This Christmas Gingerbread scene with Scott Calvin's House from Disney's "The Santa Clause" was made by Cake Central Member Gingi.
In "The Santa Clause", Scott Calvin, played by Tim Allen, is reading "The Night Before Christmas" to his son, Charlie. He hears a noise coming from his roof so he runs outside to investigate. He sees someone dressed as Santa Claus on his roof so he calls out and startles the stranger causing the stranger, Santa Claus, to fall off the roof and disappear. Scott is left with an eight reindeer sleigh and a suit with instructions to put it on if Santa is involved in an accident. Scott puts on the suit and goes around town dropping gifts through chimneys and is then taken to the North Pole where he takes over Santa's job.
This gingerbread house Christmas scene shows Santa's sleigh and eight reindeer on the snow covered roof of Scott Calvin's house. The sleigh has a bag full of presents. Santa has just been startled by Scott so he has fallen down and is in the process of sliding off the roof. Scott and his son, Charlie, are outside the house looking up at the roof and the falling Santa.
The detail of this Gingerbread house is incredible. It looks like a life like miniature of the house. There are tiny red bricks on the house. The roof has gray shingles. The windows have white trim and shutters. The inside of the rooms can be seen through the windows. There is a red front door with a green christmas wreath. The sidewalks have been cleared of snow even though snow is all over the yard and trees and house.
The gingerbread house has a base 40 inches by 30 inches. It is approximately 3 feet tall. It is decorated with fondant, gum paste, sugar candy and icicles, edible images, and royal icing. There are gum paste tree with 6 sets of battery operated lights. This amazing creation took approximately 400 hours to create.
There is firewood stacked to the side of the house. A red and white gazebo is in the back yard. A green, red, and yellow striped awning covers the patio.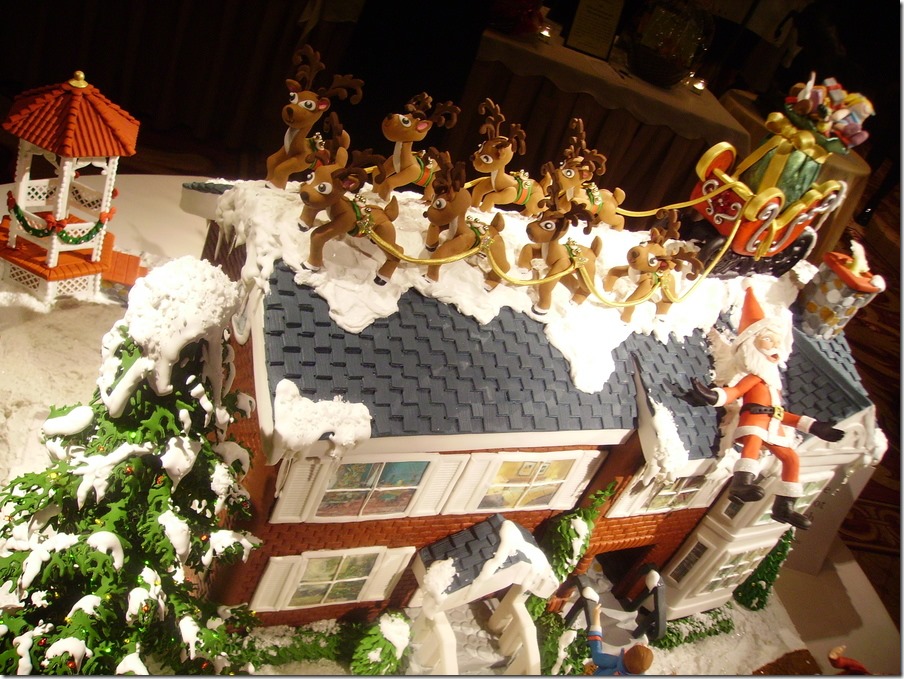 Here's Santa's reindeer and sleigh on the roof.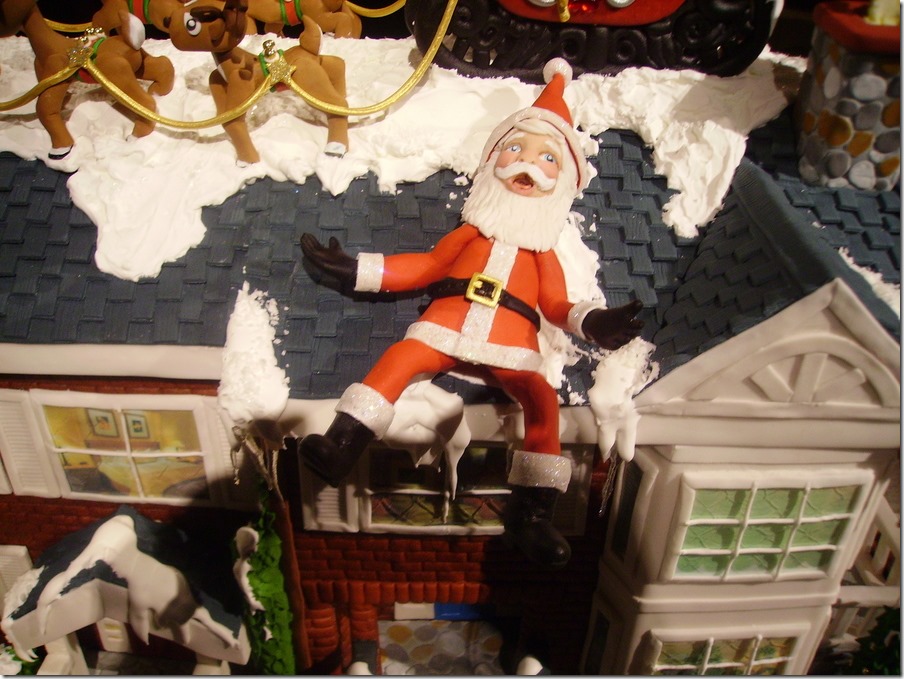 Santa as he is sliding off the roof.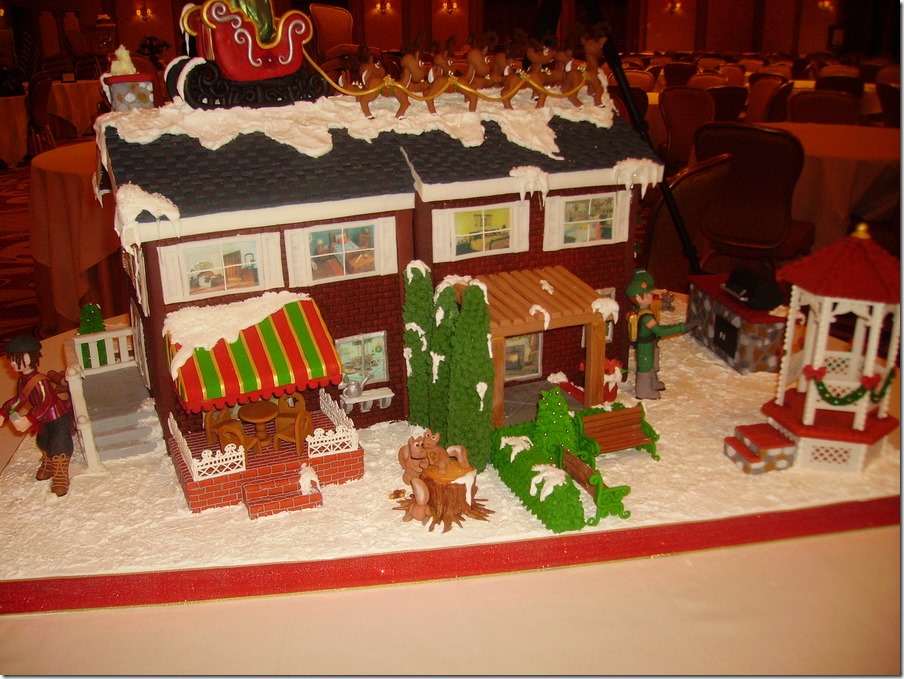 A view of the back of the house. The interior of the rear rooms can be seen through the windows. The awning covers the back porch on which rests a wooden table and chairs. There is an ornate white wrought iron fence around the porch. The gazebo is in the back yard near the house.
Also, check out these wonderful Christmas Cakes and Cookies.
Also, check out this splendid Pop Culture Gingerbread.