This Terrific Earth Day Cake was made by Cynthia Jordan Lorow from The Vagabond Baker located in the United States.
This Cake is part of the United Nations of Sugar Art (UNSA) Earth Day Collaboration: Acts of Green. This event focuses on the beauty of our planet, its animals, and its people. It will touch on the damage that is being done to our environment and how that damage is affecting humans and animals alike.
Here's Cynthia's bio:
I've been baking since I was a little girl. I was always the one to bring dessert to events and to host dessert parties. Everyone told me I should open a bakery, but I wasn't interested in leaving my job as an RN. Three and a half years ago, my boss asked me to make a groom's cake for her daughter's wedding. They wanted a Staples center cake with a Laker's jersey. I said I hadn't done anything like that before, but she insisted! They loved the cake and I loved making it. It had isomalt windows and lights on the roof and in the palm trees. I received several orders for cakes from members of the bridal party and their guests. I instantly had a client base! I chose my name based on my two passions; traveling and baking. A friend developed my website and I became an LLC. A cake business was born! I still work full time as an RN Manager in the Operating Room and I work on cakes every other minute of the day and night! (to the chagrin of my husband!) I love taking classes and meeting other cake people to talk cake with! I've been so blessed to have had my cakes in Cake Central Magazine, Cake Masters magazine, Edible Artists Magazine, Florida Weddings and Cake Geeks. Recently, I've started entering Cake contests and Collaborations to challenge myself further. I love the artistic freedom of designing a cake for these endeavors unencumbered by client requests!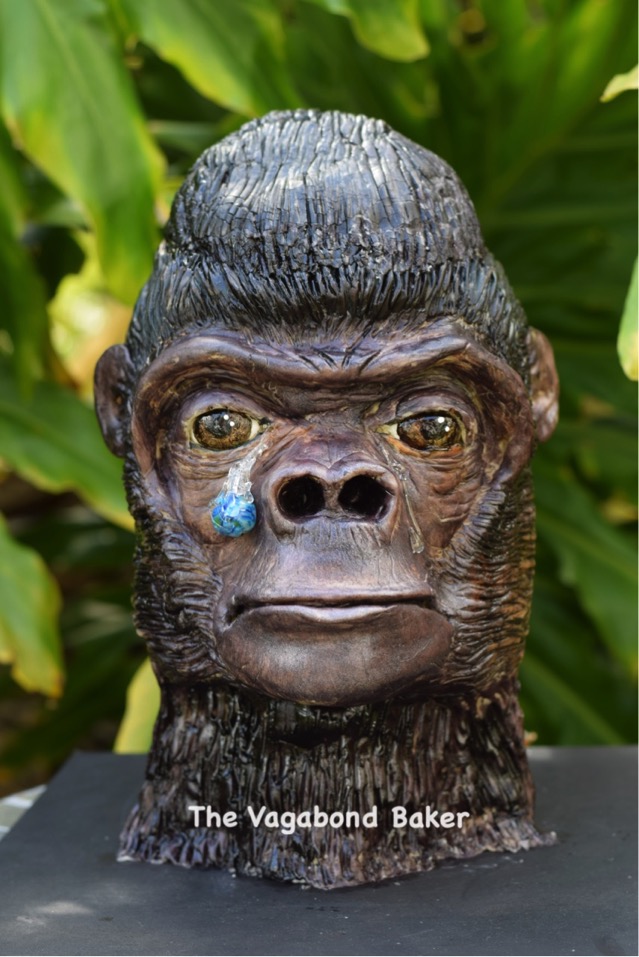 This Mountain Gorilla is Endangered and is crying because of what has happened to the Earth. It needs people to help keep its species from becoming extinct. The Mountain gorilla lives on Africa's volcanic slopes in protected national parks in two parts of Africa. It has become the most endangered type of gorilla because of placing, civil war, and destruction of habitat.
Please check out the other great Earth Day Cakes and Cookies at Acts of Green.