This Terrific Downton Abbey Cake inspired by Lady Cora's Dress was made for the Downton Abbey Themed Cake Collaboration – A Sweet Farewell To Downton.
This Terrific cake was made by Joanne Wieneke from The Little Cake Patch.
Here is Joanne's bio:
My journey with sugarcrafting started almost 10 years ago when I realized that my skills for culinary, crafting and painting can be combined to a perfect Edible Sweet Art. I indulged myself in instructional books and constant practice that I call "sugar play". Then deeply immersed myself when I turned to the Pros to learn the proper methods and techniques of the art by taking diploma courses and recreational workshops. This art has led me to experience beautiful,sweet and hopefully lasting friendships. It has been my honor and pleasure to have served my edible art on many life events, to have shared my knowledge and skills through teachings and demonstrations, and continuously learn to create, to persevere and to enjoy the world of sugarcraft for so long as my hands and imagination allow.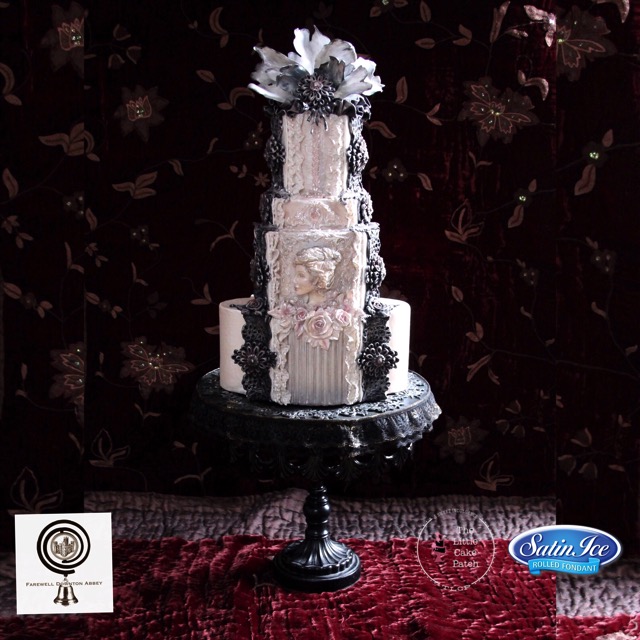 Here is Joanne's description of her Terrific cake:
I have named my cake, "The Afternoon Tea".  My inspiration was Afternoon Tea with Lady Cora Crawley, the Countess of Grantham.  In Season 1, Lady Cora elegantly graces the afternoon tea with her satin robe lined with oriental lace border applique.  For my piece, I sculpted Lady Cora in Cameo following her poised look as she was having her afternoon tea. The Black lace applique was done using enhanced brooch molds and lace mats to mimic the oriental embroidery applique on her robe. The whole cake was dusted with champagne pearl dust to look like the satin robe. The silver tea sets and parasol was represented by the silver fantasy flower topper.