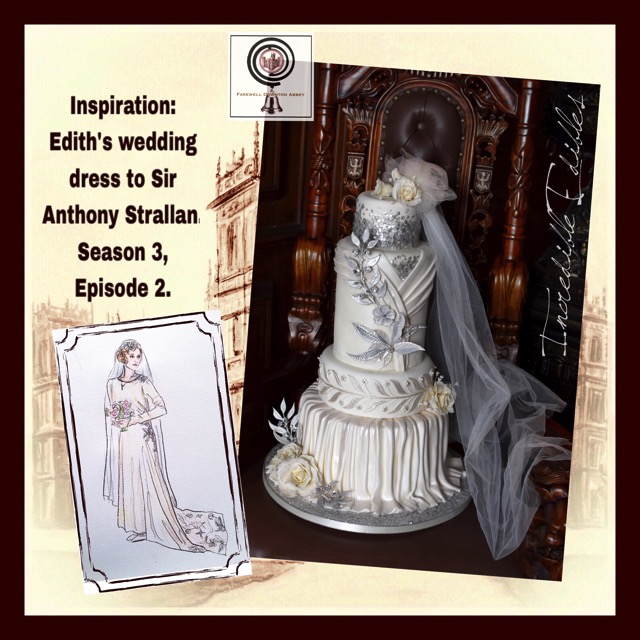 This Marvelous Downton Abbey Cake inspired by Edith's wedding dress was made for the Downton Abbey Themed Cake Collaboration – A Sweet Farewell To Downton.
This Marvelous cake was made by Vicki Smith from Incredible Edibles.
Here is Vicki's bio:
I am a Multi award winning cake Artist from North Wales, including being Best in show winner 2013 at Manchester Cake International. I love creating mad, unusual pieces of cake art that people wouldn't think was a cake at first glance. I've been making cakes for over 5 years now and recently turned that passion into a business. I'm constantly promoting my business and making connections through social media which has brought me lots of new and exciting opportunities this year including an acting role in a movie.
Here is Vicki's description of her Marvelous cake:
I was privileged to be asked to be part of the 'Farewell Downton Abbey' cake collaboration as its been such an amazing drama worldwide. I absolutely love period dramas, all the dresses and costumes, the whole elegance of it all. It really has felt like a step back in time to view a world we never physically knew. I chose Lady Edith's first wedding dress because, while at first it looks quite simple to the eye, in actuality the detail is stunning. There is a mix of mainly silks with a hint of a matte fabric in the train at the back which I've tried to incorporate in alternate tiers. Then there's the stunning floral embroidery which adorns the side of the dress and the rear train. I've used a a mix of flower paste and hand-piped cake lace to create the embroidery effect. I've also included the ruched material and added a pearl lustre to give the impression of flowing fabric. The edible sequins are taken from the tiny sequins which embellish the small embroidery. The base relief pattern and the wired silver leaves are inspiration taken from the family heirloom headdress that both Lady Edith and Lady Mary wear for their weddings. As finishing touches I decided to add beautiful hand-made sugar roses and gypsophylia taken some of the bouquets. Lady Edith had some pink roses in her bouquet, but decided to stick with ivories and creams. I love how the veil falls around the cake , it really finishes it off and you can decide to position it any way you like.