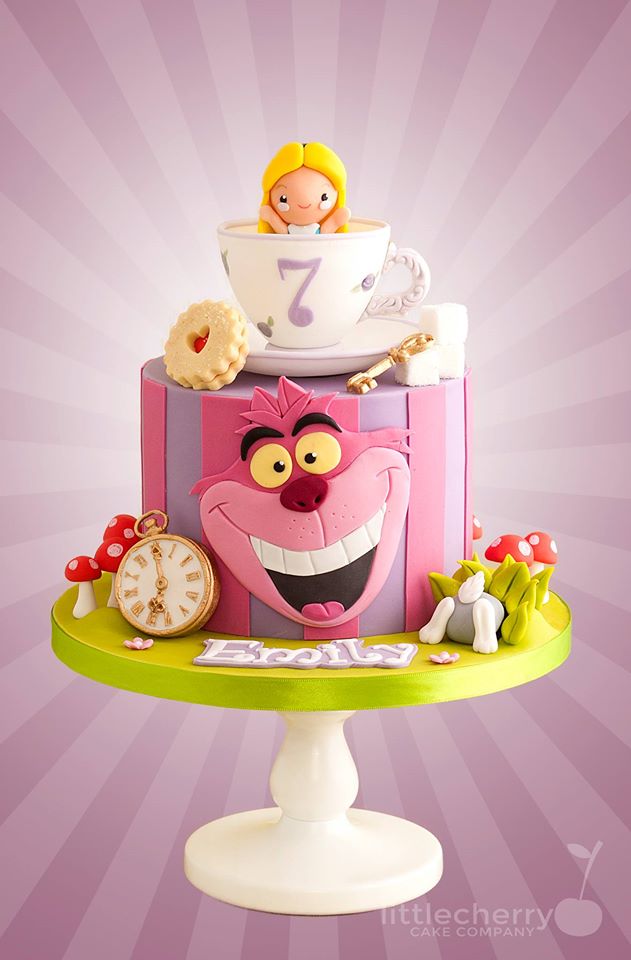 This Fabulous Pink and Purple Alice In Wonderland Cake features Alice and the Cheshire Cat. This Splendid cake was made by Tracey Rothwell of Little Cherry Cake Company. This Disney cake is a single layer pink and purple striped cake to represent the Cheshire cat's body. The Cheshire cat's pink face with a big toothy grin is on the side of the cake.
Beside the head is the White Rabbit's Watch. Red and white mushrooms are on either side of the cake. The cake board is green. The birthday name is written white letters with a purple background in front of the cake on the cake board.
On top of the cake is a tea cup with the number seven to represent the birthday age. Alice is sitting in the cup.
Seeing Alice in the saucer reminds me of the Walt Disney World Mad tea party ride where you can ride in the teacups and spin around.
There is a Jammy Dodger propped up against the cup saucer. A gold key is leaning on sugar cubes on the other side of the saucer. My family had their first Jammy Dodger a few weeks ago and my son loves them. Jammy Dodgers are British shortbread cookies with a Raspberry filling.