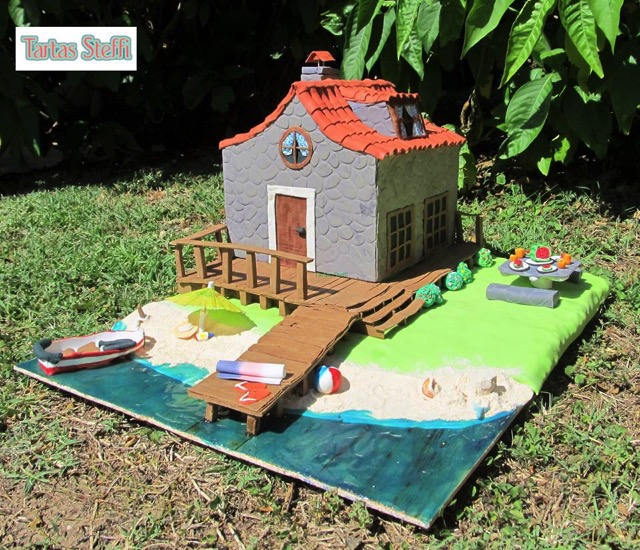 This Marvelous Beachhouse Cake was made by Stephanie Noel Mowery from Tartas Steffi.
This Marvelous Beachhouse cake was made for the Sweet Summer Collaboration which is a cake collaboration of more than 200 Cake Artists from around the world to celebrate summer in the sweetest way.
The gray stone picnic table outside the cabin has slices of watermelon ready to eat.
Here is Stephanie's description of her Fabulous cake:
My inspiration was the field, I like to find the tranquility that the countryside and mountains give me. My summers were spent going to camps or huts to escape the routine and noise of the city.
Mi inspiración fue el campo, me gusta buscar la tranquilidad que me da el campo y montañas. Mis veranos los pasaba yendo a campamentos o cabañas para escapar de la rutina y el ruido de la cuidad.
A rowboat is in the water beside the beach. A dock goes out from the house. It has a towel and flip flops at the end. There is a beach ball in the sand near the dock. A beach umbrella is on the beach near the house.