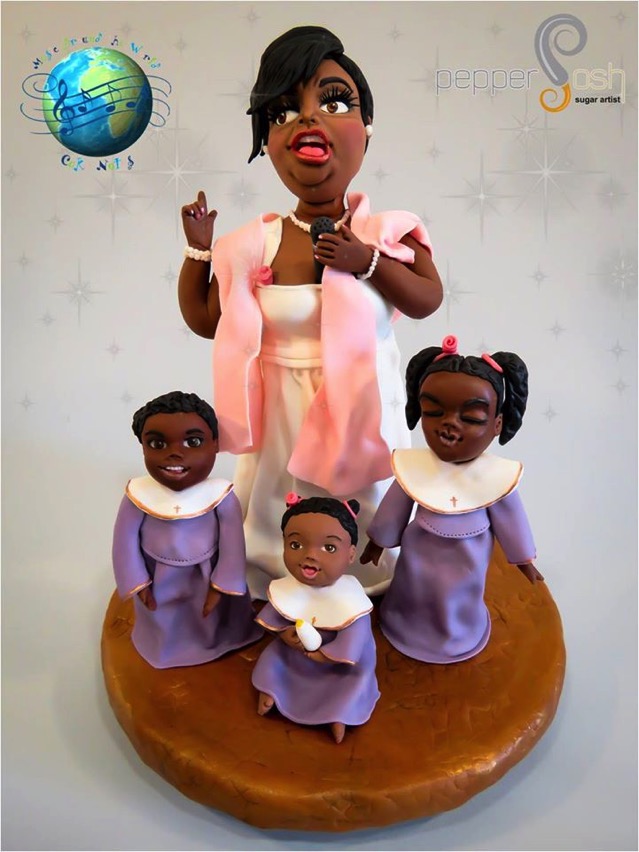 This Splendid Gospel Singers Cake was made by Carla Rodrigues from Pepper Posh – Sugar Artist.
This Splendid Gospel Singers Cake was made for the Music Around The World – Cake Notes Collaboration which is a cake collaboration that gathered forty-one cake and sugar artists from all over the world to celebrate the International Day of Music in the sweetest way. The collaboration covers cultural aspects of music made around the world, representing music genres and instruments from all over the world.
Here is Carla's bio:
My name is Carla Rodrigues but some of you may know me as Pepper Posh. I was born in Lisbon and now I live in Almada – South Lisbon Bay, Portugal. I graduated in biotechnology and worked for a while in biologic and chemistry laboratories. As in Portugal the life of a scientist is very hard, I started working in an insurance company in part-time as a manager of car accidents and ended up making a career in insurance through insurance companies, fleet managers and brokers. In the summer of 2013 I was diagnosed with depression at an advanced stage and my life stood upside down. I needed something to keep me busy, away from negative thoughts. I began to notice many publications of artistic cakes and cake design workshops on facebook and thought I could learn how to decorate cakes to entertain me. I did a basic workshop introduction to cake design and from there I never stopped. I wanted to learn more and I ended up making 3 the complete modules of the courses of PME and learning with national and international artists. I ended up leaving insurance and am currently dedicated 100% to cake design, baking and teaching and also entering in competitions where I got some national and international awards.
PORTUGUÊS O meu nome é Carla Rodrigues, mas alguns de vocês podem me conhecer como Peper Posh. Nasci em Lisboa e agora vivo em Almada, Portugal. Eu formei-me em biotecnologia e trabalhei por um tempo em laboratórios biológicos e químicos. Como em Portugal a vida de um cientista é muito difícil, eu comecei a trabalhar numa companhia de seguros a tempo parcial como gerente de acidentes de carro e acabei fazendo uma carreira através de companhias de seguros, gestores de frotas e corretores. No verão de 2013 eu fui diagnosticada com depressão em fase avançada e minha vida ficou de cabeça para baixo. Eu precisava de algo para me manter ocupada, longe de pensamentos negativos. Comecei a notar muitas publicações de bolos artísticos e workshops de cake design no Facebook e pensei que poderia aprender a decorar bolos para me entreter. Fiz um workshop de iniciação ao cake design e a partir daí nunca mais parei. Eu queria saber mais e acabei fazendo 3 os módulos completos dos cursos de PME e aprendendo com artistas nacionais e internacionais. Acabei deixando os seguros e atualmente estou 100% dedicada ao cake design, fazendo bolos e ensinando e também entrando em competições onde ganhei alguns prémios, nacionais e internacionais.
Here is Carla's description of her Fabulous cake:
Music is a part of my life! Since childhood I've always been involved in music, choirs, bands… played piano, organ, accordion and saxophone! While listening, I always liked various musical styles, even today I hear from classical music to heavy metal. When Elisabete Caseiro invited me to this collaboration obviously I could not say no, because it is a topic that has a lot to do with me. So I started to see that musical themes had already been chosen by other artists and thought about what I would do and what musicians would like to honor. I stepped back to my childhood, I remembered the musical films I saw from Elvis Presley, the music I heard of Aretha Franklin and traced a line to my university days. At that time I had a friend who sang in a choir of gospel, the "Shout" and I often attend their practices. I thought gospel would be a good topic for me … "Oh Happy Day …" is my way of honoring great voices and remember good times …
A música é uma parte da minha vida! Desde a infância eu sempre estive envolvida na música, coros, bandas … tocava piano, órgão, acordeão e saxofone! Enquanto ouvinte, sempre gostei de vários estilos musicais, até hoje eu oiço desde a música clássica ao heavy metal. Quando a Elisabete Caseiro me convidou para esta colaboração, obviamente, eu não podia dizer não, porque é um tema que tem muito a ver comigo. Então comecei a ver que temas musicais já tinha sido escolhidos por outros artistas e pensoi sobre o que eu faria e qual músicos gostaria de homenagear. Dei um passo atrás na minha infância, e lembrei-me dos filmes musicais que eu vi do Elvis Presley, a música que eu ouvi falar de Aretha Franklin e tracei uma linha para meus dias de universidade. Naquela época, eu tinha um amigo que cantava num coral de gospel, o "Shout" e eu muitas vezes assistir aosensaios. Pensei que o Gospel seria um bom tema para mim … "Oh Happy Day …" é a minha forma de homenagear grandes vozes e lembrar os bons tempos .