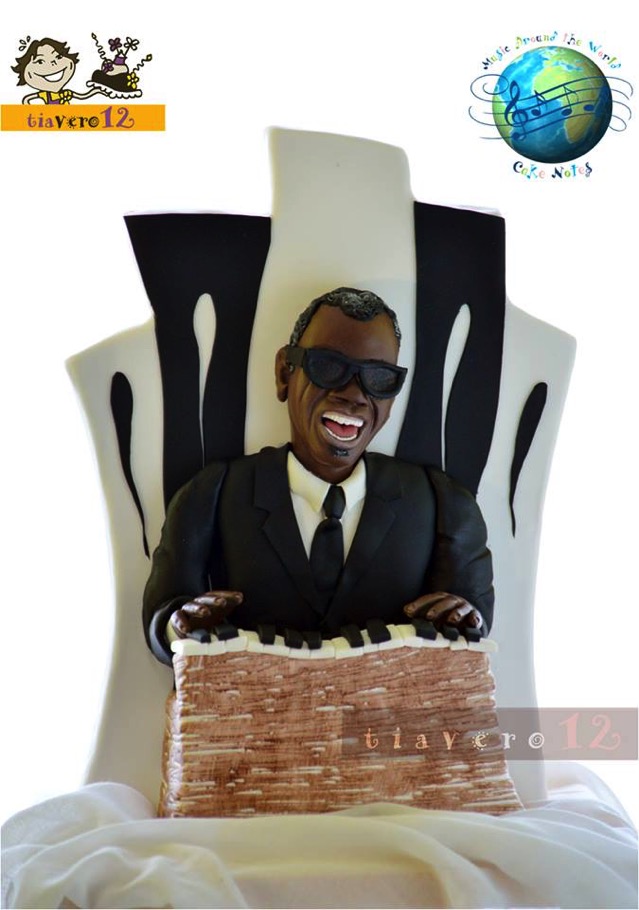 This Terrific Ray Charles Cake was made by Veronica Garcia Sanchez from tiavero12 in La Coruna, Galicia, Spain.
This Terrific Ray Charles Cake was made for the Music Around The World – Cake Notes Collaboration which is a cake collaboration that gathered forty-one cake and sugar artists from all over the world to celebrate the International Day of Music in the sweetest way. The collaboration covers cultural aspects of music made around the world, representing music genres and instruments from all over the world.
Here is Veronica's bio:
I am from A Coruña, Galicia, northwest of Spain. I started in this world as amateur in 2005, making cakes for my nephews, that´s where my name "tiavero12" comes from. In 2010 I began a more professional carrer, training myself in Portugal in ANCD with well-known international artist coming from Cake Design, association with the one I had took part in a large number of competitions due to my original designs and their big and clean execution. My education as an architect gave me tools to create many of my sweet pieces. My passion is sugar modeling and cake sculpting together with taking part in competitions where cakes are made alive, as I love challenges and working under preasure.
u sou de A Coruña, Galiza, noroeste de Espanha. Comecei neste mundo como amadora em 2005, fazendo bolos para meus sobrinhos, que é donde o meu nome "tiavero12" vem. Em 2010 começou uma carreira mais profissional, treinando-me em Portugal na ANCD com artistas bem conhecidos do Cake Design internacional. Participou também de um grande número de eventos promovidos por esta associação e ganhando dois concursos peloss meus desenhos originais e da sua grande e limpa execução. A minha educação como um arquiteta deu-me ferramentas para criar muitas das minhas peças doces. A minha paixão é a modelagem de açúcar e bolo esculpido em conjunto com participação em competições ao vivo, pois eu adoro desafios e trabalhar sob pressão.
Here is Veronica's description of her Fabulous cake:
"Music expresses that which cannot be said and on which it is impossible to be silent." – Victor Hugo I wanted to express in my work the force and rhythm of soul music and its espiritual sense that comes from the heart.
"A música expressa o que não pode ser dito e em que é impossível ficar em silêncio." – Victor Hugo Eu queria expressar no meu trabalho a força e o ritmo da música Soul e sua sensação espiritual que vem do coração.