This Fabulous Couture Cake was made by Calli Hopper from Calli Creations.
This cake is a multi-tiered cake where the bottom tier has handprinted beets, radishes, and flowers. The middle tier has a white lace pattern. The cake has beautiful flowers and greenery on the top and hanging over the sides of the cake.
Here's more Wonderful cakes from the Couture Cakers International Sugar Art Collaboration. It is hosted by Heba M Elalfy of Sweet Dreams by Heba.  This is the second annual celebration of couture using all types of sugar medium as created by an international team of Sugar Artists. Please check out this collaboration. This is the second of four posts about this Wonderful collaboration.
This Superb Couture Cake was made by Monika Liptakova from MoliCakes.
This wonderful cake has a single dusty red rose on the top of the cake. The bottom tier of the cake has a mosaic pattern of the rose.
This Marvelous Couture Cake was made by Fiona Evans from Fifi's Cakes. This wonderful cake a white designer hat with purple flowers on a cake mannequin head and an edible beaded purse with purple and white ribbon.
This Terrific Couture Cake was made by Gulcin Tekkas from Artsy Design Cakes by Gulcin Tekka.
Here's Gulcin's description of this wonderful cake:
The Coronation of Queen Elizabeth II.
In my opinion, clothes represent our stance on life. So when I was invited to co-operation with couture cake, the first thing I thought of was a dress with symbolic meaning. Because the fashion world is so wide and so inspired, I thought I couldn't get into it. But still, I couldn't get myself out of a hundred dress models.
After all, I've decided on a symbolic meaning. To me, one of the most powerful women in the world, and the 66-year reign of the Queen Elizabeth II, who was the longest monarch on the throne of the United Kingdom, was a model for myself in the coronation of 2 June 1953
The suit, which has been created by fashion designer Norman Hartnell, and a 8-Month-old research and craftsmanship, is covered in plant motifs that represent countries in the United Kingdom with the United Kingdom.
British Tudor Rose, Scottish Thistle, Wales pirasasi, Irish Clover, Canadian Maple Leaf, Australian Salcmul (Mimosa), New Zealand Silver Ferni, South African proteasi, India Lotus Flower, Sri Lanka (Gazelle) Lotus Flower, Pakistan's wheat, cotton And in the suit of the jute, all the development was made of gold and Silver Filigree, and a large number of diamonds, pearls and crystals were used. Also, the queen carried this suit along with a purple velvet cloak with a Royal Crest.
So I painted the portrait of Queen Elizabeth II on her dress that was inspired to me, and I tried to reflect the motifs of the design with both hand painting and edible flowers.
This Superb Couture Cake was made by Elaine Minett from Ginger Cat Cakery. 
This wonderful four tier cake is tan colored. The bottom tier has a white lace pattern, The next tier has a geometric pattern, and the top 2 tiers are designed to look like the very top and middle of the dress and has a beautiful spray of flowers along the side of the tiers.
This Splendid Couture Cake was made by Gabriela Dorothy from Sweet Us.
The top of the cake has a handcrafted doll wearing a couture dress. She is standing on a beige single tier to match her dress.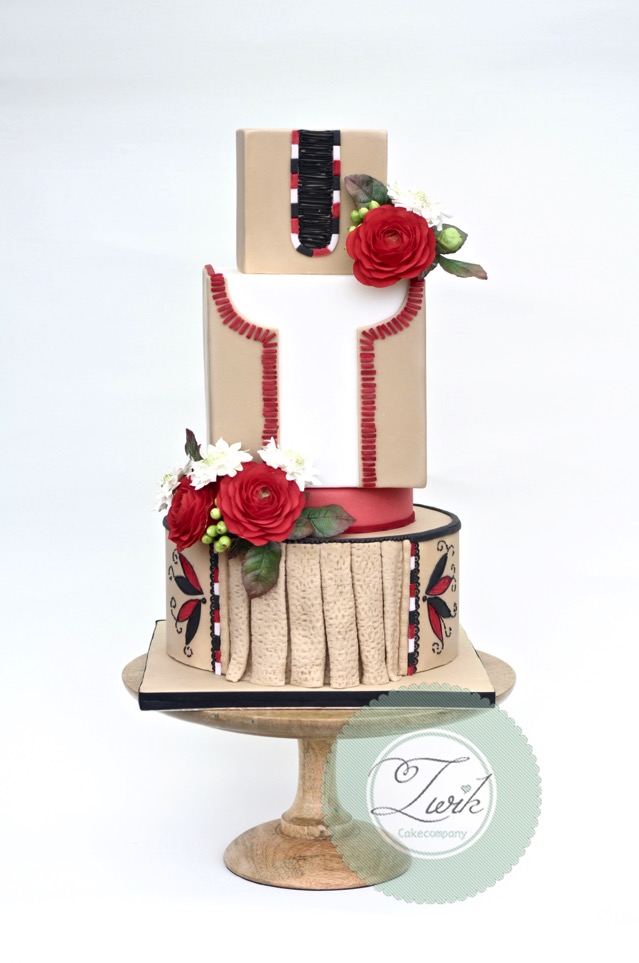 This Marvelous Couture Cake was made by Marieke Kuiper-Zwik from Zwik Cake Company.
The bottom tier of this wonderful cake is pleated to look like a skirt. There ia a small round red tier to match the waist of the dress next. The next tier is square made to look like a white blouse with a tan jacket with red trim. The top tier is a tan cube with a black band with red, white, and black trim. Red flowers are on the top of two of the tiers.