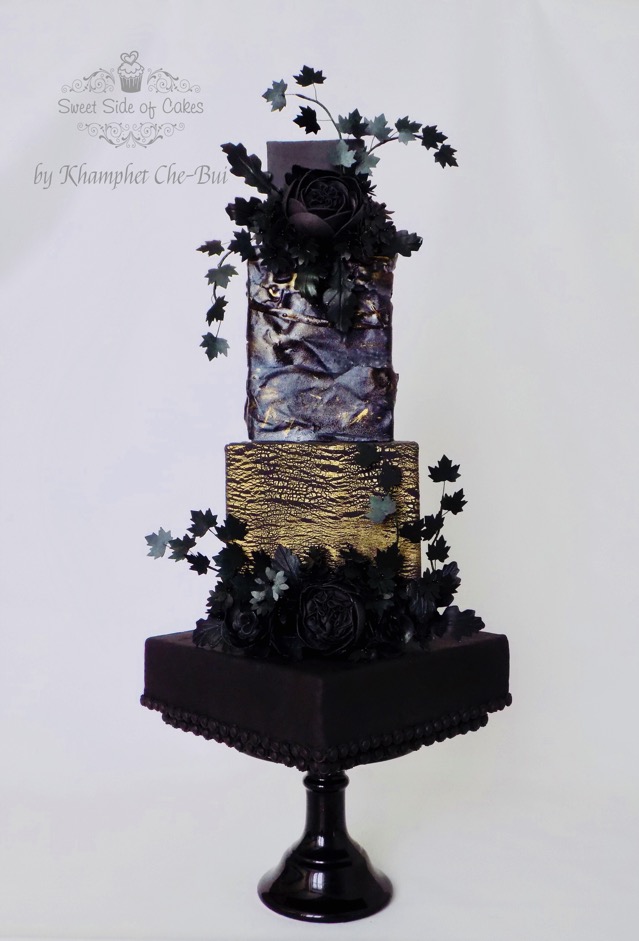 This Terrific couture cake was made by Khamphet Che-Bui from Sweet Side of Cakes.
This wonderful multi-tiered cake has black flowers with black and gray leaves. The bottom tier is gold leaf. The middle tier is silver. The top tier is silver with a large black flower covering the side.
Here's Khamphet's description of this amazing cake:
My creation is inspired by the beautiful and elegant black & gold dress from George Chakra.
Here's more Wonderful cakes from the Couture Cakers International Sugar Art Collaboration. It is hosted by Heba M Elalfy of Sweet Dreams by Heba.  This is the second annual celebration of couture using all types of sugar medium as created by an international team of Sugar Artists. Please check out this collaboration. This is the third of four posts about this Wonderful collaboration.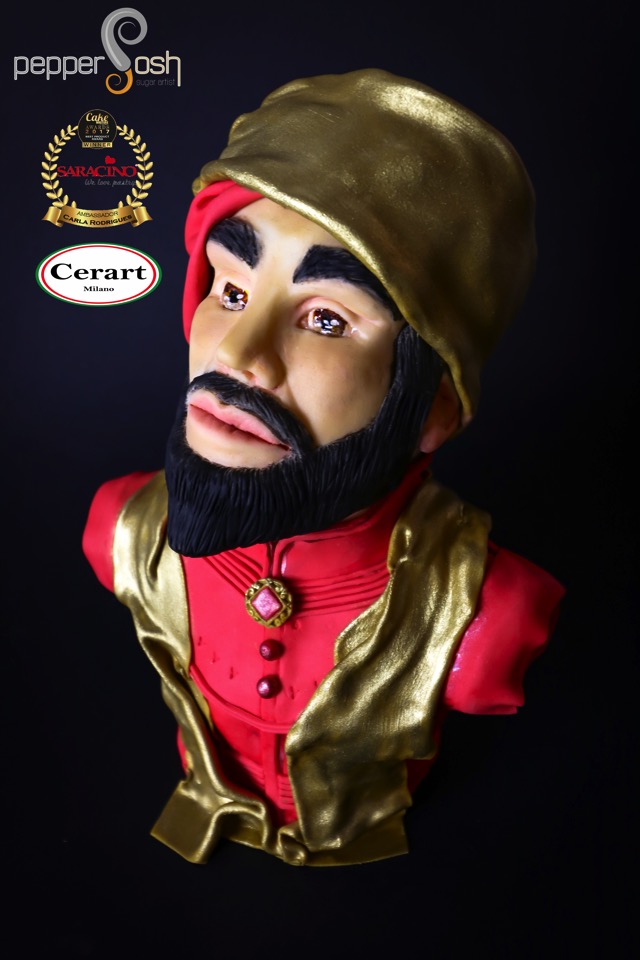 This Marvelous couture cake was made by Carla Rodrigues from Pepper Posh Sugar Artist. 
This wonderful cake is the bust of a soldier. He is wearing a red uniform with a gold helmet and a gold scarf.
This Splendid couture cake was made by Aneesa Fredericks from Cakes Inspired by Me. 
This wonderful cake has a feathered skirt of layers of black, blue, and white feathers. The cake has tiers of black with intricate gold filagree designs.  There is a large yellow-gold flower on top.
Here's Aneesa's description of this amazing cake:
The bottom 3 tiers are covered in fondant and layers upon layers of individually hand cut wafer paper feathers (803 altogether). Top tiers are covered in cake lace which I made using sugar veil and a lace silicon mat. I covered the lace with some gumpaste motifs using jem cutters and topped it off with a single sugar flower.
This Splendid couture cake was made by Catalina Anghel from Catalina Anghel azucar arte. 
This wonderful cake is multi-tiered. The bottom layer is covered in black fondant to look like it is covered in cloth. The next tier is tall and covered in black fondant with hand-painted light and dark orange flowers with green leaves. The top tier is black and covered in large orange and white flowers.
This Splendid couture cake was made by Nina Kamal from Meadowsweet Cakes. 
This superb cake has three black tiers with an intricate 3-d sunburst pattern of gold and silver.
Here's Nina's description of this wonderful cake.
Inspired by a stunning design from Schiaparelli's fall 2016 collection, my fashion inspired cake designed for couture cakers collaboration 2018. Maison Schiaparelli was founded by Elsa Schiaparelli in 1927, and known for art, innovation, utmost elegance and audacity.
This Splendid couture cake was made by Savitha Alexander from Savitha Alexander Cake Designs. 
Here's Savitha's description of this amazing cake.
My inspiration is from a gorgeous ensemble by Manish AroraIt portrays a Bollywood Kitsch genre that is bold, loud very colourful and vibrant, yet modern and chic.So here it is folks I call it – Barsaat (rain) it depicts everything vibrant and full of life like the monsoons in India.