Here's a glimpse at the second set of cakes from the Couture Cakers Sugar Art Collaboration. It is hosted by Heba M Elalfy of Sweet Dreams by Heba.  This is the first annual celebration of couture using all types of sugar medium as created by an international team of Sugar Artists. For the next three weeks, they will be introducing a new line of cakes, cookies and figurines. Please check out this collaboration.
This is the second of three posts about this Wonderful collaboration.
The Stunning Couture Cake above was made by Anna Ibadulaeva of Tortova. Beautiful purple and green orchids are at the top of this multi-tiered cake. The bottom tier of the cake is beige with blue accents. The next tier is white with blue hand-drawn bunnies. The top two layers are beige with a textured pattern with white flower petals arranged in a ruffle pattern down the sides with blue accents.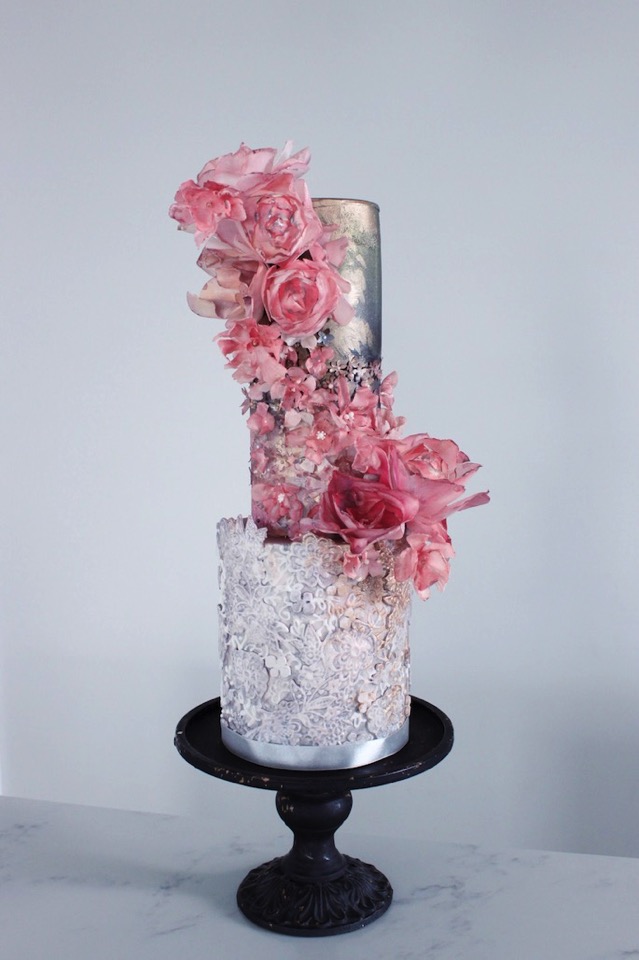 This Marvelous Pink and Silver Couture Cake was made by Elina Prawito of Bake-a-boo Cakes. This beautiful multi-tier cake has a tier that is covered with a silver lace pattern. There are gorgeous large pink flowers on the side of the cake.  The silver layers compliment the pinks flowers nicely.
This Splendid Couture Cake was made by Lynne Glass from Lynne Glass Cake Artist. This Marvelous cake was inspired by the Urban Zulu Spring 2015 collection. It looks just like a marvelously handcrafted doll. The dress is dark pink with yellow, blue, white, and green accents. There are gold earrings and necklaces around the girl's neck and a headband to compliment the dress.
This Superb Couture Cake was made by Nancy Cross from Sweet Traditions Custom Cakes and Cookies. This Wonderful cake is orange, green, and black. It has different textures for each tier. The bottom tier has orange ruffles. The middle tier is textured with a lined pattern and the top orange tier has vertical lines and three ruffles at the top. There are stunning large black and gold flowers with black leaves and stems on the side of the cake.
Please visit the Couture Cakers Sugar Art Collaboration to check out more of these amazing cakes.