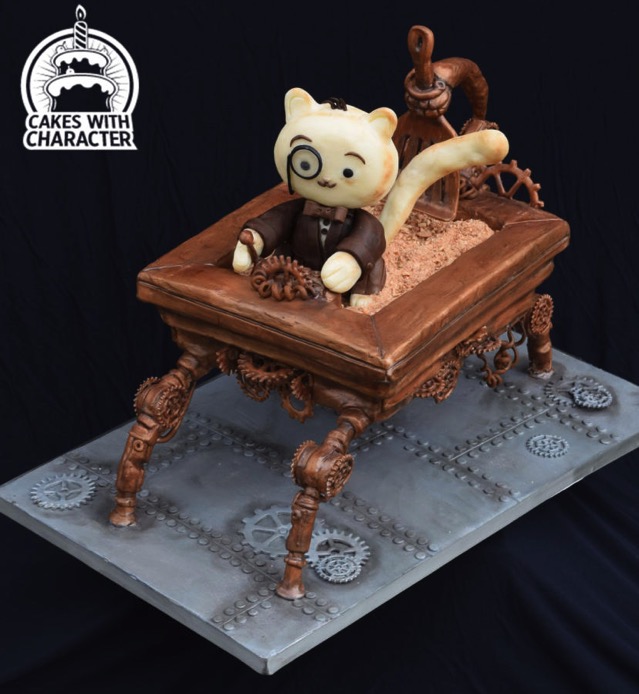 This Edmund J. Fluffington Steampunk Cake was made by Jean Schapowal of Cakes With Character.
This Marvelous cake was created for the Steam Cakes – Steampunk Collaboration. To celebrate the Steampunk International Day, Cake Artists from around the world gathered to create their own edible Steampunk masterpieces.
Here's Jean's description of this Wonderful Cake:
So I came across an amazing piece by a really cool illustrator ( In which Im a big fan of his work) and I just so happen to be part of a Steampunk collaboration so what do I do?? I ask Jeff Victor ( of Jeff Victor Art https://www.facebook.com/jeffvictorart/) if I could recreate his piece and guess what?? He said yes!! So here is my edible recreation of his Edmund J. Fluffington and his Ambulatory Litter Box! Ingredients used: Satin Ice Fondant @Choco pan modeling Chocolate Chef Rubber coca butter paints and crystal color dusts.
This Steampunk Cake was made by Carla Rodrigues of Pepper Posh – Sugar Artist.
Here's Carla's description of this Wonderful Cake:
Sir Hilpigger He is a fashionista pig who always walks with his pipe and is always looking for a gourmet site. Made with: Saracino modelling paste Saracino modelling chocolate Saracino isomalt Cerart tools and brushes Magic Colours airbrush metallic colours and dusts.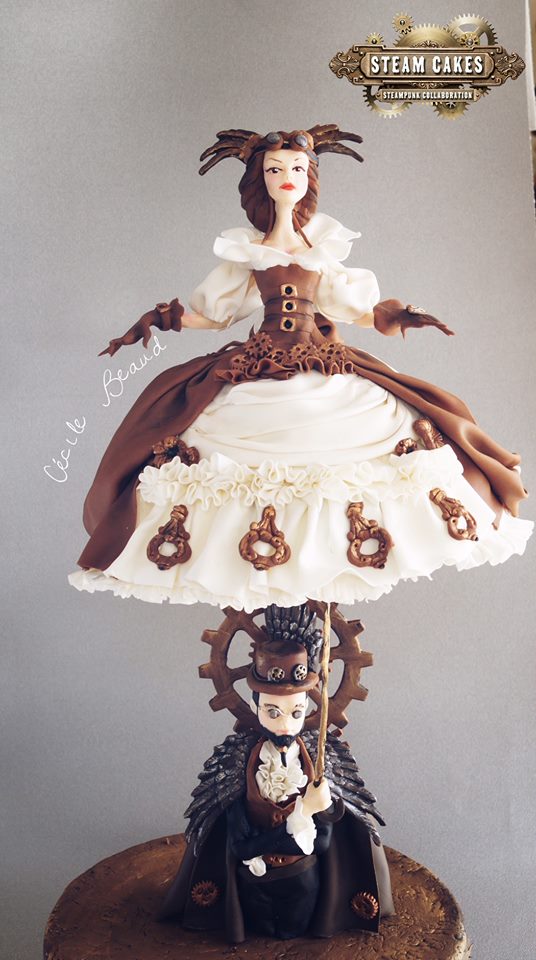 This Superb Steampunk Cake was made by Cecile Beaud.
This wonderful cake features a man dressed in a brown cloak, vest, and hat with gears on the cloak and hat. He is holding an umbrella that looks like a girl dressed in a victorian beige and brown dress.
This Steampunk Cake was made by Barry Fermor of Unthinkable Cakes.
Here's Barry's description of this Wonderful Cake:
Unthinkable Cakes Piece Name: Test Of Time Steampunk has stood the test of time, so this piece signifies time with the clock and the date of steampunk day with rolladex date machine.
This Splendid Steampunk Cake was made by Anna Austin of Cake Canvas Happiness in a Box.
Here's Anna's description of this Wonderful Cake:
Featured here is my Austin wearing his Steampunk cake hat, flashing his evil smile through the edible mask and holding his pet spider with panache. Photography courtesy: Johan Bobby Vadayatt Made with: Homemade Fondant, Gumpaste and Pastilage Sugarflair Colours, Rolkem and Roxy & Rich edible dusts.