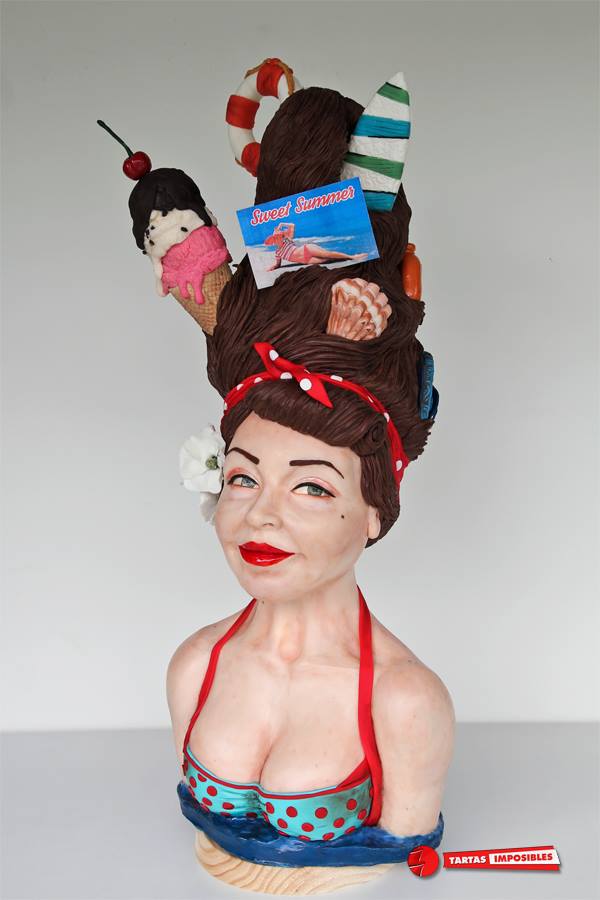 This Splendid Carol Dreams of Summer Cake was made by Isabel Tamargo from Tartas Impossibles. Carol is dreaming of all things summer. She has an ice cream cone, a life buoy, a seashell, a summer vacation spot postcard, and a surf board in her hair. Isabel made this cake of Carol Dreaming about summer for the Sweet Summer collaboration.
Isabel is the organizer of the Sweet Summer Cake Collaboration. She wanted to organize this collaboration because she realized that people needed a public collaboration with a cheerful theme. She wishes everyone a summer full of good times. 
Isabel was kind enough to grant me an interview and tell me a little about her collaboration and herself.
1.Tell me about the Sweet Summer Collaboration. What are some of the challenges that you faced? What did you enjoy most about leading this collaboration?
Sweet Summer  is the first public and massive international collaboration whose theme has been the summer. All members were free to choose a design which reminds them of this time of year. There were no restrictions, every works were welcome to be in our collaboration. This collab has been an amazing challenge for me, because I've participated in a lot of collabs but always as a member, in some of them I've helped managing for example in Hajnalka Mayor's "Be my Valentine" or Zoe Fox's "Bakers unite to fight", but this is my first collab as unique administrator…and I'm so happy with such an amazing experience!! We have members of a lot of countries, but the language wasn't a problem, all people talked and helped each others, it has been an incredible group! 🙂
Every pieces are so different and special because tell a story and we have had works from amateurs and profesional cake designerS, but all of them have made an amazing work and with this collab we have discovered emerging artists.
2.Tell me about yourself. How long have you been decorating? Tell me about your cake decorating business. 
I'm a Spanish cake designer and one of my hobbies is sculpture. I love to work with modelling chocolate making modelling works and realistic sculptures. In 2014 I created "Tartas Imposibles" business  and since that day I'm giving classes here in Spain and next year I will give international massterclasses too, can't wait to start! 🙂 I'm a collab crazy because each one is a big challenge for me and I always work hard trying to do my best with every pieces, and why not! I really have fun meeting new cake friends 🙂
3.Tell me about your piece. What was your inspiration? What is your piece made from and how did you make it?
I knew I wanted to make a piece with a lot of summer elements like ice cream, polaroid photo, balloon, octopus,… and I love to make bust cakes, so I tried to make something funny and expressive with them and well.. here's Carol haha. I have to admit I love pinup girls and now I'm preparing a bust cake masterclass with this style. I usually make my own design for courses, but in collabs sometimes I surf the net searching some inspiration and there I found some pin up girls whom helped me a lot 🙂
In collaborations I usually don't use sponge cakes because I like to keep my pieces, my house is like a chocolate museum (sometimes a little bit creepy haha). I made this piece with RKT, modelling chocolate and Satin Ice fondant. I had to make a rigid structure inside it because all elements are so heavy.
4. What's your next project? Do you host another collab in the future?
With Sweet Summer collab we have reached an incredible media impact, more than 6000 likes in our facebook page in our reveal day! so we decided to create another public collaboration, but this time with a beautiful and neccesary theme, animal rights. This idea started from my sweet friend Zoe Fox (Sweet Foxylicious) who's a great animal lover. We have now more than 200 members and it will be open next weeks, so if people want to join us, they are welcome 🙂 Collab name is "Animal Rights" and you can find us in Facebook. 
Carol was made with modeling chocolate and Satin Ice fondant. She is dreaming of summer, of the sand, the sun, the salt, the sound of the waves. Summer is around the corner and she can't get it out of her mind!
Esta es Carol, nuestra pin up de chocolate plástico y fondant Satin Ice. Vive pensando en el verano, en la arena, el sol, la sal, el sonido de las olas…queda tan poco para para empezar sus vacaciones que no se lo quita de la cabeza!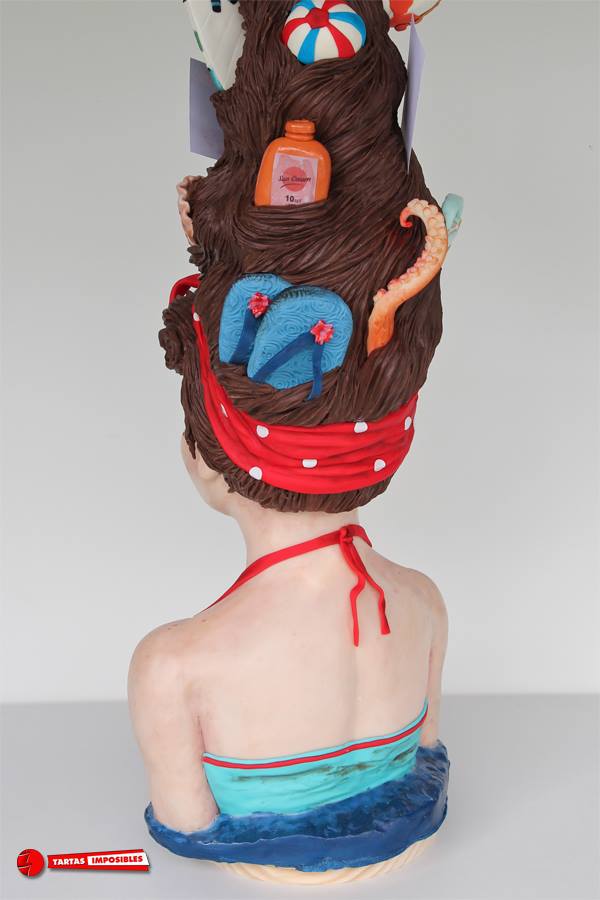 She has flip flops, sun screen, an octopus toy, a beach ball in the back of her hair.