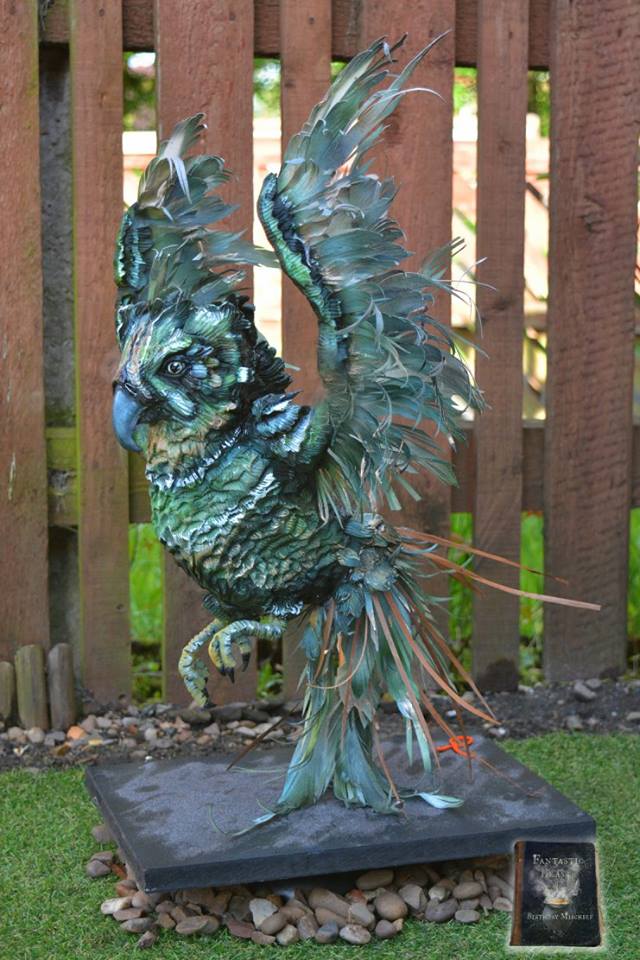 This Marvelous Augurey Cake was made by Mable Bunnysmuggler – Kay Gajra from Kaykes.
This Marvelous Augurey Cake was made for the Fantastic Beasts and Where to Find Them Collaboration.
The collaboration of food artists from around the world, known as Birthday Mischief Managed have assembled to debut their second installment of edible art in celebration of world-renowned author, J.K. Rowling's screenwriting debut and newest movie trilogy – "Fantastic Beasts and Where to Find Them".
"Fantastic Beasts and Where to Find Them", is an A to Z "textbook" of magical creatures that have been featured in the Potter film series and publishing's of J.K. Rowling. For this collaborative effort some of the beasts were removed from the list inside the textbook and each artist was asked to create the remaining using only their imaginations and the book's descriptions with sweet edible mediums. Each artist has dressed for the occasion and transformed themselves into "Magizoologist". Be sure to visit their pages and read the documents kept about their beast.
Our biggest challenge was resisting the urge to research, (cheat) pictures of our assigned beasts. The group has made sweet magic. My only regret is not having a pet Kneazle." – Michelle "ChefMitchie" Curran aka Michaeleas Cuuragusta, Headmistress
Here is Kay's description of this Fabulous Edible Beast:
Name : Fredrick the Fifth (he told me as he was very primm and proper )
Notable Behavoir(s): He is a bit of a posh bird. Has a lot of heirs and graces as he comes from a very well known bird family; related to the Fifth Count of Ireland in the 1800s .Likes the finer things in life .
Feeding notes : Fredrick enjoys a snake or two and small-small rodents but will not eat after 10 pm as he has to watch his weight for flights .
No injuries to caretaker or subject. He's a bit of a lady's man; friendly and gentle .
Has subject been released: Yes but he keeps flying around here as I've spotted green feathers scattered in my garden thinking he may get a free meal or two.
other notes : Fredrick seems to enjoy attention and people loving his beautiful body and colour pattern and loves nothing more than a slow landing to show off his beautiful wing span.