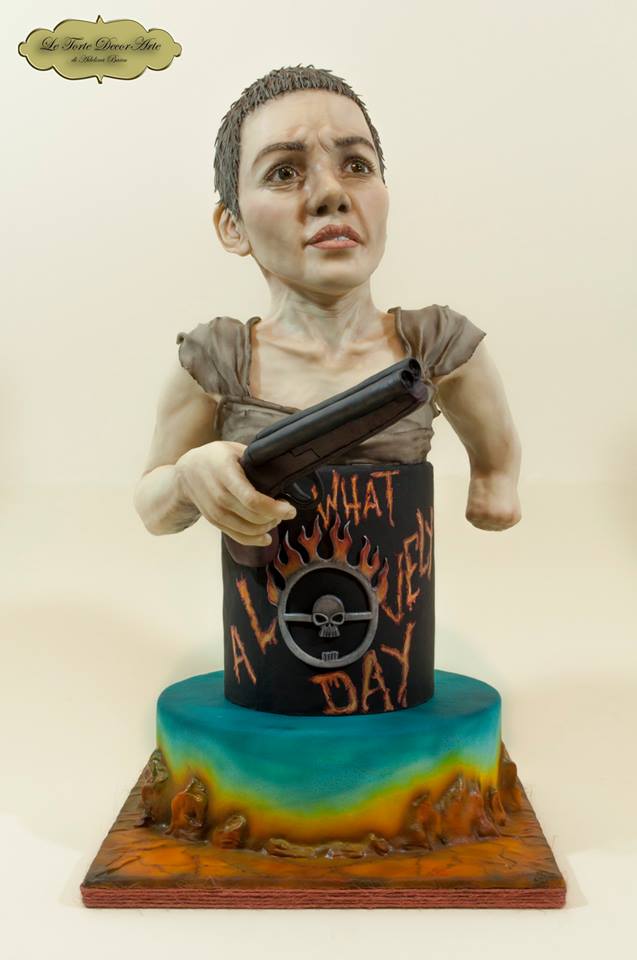 This Superb Imperator Furiosa Mad Max Cake was made by Adelina Baicu of Le Torte DecorArte.
This splendid cake was made for the Cake Con Collaboration. Cake Con is a collaboration featuring amazing artists who have created sugar art inspired by TV series, comics & video game characters.
Here is Adelina's description of this Amazing cake:
I love making themed cakes, modelling small figures and playing with face expressions. My biggest passion is reproducing scenes from movies and put a story behind my creation which is what I tried to achieve with my Mad Max-Fury Road interpretation for this collaboration. I wanted to portray Imperator Furiosa in a fierce yet tender pose showing her weakness and suffering but emphasizing her unwavering courage.I did my best to be as accurate as possible therefore I spent hours on end studying human body anatomy and especially the facial bone and muscle structure. I started out from a wire structure which I then covered in RKT shaping roughly the body and head. Second step was to create the bone structure in dark, firm modelling chocolate and afterwards I started adding layers of white modelling chocolate to create the muscles and skin. It was by far my biggest, most challenging but also incredibly rewarding project! I hope you'll like it!