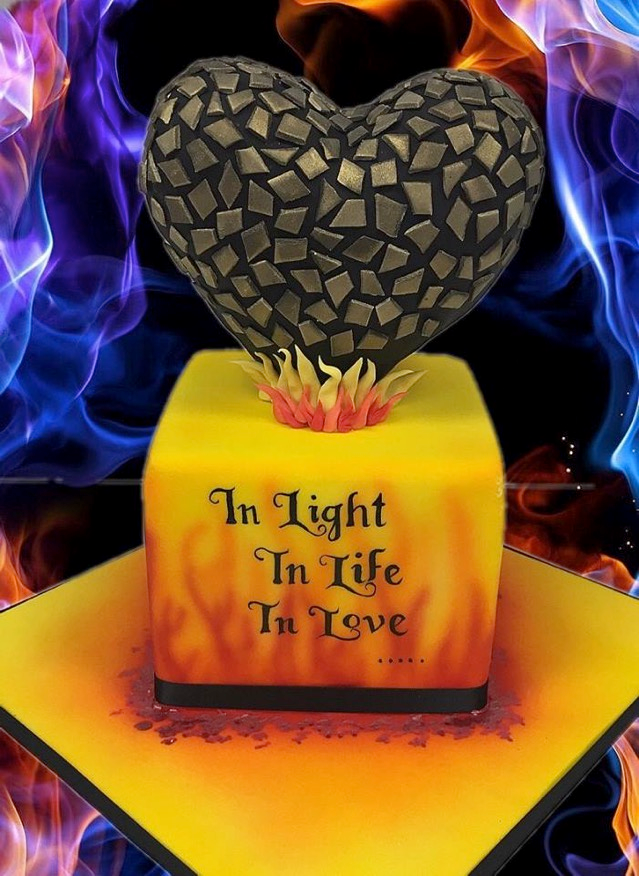 This Splendid Ed Sheeran Afire Love Cake was made by Emma Ball from Richard's Cakes.
This Fabulous Ed Sheeran Afire Love Cake was made for the The Power of Music Collaboration which is a cake collaboration where sugar artists have created pieces in many different sugar art forms (cake, isomalt, cookie, cupcake) to represent music that really affected them.
This cake is yellow and orange to represent flames and fire. A 3-D heart is on top of the cake. The heart is black with silver tiles all over it. The cake has the words In Light, In Life, In Love… written on the side of the cake. These words in the song speak of the grandmother and grandfather being wrapped in light, in life, in love.
Ed Sheeran wrote the song Afire Love to sing about his own grandfather who had Alzheimer's and the love that his grandmother and grandfather shared. It is a very touching song. Ed Sheehan is one of my son's favorite musicians. He loves to play his guitar and sing Ed Sheeran's songs.
Here is Emma's description of this Fabulous cake:
"Afire Love" by Ed Sheeran…. the very first time I heard this song I was overcome with emotion. It reminds me of my Nana and Grandad and the love they shared and how strong that effected us as a family.