This Superb Rose Gold and Coral Designer Barbie Wedding Cake was made by Shweta Somaiya from Cakes By Shweta.
This Fabulous Barbie Wedding Cake was made for the Wedding Cakes Inspired By Fashion A Worldwide Collaboration which is a cake collaboration where cake artists have created wedding cakes inspired by Barbie Doll designers such as Magia 200 Italy Designer Duo Mario Paglimo and Gianni Grossi, Bill Greening, Bob Mackie, Eaki, Krikor Jobotian, Alex Blas, Ovaz Designs, and others.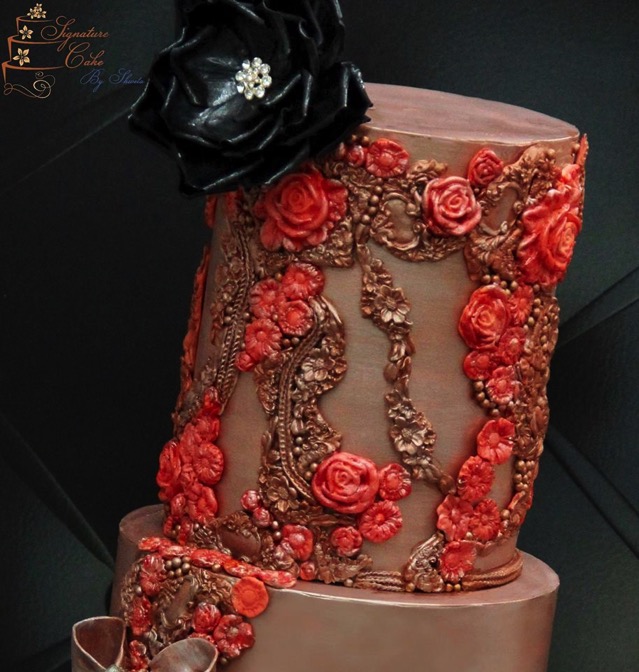 Here is Shweta's description of this Wonderful cake:
My inspiration is inspired by designer OVAZ DESIGNS To be invited to be a part of this beautiful collaboration was an absolute honour .To be able to showcase my work alongside such talented cake artistes from all over the world gives me immense pride. We had to draw an inspiration from Barbie gowns and make a wedding cake using that inspiration. I was bowled over by the gorgeous designs by amazingly talented designers. It took me forever to zero down upon a design to make the cake. My inspiration for this cake comes from this beautiful Barbie gown in gorgeous Rose gold colour, coral and rose gold embroidery. Just fell in love with these gorgeous colours and have tried to replicate it onto my wedding cake. The black flower was added to bring in glamour to the already gorgeous colors. Hope you all like it.
The Barbie designer dress