This Terrific Flair Tokyo Designer Barbie Wedding Cake was made by Enrique Rojas from HAVE SOME CAKE.
This Fabulous Barbie Wedding Cake was made for the Wedding Cakes Inspired By Fashion A Worldwide Collaboration which is a cake collaboration where cake artists have created wedding cakes inspired by Barbie Doll designers such as Magia 200 Italy Designer Duo Mario Paglimo and Gianni Grossi, Bill Greening, Bob Mackie, Eaki, Krikor Jobotian, Alex Blas, Ovaz Designs, and others.
Here is Enrique's description of this Wonderful cake:
My design was inspired by Magia 2000, the artistic duo formed by fashion Designers Mario Paglino and Gianni Grossi The Inspiration for the Piece comes from the Flair Tokyo dress. I wanted to portray the Colours, somehow unusual and the Oriental Flair of the design re-imagining some of the details of the dress and adding flowers and leaves to make it more Wedding like. The Folded detail at the waist , I thought it was quite crucial to the design and from the very beginning I wanted it to have a place in my design as the colour scheme itself, all of it accentuated by Gold gelatine sequins, edible confetti, overlaid laces and small little random and pretty much fabric like small flowers.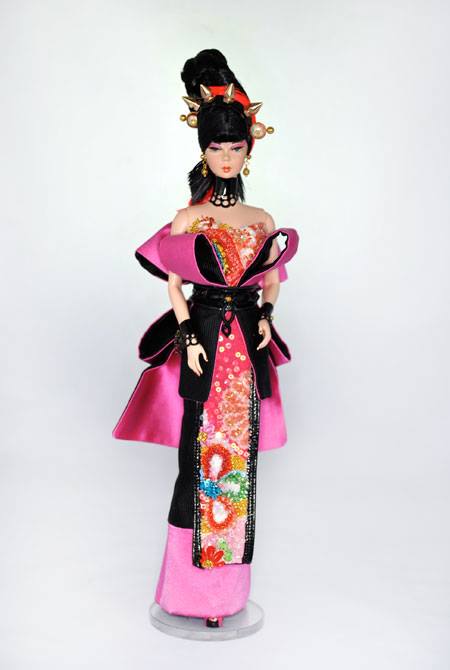 Barbie Doll wearing Flair Tokyo dress