These Terrific Disney Frozen Cookies feature Olaf, Princess Anna, and Queen Elsa. These wonderful cookies were made by You Can Call Me Sweetie.
One cookie has the words Let it Go which reminds me of the song that Queen Elsa sings.
Olaf is dancing and standing on one leg on this blue cookie. There is a large snowflake shadow in the background. The cookie has a gold and black top with a jade green stone in the middle. Take a close look to see that Olaf's nose is sticking out of the cookie in 3-D. Olaf is one of my favorite Frozen characters.
Princess Anna is the centerpiece of these cookies. She is on a cookie with a blue background and snowflakes in the background. Here brown hair is in two braided ponytails.
Another cookie has the pattern of part of her dress and another cookie has the pattern of another part of her dress. There is a cookie with he number 8 to represent the birthday age.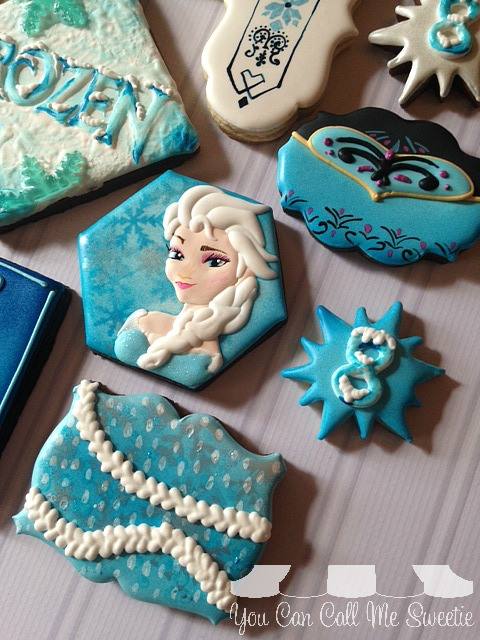 queen Elsa is the theme of these cookies. She is on a blue cookie with snowflakes in the background. Her white hair is in a braided ponytail.
A blue cookie with the number 8 is beside her. Below her is a cookie with the pattern of the ice crystals from her dress.
This Frozen cookie with the work Frozen looks frosty. The letters are a mixture of blue and white and have snowdrifts on them. There is snow all over the cookie background behind the word.
In addition, check out these terrificFrozen cakes and cookies with Anna, Elsa, and Olaf