I made these colorful Disney Haunted Mansion cookies for my husband for his birthday because he is a huge Haunted Mansion fan.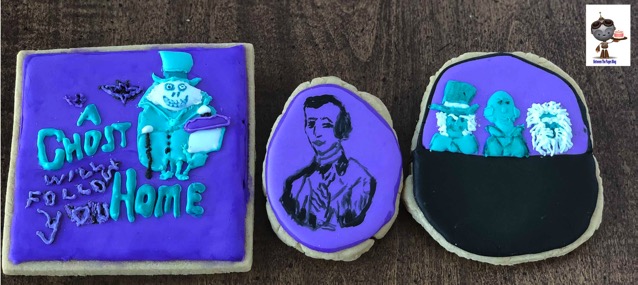 I made the Hatbox Ghost cookie because that is one of my husband's favorite ghosts. It has the words A Ghost will follow you Home.
There is a Doom Buggy cookie with the three Hitchiking Ghosts. I also made a portrait of Master Gracey cookie.
I got inspiration for the Hatbox Ghost cookie from this Haunted Mansion luggage tag. I changed the colors to match my theme and changed the shape of the ghost and placement of the small words.
These Madame Leota cookies show her crystal ball hovering over a table. Candles are on the table. There is also a Mickey head Madame Leota cookie.
Another cookie is shaped like a coffin or tombstone and reads Happy Haunt Day James.
I made Mickey and Minnie head Haunted Mansion cast member cookies and a cookie that has the words Welcome Foolish Mortals. The inspiration for the Mickey head cookies came from these Mickey head scrapbook die cuts.
I got inspiration and my color scheme from the Disneyland Haunted Mansion 50th Anniversary 31 Ghosts Postcard SHAG Left side). I really liked the choice of colors represented here. I think the brighter colors add a nice touch to the Haunted Mansion theme. I used blue-green for ghosts and purple for the living world just like this postcard.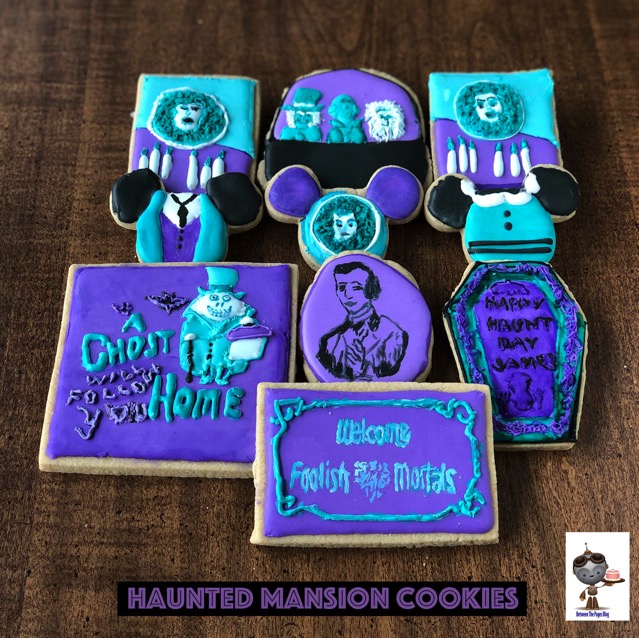 I had another Doom Buggy cookie so I decided to draw in Mickey and Minnie Mouse riding in a Doom Buggy surrounded by the 3 Hitchhiking Ghosts.
Also, please check out these Disney Haunted Mansion Cakes & Cookies & Pumpkins.