Aurelia Czarnecka from Aurelia's Cake.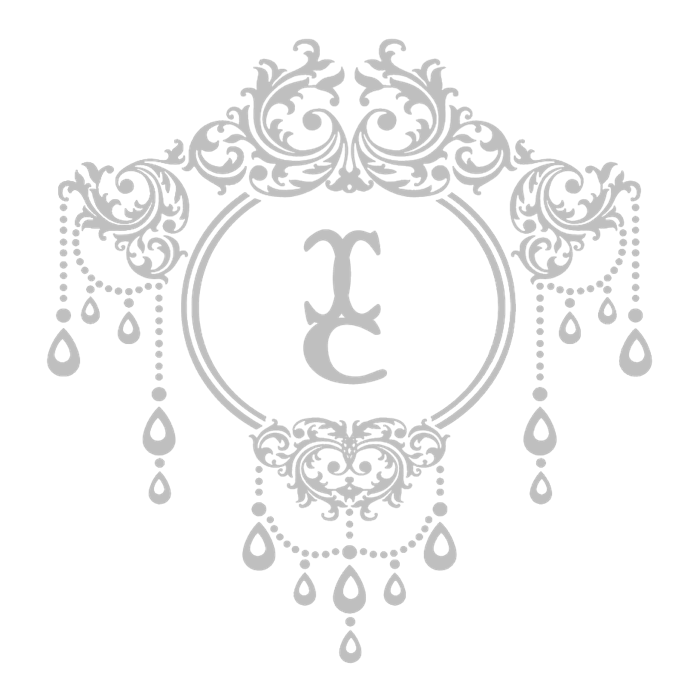 Couture Cakers International Sugar Art Collaboration is hosted by Heba M Elalfy of Sweet Dreams by Heba.  This is the fourth annual celebration of couture using all types of sugar medium as created by an international team of Sugar Artists. The theme this year is Islamic / Hijabi Bridal Dresses.
For the next few days I will be interviewing sugar artists who are participating in the collaboration.  
Here is my interview with Aurelia Czarnecka.
Tell me about yourself. How long have you been decorating? How did you learn to decorate? Do you decorate professionally? Have you taught any cake decorating classes? Have you competed in any competitions?
My name is Aurelia Czarnecka. I am originally from Poland but I live in the United Kingdom, Scotland for the past 14 years. After I graduated from University in Poland in 2006 I came to Scotland, I planned to stay here for a short period of time but life likes to surprise us, I met here my husband and I stayed.
I have always loved baking since I was a little girl, experimenting with new cake recipes and flavours and I've also always been very creative and loved making things – one of my favourite is making new ornaments and decorations for our Christmas tree every year.
I have never imagined that I will be a cake baker and designer and run my own cake business at some point in my life as I have a degree in accountancy but a few years ago I saw picture of cake on the Internet which blew my mind, and my daughter 5th birthday was coming soon so I decided to give a try in cake decorating and that how my passion for sugar art started.
In 2016 encouraged by family and friends I launched my sweet business – Aurelia's Cake, which is located in Stirling, Scotland and specialise in bespoke celebration and wedding cakes ( https://www.aureliascake.co.uk/, https://www.facebook.com/AureliasCake/ )
I'm entirely self-taught, there is a million tutorials online to show you the basics and I learned from them at the beginning, now I work things out for myself. My favourite thing about creating cakes is being able to express myself creatively. I love that every day is different and every cake is different and I love being a part of people's celebrations. I always look to learn and develop new techniques and follow new trends. From time to time I like to involve myself into larger project such as a cake collaboration or cake competition. Then I can step out from my comfort zone and challenge myself. I recently fall in love into sculpting using modelling chocolate, I'm fascinated by Carla Puig, Marta Hidalgo and Elza Baldzhiyska work. They constantly inspire me and I even decided to give a try at sculpting last year for my entry to Cake International in November 2019. That was a success as my decorative exhibit – Halloween themed Witch and a pumpkin bust won me silver award. I was over a moon.
What is the name of your business/bakery, where you are located, what area you serve, and what you specialize in. 
Business: Aurelia's Cake,
Business based in: Stirling, Scotland, United Kingdom
Social Media Links
Website: https://www.aureliascake.co.uk/
Facebook: https://www.facebook.com/AureliasCake/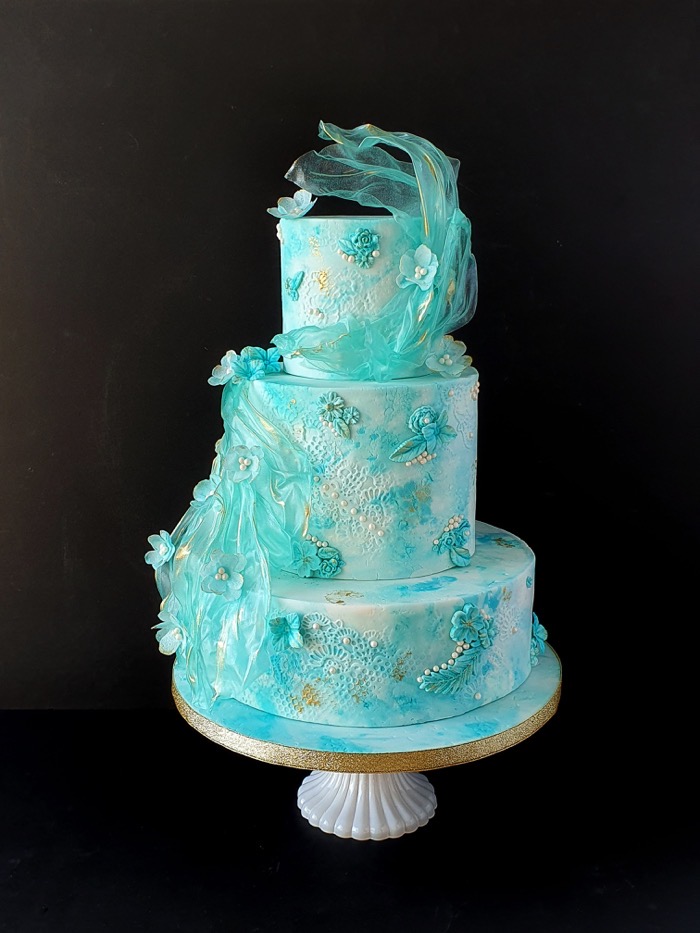 Tell me about your design.  
My piece for Couture Cakers Collaboration was inspired by gorgeous turquoise Islamic dress I found on the Internet. The aim was to recreate this romantic, light and fairy look of the wedding gown, but also use some recent cake decorating trends. I decided to add some texture to my design by stone effect and elements of bas-relief. I added extra depth and ornamentation by lace embossing. To represent bridal Hijab I added rounded rice paper sails on the top tier. I used also rice paper sails on the middle and bottom tier as illusion of flowy fabric. I finished my design with delicate wafer paper flowers and a touch of gold.
All credit for this photograph goes to 'le Motion Photo'.