Heba Elalfy from Sweet Dreams by Heba. 
Couture Cakers International Sugar Art Collaboration  is hosted by Heba M Elalfy of Sweet Dreams by Heba.  This is the fourth annual celebration of couture using all types of sugar medium as created by an international team of Sugar Artists. The theme this year is Islamic/Hijabi Bridal Dresses.
I am thrilled to be featuring this collaboration again this year.
For the next few days I will be interviewing sugar artists who are participating in the collaboration.  
Here is my interview with Heba Elalfy:
Tell me about yourself. How long have you been decorating? How did you learn to decorate? Do you decorate professionally? Have you taught any cake decorating classes? Have you competed in any competitions?
Originally from Egypt but living near the Orlando area in Central Florida, I'm a Mom of two teenagers who are the reason I got into baking and decorating. When they were much younger, they requested very specific birthday cakes, which I couldn't get any of the bakery stores to make so I decided to attempt making them myself! They actually turned out much better than I thought they would and on the day of their birthday parties, the feedback I received from other parents as well as the location hosts was reassuring. Since then, I've taken some classes and done alot of reading and watching videos to improve my skill at baking and mainly decorating cakes, cupcakes and cookies. I don't have a store-front bakery as yet but that is one of my wishes for the future. I also hope to be able to host more decorating classes too and as for now, I host cake and cookie decorating classes out of my home. Another bucket list goal is to participate in cake and cookie competitions but I've never been someone who likes to be in the spotlight or in front of cameras or on stage, so that nervousness has held me back.
What is the name of your business/bakery, where you are located, what area you serve, and what you specialize in. 
I'm located in Saint Cloud, Florida, which is about a 20-30 minute drive from South Orlando, but I deliver to areas in Orlando and Kissimmee as well. I do a lot of baking as charity work for non-profit organizations. One of the most rewarding and worthy causes is Icing Smiles Inc., which provides custom celebration cakes and other treats to families impacted by the critical illness of a child, and for their siblings.
Social Media Links
You can see my creations on my Facebook page, https://www.facebook.com/sweetdreamstoyou, and on my Instagram page, https://www.instagram.com/sweet_dreams_by_heba.
Also on my Facebook page, you will see so many of the collaborations that I've hosted online over the last few years, which I thoroughly enjoy doing! I do welcome new artists to the collaborations which I host and they can contact me directly on those pages to introduce themselves. One of the main reasons I started out in the collaboration world many years ago was to give a chance to artists who aren't well-known in the sugar world, or shall I say who don't have a big following and therefore don't get opportunities to collaborate and improve their skills while making new friends. I was in their shoes many moons ago. It's a very rewarding accomplishment for myself and for them.
Tell me about your design. 
For this year's annual Couture Cakers International collaboration, now in it's fourth year, I chose the theme 'Islamic/Hijabi bridal dresses'. Sadly, once our collaboration got going and our members begun to design and create their pieces, Covid-19 hit hard and affected us all in different ways. A lot of my members had to drop out and those who stuck with it, created such BEAUTIFUL pieces with what supplies they had on hand. Adding to my pride in hosting this theme, the Couture Cakers, as we call ourselves, made me even more proud producing the cakes, cookies, cupcakes and artwork you see, even through the horrible pandemic!
Since I am Egyptian and was born and raised in Africa, I tend to return to my African roots for inspiration. I found an Islamic tribe in Nigeria called Hausa who have some beautiful and colorful wedding attire. I was drawn to the rich colors of one specific Hausa bride wearing burgundy fabric trimmed with gold thread.
All credit for this photograph goes to 'George Okoro Weddings'. My cake is inspired by the crinkles in the sheer fabric, the applique flowers, the gold trim and thread.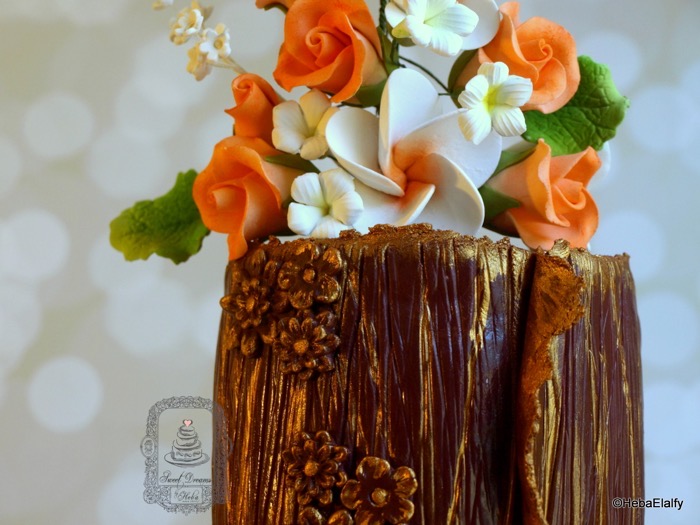 Using Satin Ice fondant in burgundy color, I wrapped my two tier cake, leaving one side overlapping the other. I tore off the edges of the fondant and then scored the cake with a Dresden tool. I made three different flowers using a silicone mold and placed them on the cake in a cohesive way to create the wrap effect. Once the fondant had set almost fully, I hand-painted the edges with gold and finally, I added a beaded trim on the base of the top tier using another silicone mold I have. To top off this beautiful design, I crowned the cake with flowers native to many African countries.
It's a satisfying feeling to see what cakes and cookies I can create at this stage of my life versus what I could do a decade ago, or less. It's always been a sense of accomplishment but as the years have gone by and as my skill level has improved, it's also now a sense of pride and desire to do better and learn more. You can never say you know enough, right? I'm this way, I want to always learn MORE. I remember one cake I made a decade ago that was all buttercream with some candy decorations; I didn't know how to make proper buttercream that would hold itself and give a smooth finish. I felt great about the cake at the time but looking back on it, I see flaws in the cake that leave me shaking my head. That's because I've grown a lot since then.
Favorite stories.  
In my free time, sometimes I sketch portraits, animals or nature. I've sketched several portrait commissions of human family members and pet family members. I taught myself to draw; starting from when I was a toddler by tracing Disney characters off the drawing book or tracing them off the TV screen when I paused the video! As I grew up, I'd teach myself to draw from sight instead of tracing. This is how I've improved, by using an image in front of me to replicate. Sketching is a relaxing hobby and I plan on bringing this into my cake/cookie decorating more and more, using cocoa butter especially, but not strictly.
I want to give a heartfelt 'thank you' to Karen who has been by my side since Day 1. Karen, you've always been welcoming, supportive, and a pleasure to know and to work with. Your support means a lot to me, and on behalf of the Couture Cakers this year, again we Thank You Very Much 😊