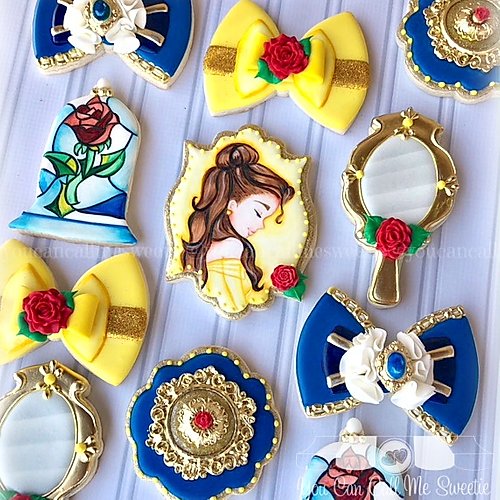 These splendid Beauty and the Beast Cookies feature a portrait of Belle on a cookie and have other cookies that represent Belle and the Beast. There is a single red rose at the base of the Belle cookie.
These wonderful cookies were made by You Can Call Me Sweetie.
There is a yellow bow cookie with a red rose in the center for Belle.
A gold mirror with a single red rose is the shape of another cookie.
The single red rose encased in glass is painted on a cookie.
A blue bow with a white frilly ribbon and a blue and gold pin in the middle is the design of another cookie.
Another cookie is blue with an ornate gold pin with a red rose in the center to represent the Beast.
Also, check out these wonderful Beauty and the Beast Cakes and Cookies.