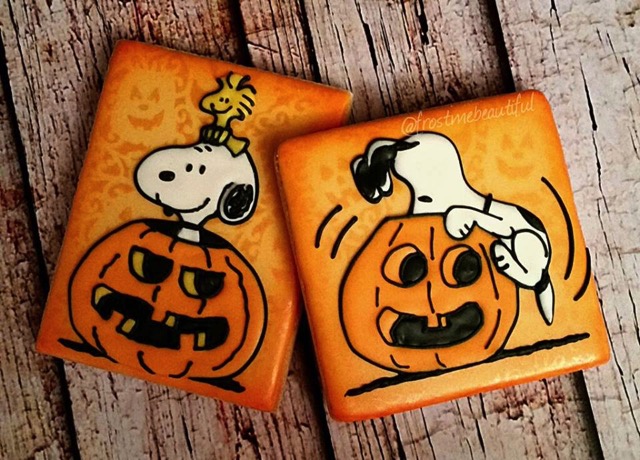 I first shared these cute Snoopy Halloween Jack-O-Lantern cookies in 2017, but they are so charming I wanted to share them again. These wonderful cookies were made by Frost Me Beautiful .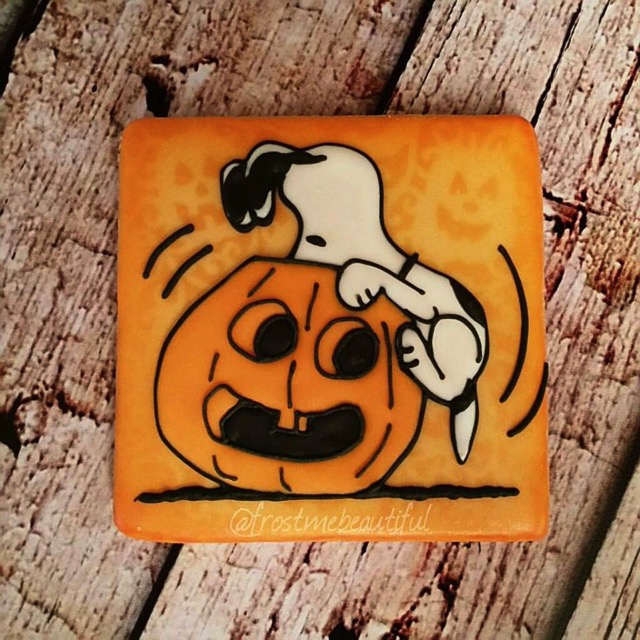 These cookies tell a story when put together.
Snoopy has walked up to this jack-o-lantern and is hopping into it on this cookie.
The lines on each side of the jack-o-lantern show that the pumpkin is tilting over as he climbs inside.
The pumpkin looks startled at being tipped over if you look at the eyes.
Snoopy is standing inside the Pumpkin. Woodstock is resting on his head.
The pumpkin has an interesting grin on its face and Snoopy and Woodstock are smiling.
I really like the jack-o-lanterns in the background of these cookies. It fits well with the Jack-o-lanterns on the cookie.
These Snoopy Halloween Jack-O-Lantern cookies were donated towards the Go Bo! Foundation, which sponsors a large bake sale to help raise money to fund research regarding childhood cancer. It takes place in Wisconsin.
These cookies were iced using light orange royal icing. Next they were airbrushed in Orange Sheen over a Halloween stencil. The edges of the cookie on the right was also airbrushed in Orange.
The extra airbrushed detail on the background really makes these Snoopy Halloween cookies look terrific.
For more terrific treats, check out Charlie Brown Halloween Cakes, Cookies, and Pumpkins.
To see Charlie Brown treats for every season, check out Snoopy and Charlie Brown.