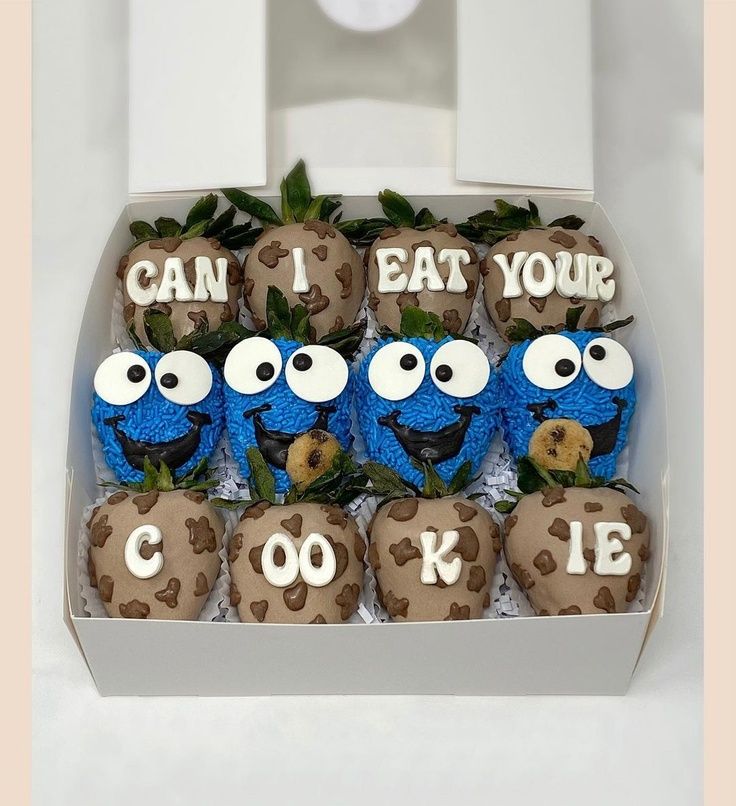 These adorable Cookie Monster Themed Chocolate Strawberries were made by Fresitas Los Angeles. There are 12 chocolate dipped strawberries in this delightful set. The top row and bottom of strawberries are dipped in one color of chocolate and then little dots of a darker chocolate was added on top. This makes these strawberries look like chocolate chip cookies. The words "Can I Eat Your Cookie" are written on the strawberries in white.
The berries in the center row were dipped in chocolate that had been colored blue. A black mouth was piped on and googly eyes were added. The results are the cutest Cookie Monster strawberries. Two of the monsters even have little cookies in their mouth.
I've made chocolate dipped strawberries plenty of times and even given them as gifts, but until I saw these I'd never thought about turning them into such yummy art. These are absolutely brilliant.
This is my first post about pop culture chocolate strawberries, so I can't point you to any more yet. But, I have featured many wonderful Cookie Monster Cakes and Cookies in the past. Three of my favorites are this amazing carved stand-up Cookie Monster Cake, the cutest Sesame Street cakesicles, and these adorable cake toppers which mashup Hello Kitty and Sesame Street. These sweet treats are guaranteed to make you call out "Om Nom Nom" or "Me Want Cookie".