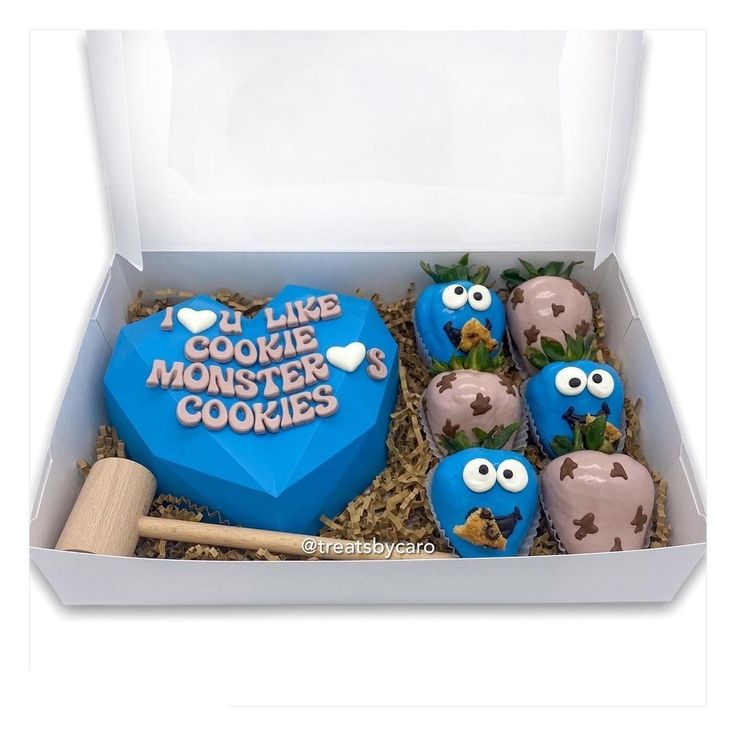 Don't go breaking my heart
I couldn't if I tried
Honey if I get restless
Baby you're not that kind
Don't go breaking my heart
You take the weight off of me
Honey when you knock on my door
Ooh, I gave you my key
Woo hoo
Nobody knows it
When I was down
I was your clown
Woo hoo
Nobody knows it
(Nobody knows… it)
Right from the start
I gave you my heart
Oh-oh I give you my heart
So don't go breaking my heart
I won't go breaking your heart
Don't go breaking my heart
This great duet by Elton John and Kiki Dee has been stuck in my mind ever since I began looking at breakable chocolate hearts. It is the perfect theme tune for them!
I liked the cute Cookie Monster themed chocolate covered strawberries that I featured yesterday so much, that I wanted to feature another set today. These great Cookie Monster Chocolate Strawberries with a breakable chocolate heart were made by Treats By Caro.
This gift box contains a large blue chocolate breakable heart. It has the adorable phrase – I love you like Cookie Monster loves cookies. The letter are in chocolate chip cookie dough brown. The word love are little white hearts. The gift box includes a little wooden mallet to break this sweet heart.
There are six chocolate covered strawberries in a separate compartment. Three of them look like chocolate chip cookies – they are coated in chocolate chip cookie dough brown with little darker chocolate spots. The other three look like Cookie Monster – they are coated in blue chocolate with piped on eyes and a mouth. Each of these strawberries is eating a cookie.
This is an adorable set.
Looking for more cute Cookie monster treats? Take a look at these itsy bitsy teenie weenie cookie monster cookies, this set of four amazing Sesame Street Cakesicles, and this stunning Stand Up Cookie Monster Birthday Cake.