Join the Duck Side – We have cookies.  I made these Disney Star Wars Mashup cookies for my son who is a big Disney and Star Wars fan.
I found a picture that I really liked by Deviant Art – Photon nmo. That picture has Mickey Mouse dressed as Luke Skywalker and Donald Duck as Darth Vader. Duck Stormtroopers are behind him.  Donald is holding a red lightsaber and Mickey is holding a green lightsaber.  Behind Mickey on the original artwork is Nemo as Admiral Ackbar.  I love the words on this which say on one side : 'Come to the Duck Side.' – – and on the other side  'It's a Mouse Trap.'
My Mickey Mouse Luke Skywalker cookie and Donald Duck Darth Vader cookie and Duck Stormtrooper Cookie are based on the drawing by Photon nmo.
Furthermore, I based the Goofy C3PO cookie and the Stitch Yoda cookie on Disney Star Wars cookies by Semi Sweet Designs.
Here's a close-up of the Goofy C3PO mashup cookie. He is paired with a LEGO R2-D2.  The Mickey Mouse Luke Skywalker mashup cookie is paired with a LEGO Princess Leia figure.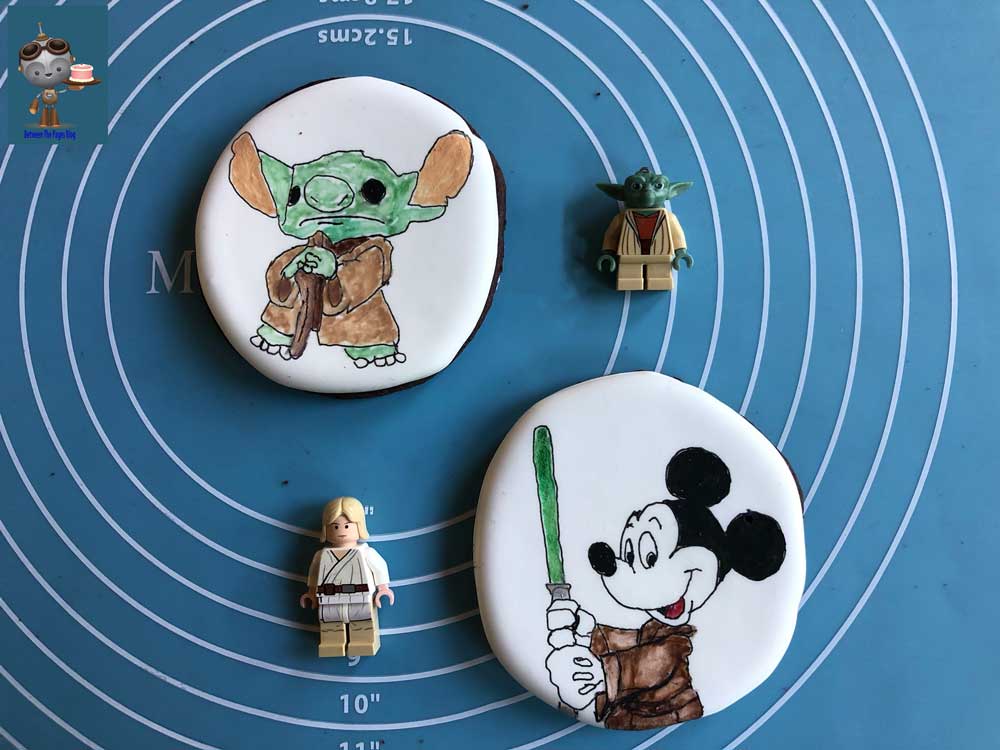 In addition, here's a close-up of the Stitch Yoda Mashup cookie beside a LEGO Yoda figure. The Mickey Mouse cookie shows him wearing Jedi robes and holding a green lightsaber. It is beside a LEGO Luke Skywalker figure.
You may also like these Mickey Mouse Star Wars mashup cookies.
Also check out these marvelous  Mickey Mouse and Friends cakes and cookies or these Star Trek Star Wars Mashup cookies or these cute Star Wars Cookies.