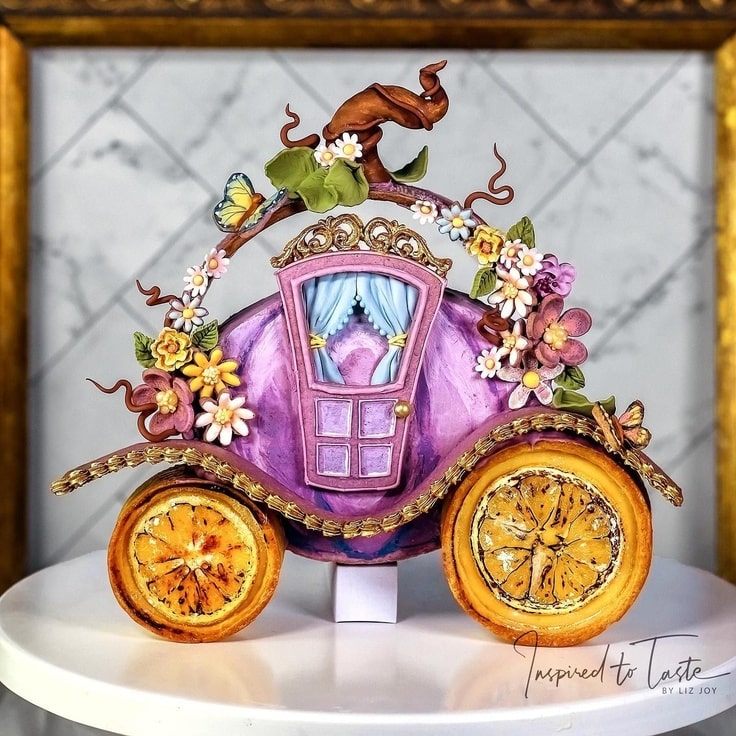 When Liz Joy from Inspired To Taste created this mindboggling Cinderella Carriage Tart, she revealed to the word that she is the secret identity of the Fairy Godmother.
Here is Liz's description of her masterpiece:
Would you dig into this tart 🍴? For the first time in my baking career, I seriously cannot bring myself to do it 🙈.

Awhile back, my friend, @thedessertpantry, challenged me to make a Cinderella-inspired bake, and I thought an enchanted pumpkin carriage would make for such a fun tart design. Then I thought, "I should do a standing tart!" Followed by, "and it should have separate little tart wheels!" And, "omg, how cute would a plethora of itty bitty cookie flowers be?!" And then, "it OBV needs a floating door element too"…

At which point I realized my kitchen was now a chaotic explosion of tiny decorations, fillings, food coloring and frosting. I had no clue what I was doing or how I'd gotten there, and I was 100% convinced I was going to hate the finished piece. But Jay insisted I'd already come this far and had completely trashed our kitchen, so I might as well finish.

And then THIS happened. And I fell in LOVE. And now I can't for the life of me talk myself into slicing into it. I don't even know where to cut. Where do I cut?!

Specs: the carriage body has an elderberry sweet crust shell (courtesy of @nature.restore 💜) and is filled with layers of elderberry sponge (soaked in elderflower syrup), lemon curd, and elderberry ganache, with a hint of lavender. The wheels are lemon tarts. The decorations are a combo of hand-painted elderberry sweet crust and vanilla bean marshmallow fondant, with lemon royal icing.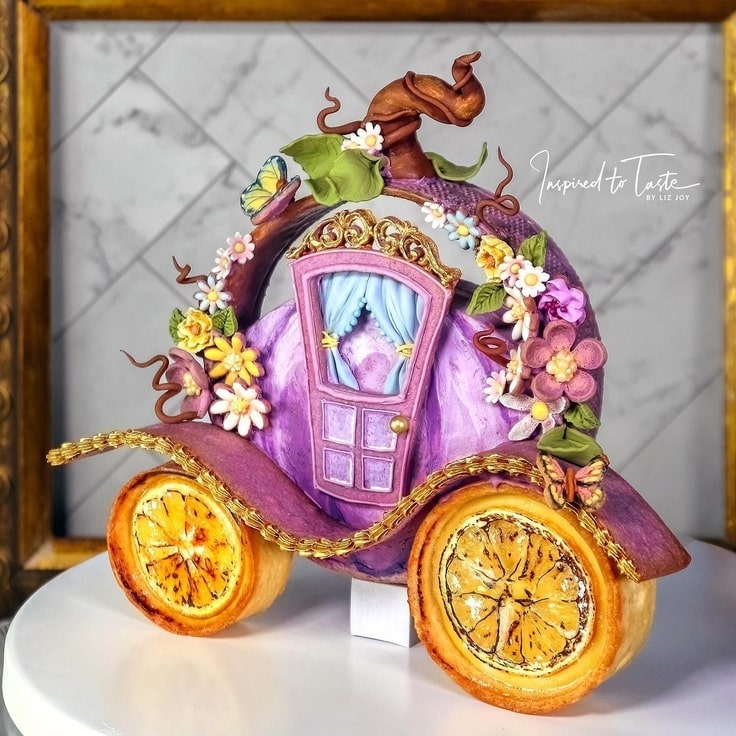 It wasn't until I looked at this for awhile that I noticed my single favorite thing about this stunning carriage. Look at the carriage door and go up. There is a gap. The shell of the pumpkin is a completely separate piece. The stem, leave, butterfly and flowers are all of this thin pumpkin shell. Amazing and gorgeous!!!
Here is a close-up of the carriage door. The detail is wonderful! The door has little widow panels, a golden door knob and blue curtains. There is ornate gold swirls above the door. The top of the carriage is framed with flowers.
I've featured more of Liz Joy's magical creations:
This Tweety Bird Pie features Tweety in a golden cage with Sylvester reaching around to grab Tweety.
This Waiting For Peter Pan Pie features Wendy Darling sitting at a window looking at the London during a starry starry night while Peter Pan's shadow hovers in the sky.