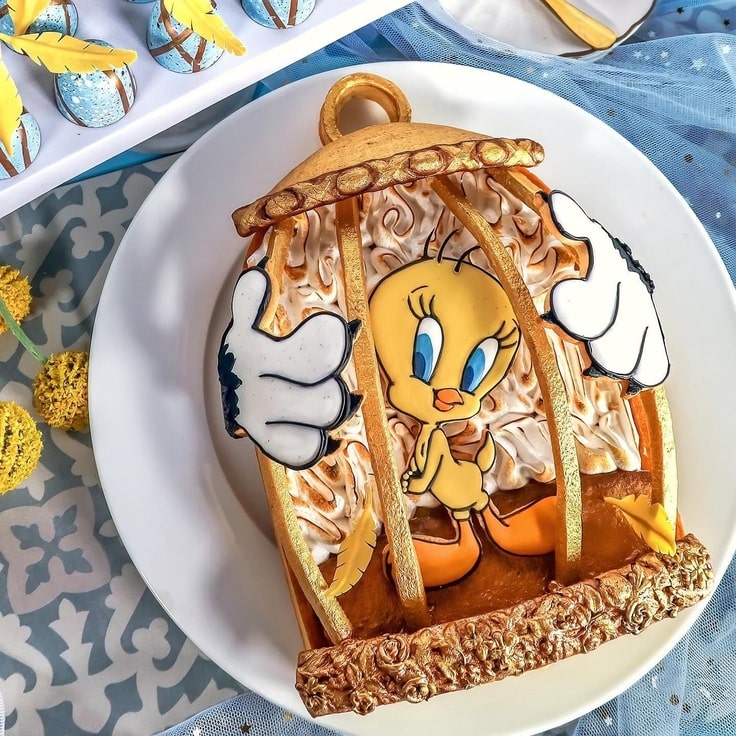 This Tweety Bird Pie made by Inspired To Taste. It is too pretty to eat! The top crust of the pie has been designed to look like a golden bird cage. It even has the circle at the top to hang the bird cage from. The outside of the base of the cage is ornate. Tweety is in the cage. You can't see Sylvester, but his two claws are reaching around the bird cage.
There are three things that make is pie absolutely gorgeous.
The detail is amazing. Just look at the cage. The bars are curved and look golden. There is a pattern at the top. Tweety looks like he flew out of a Looney Tunes cartoon.
The use of texture is wonderful. Tweety and Sylvester look 2-D and are bright and colorful. The pie filling is swirled and makes a wonderful back drop for Tweety. The cage looks golden and has intricate patterns on it. All these different textures make Tweety and Sylvester really stand out.
Lastly, the pie looks 3-D. Tweety is literally inside the cage. The bars of the cage bend so they look 3-D. Sylvester's claws are on top of the cage bars. Liz's brilliant use of layers makes the overall image look 3-D.
The pie is crust was a buttery pâte sucrée. The filling was tart lemon curd and sweet-and-silky Italian meringue.
For more amazing pies, check out:
This Monster At The End Of The Book Pie is too cute!
This Waiting for Peter Pan Pie is one the of prettiest pieces of art I've posted on Between the Pages.
If you love Roger Rabbit, you'll enjoy this great Jessica Rabbit pie.
This Spider-Man pie is amazing!