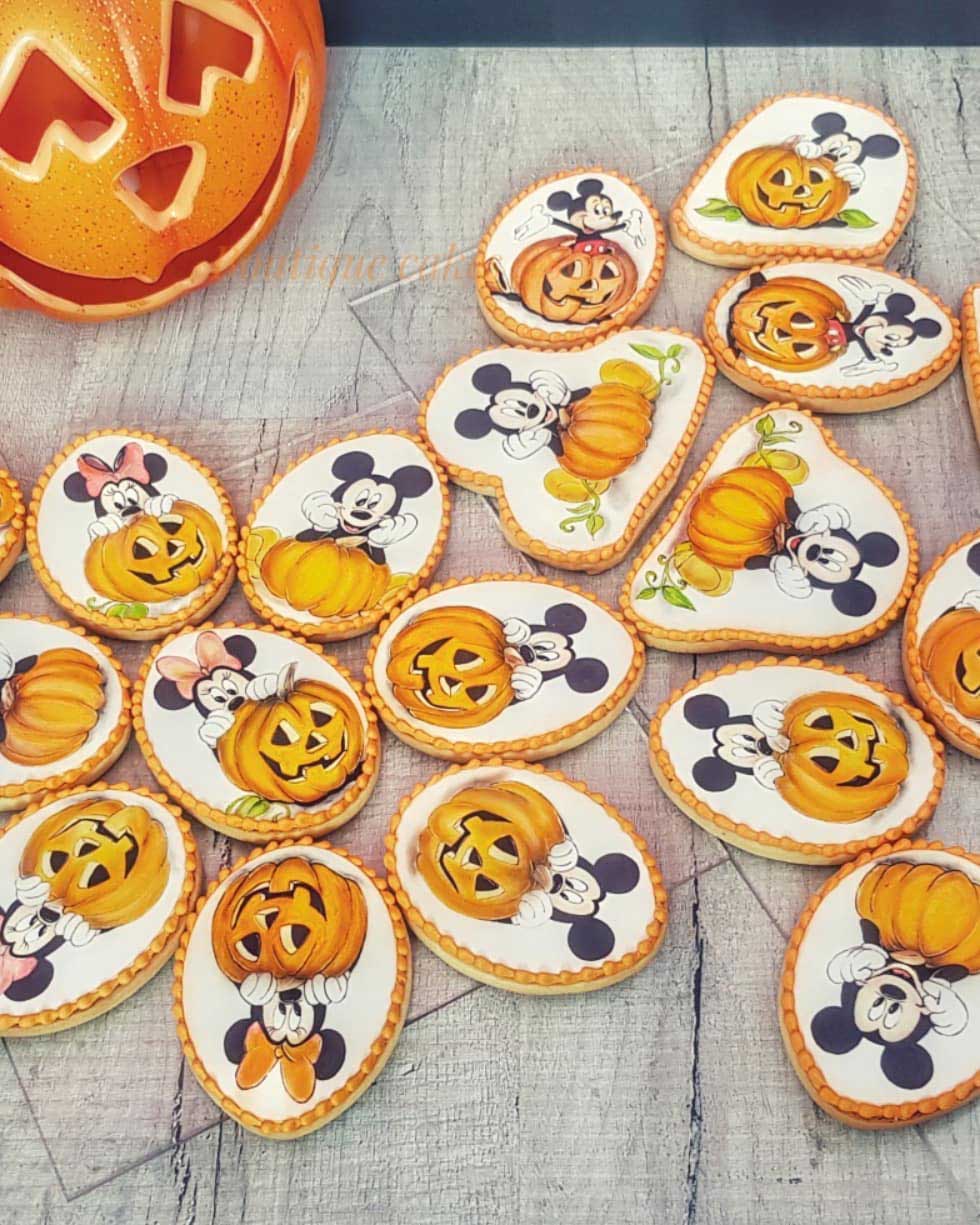 These Mickey & Minnie Mouse carved pumpkin cookies are orange and white cookies that feature each Disney character with an orange pumpkin or orange Jack-o-Lantern in front. All of these cookies have a piped orange bead border. All other designs are hand-painted onto each cookie. The orange border really draws out the orange pumpkins.
These wonderful cookies were made by Dani Bekyarova.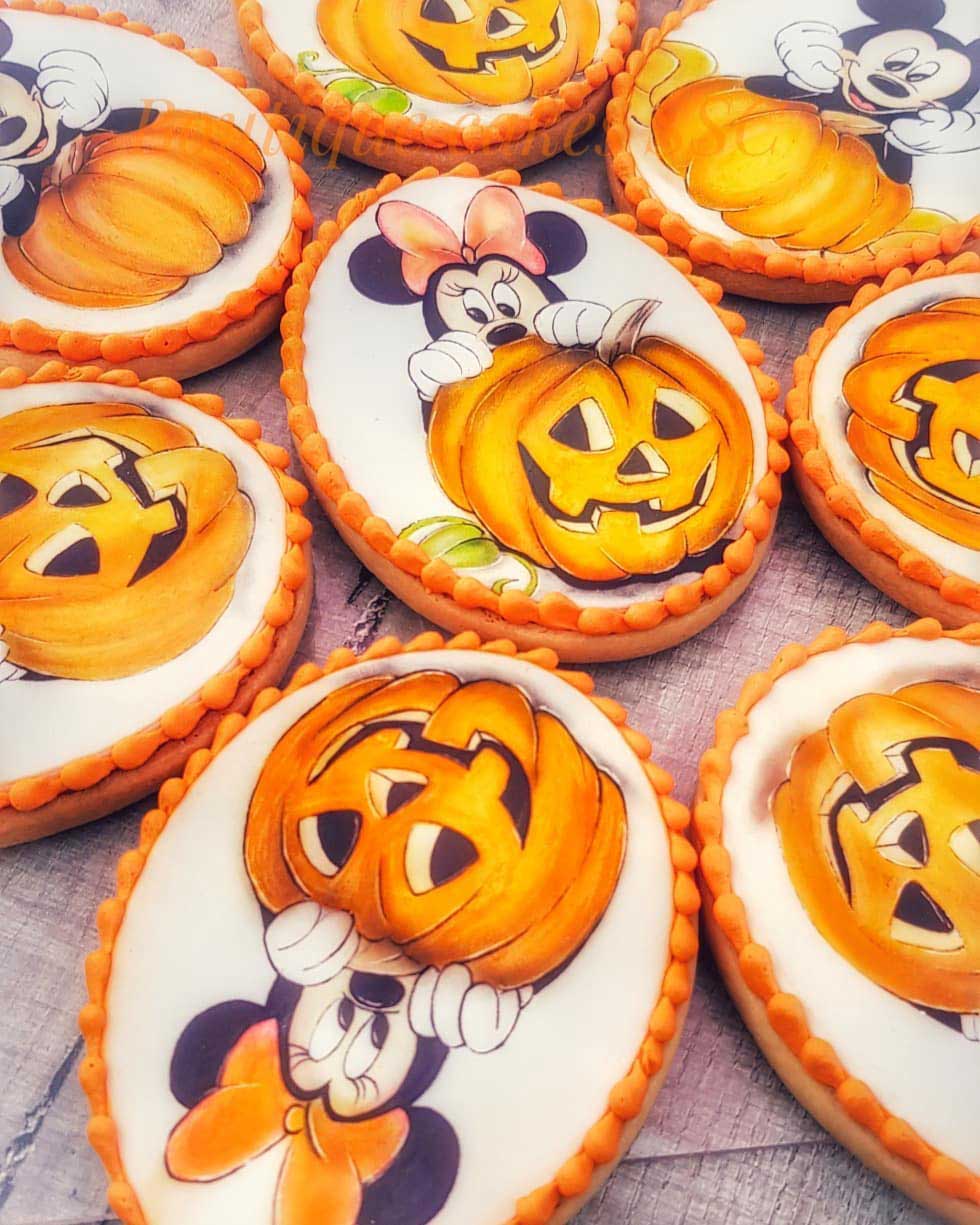 These Minnie Mouse Jack O Lantern Cookies are orange and white cookies that feature her peeking over a carved pumpkin. Some cookies have small green leaves beside the pumpkins.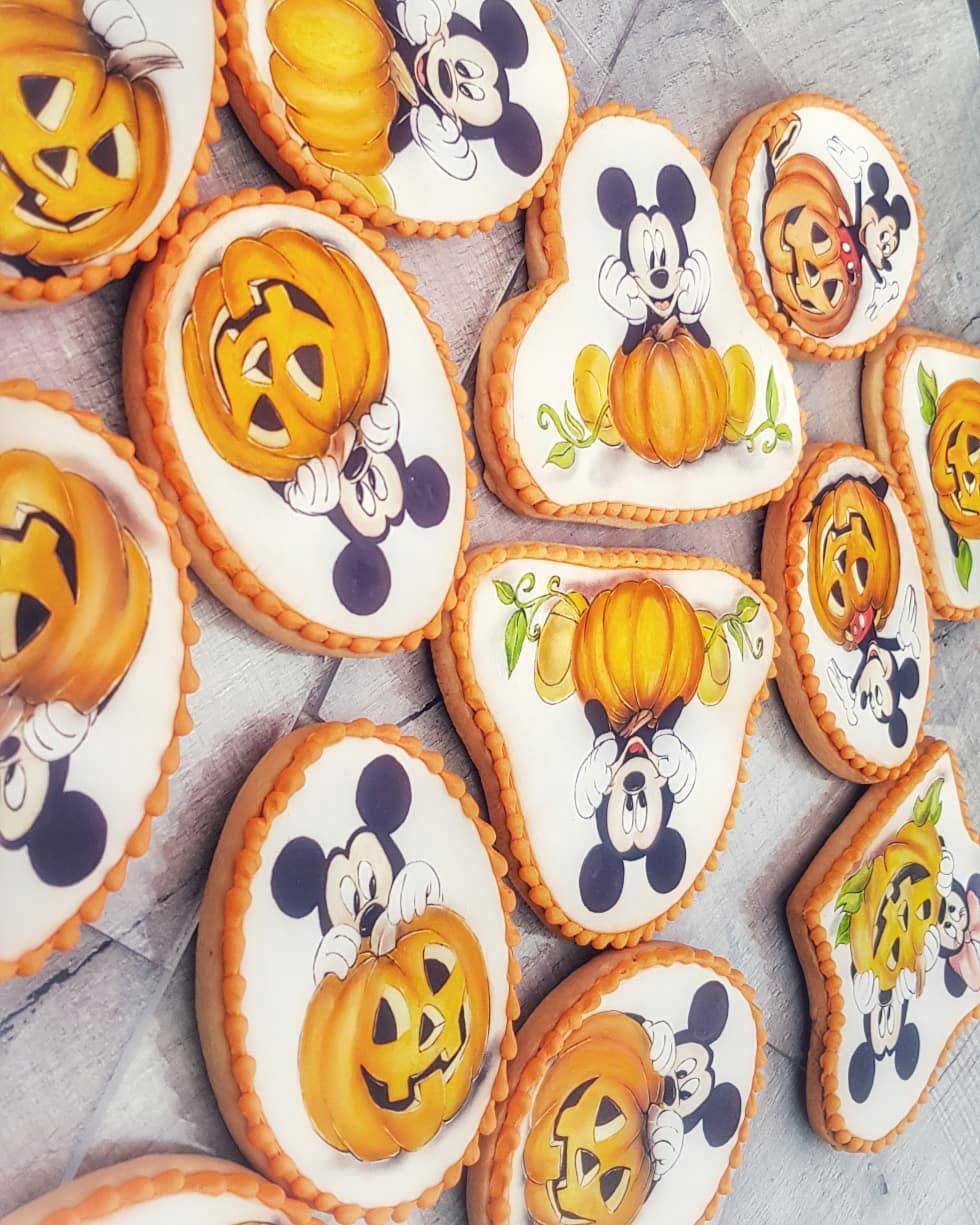 Also, these Mickey Mouse pumpkin cookies feature him in several different poses. He is sitting behind an orange pumpkin and resting his elbows and head on the pumpkin on one cookie.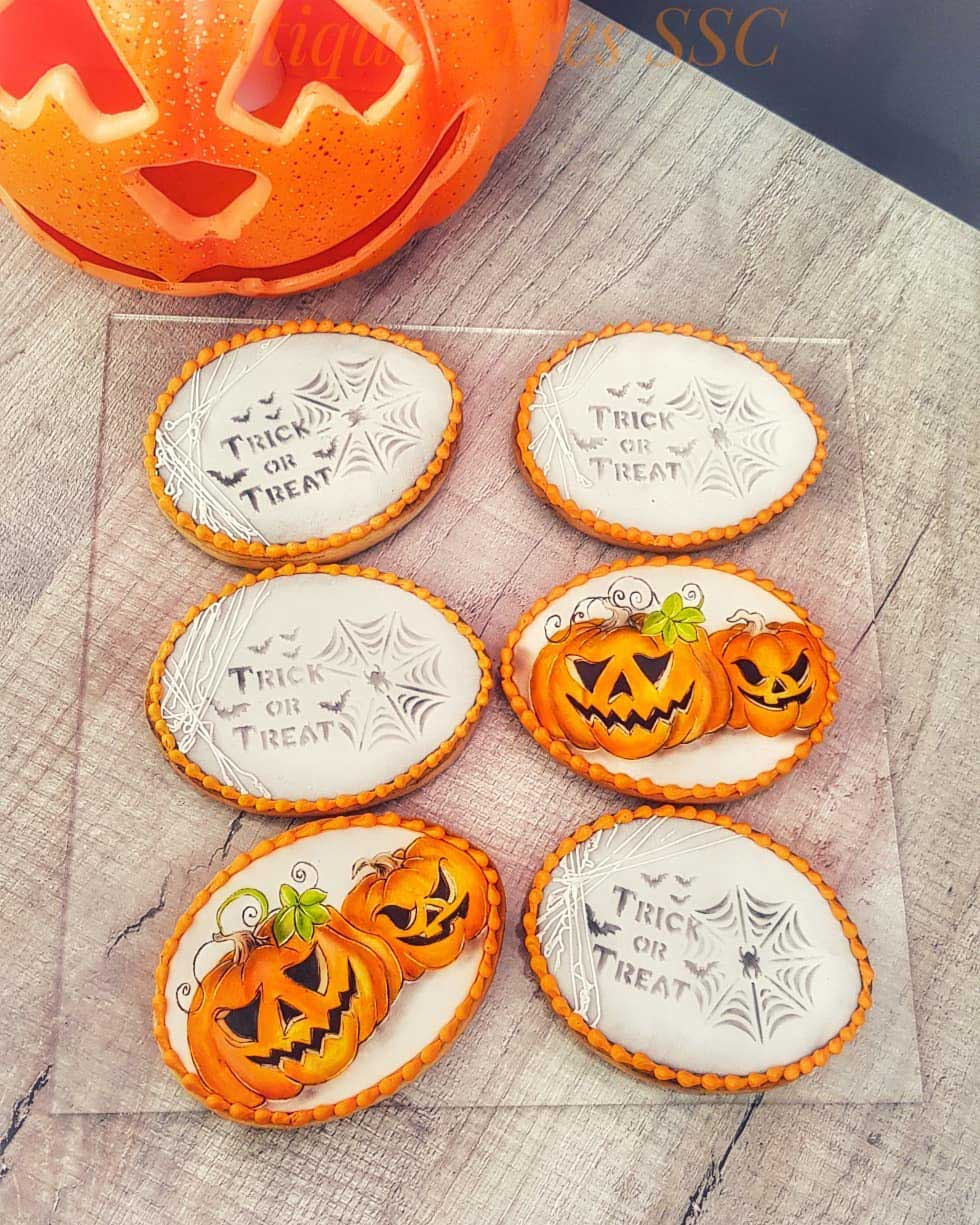 In addition these scary carved pumpkins and the cookies with a Trick or Treat spider web complete the set.
Moreover, the green vines coming out from either side of the pumpkin give a nice touch of green color to the cookie.
Here's a close-up of Minnie with the orange carved pumpkin.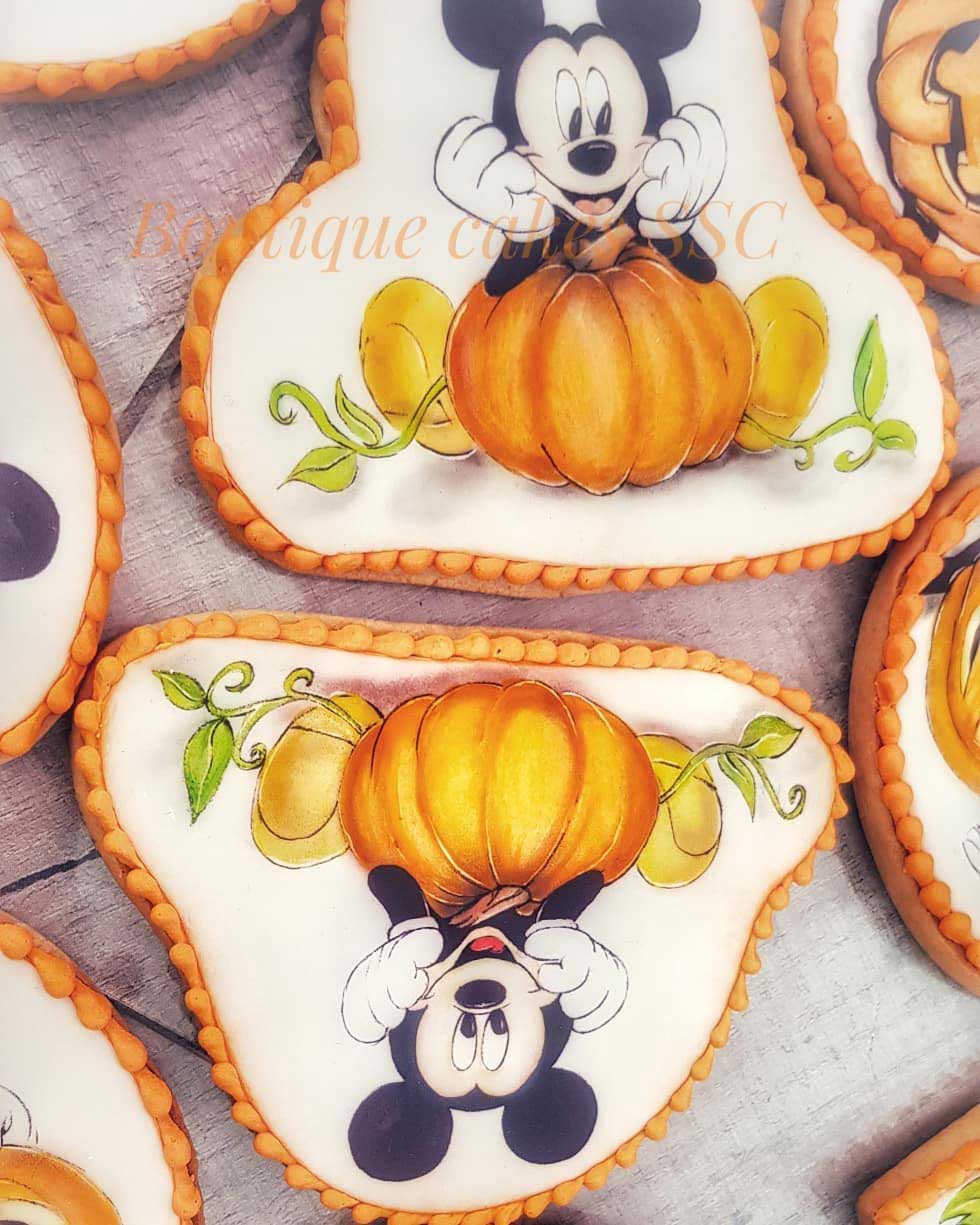 Mickey was drawn onto a piece of fondant that was added to the top of each cookie.
More pictures of hand-drawn Mickey Mouse figures on the fondant pieces that will go top top of the cookie.
Looking for more Disney Halloween treats?
These Donald Duck Halloween cookies feature him in a red devil costume.
This amazing cupcake tower features Donald once again as red devil, Mickey Mouse as Dracula, Minnie Mouse as a witch, Daisy Duck as a princess, Goofy as a mummy and Pluto as a skeleton.
In addition,this Count Mickey Mouse Cake has Mickey popping out of a pumpkin. Why should Donald have all the fun?
You may also enjoy these other Halloween cookies and cakes.