These lovely Carl & Ellie Portrait Cookies were made by Sugar Cookies by Marina. Each portrait shows Carl and Ellie in a different stage of life. These recreate the portraits that are inside Carl and Ellie's house in Up.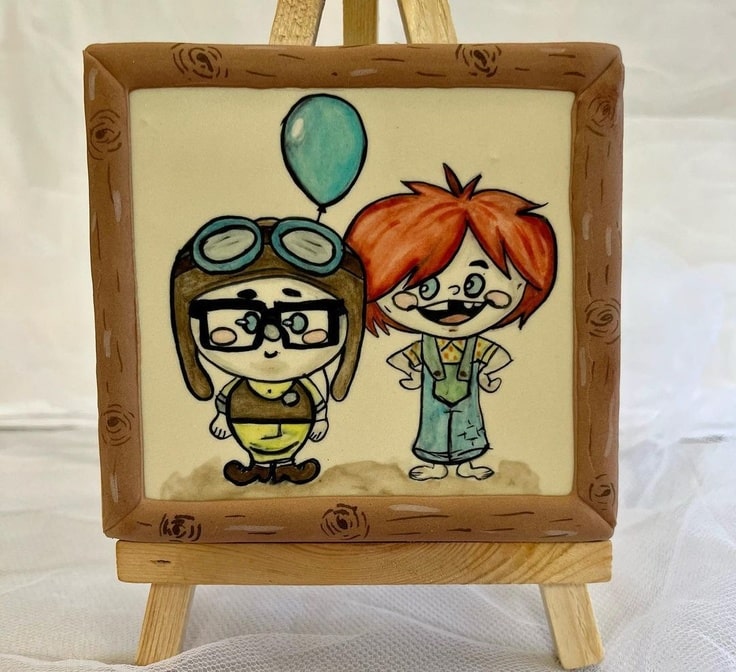 This is the only picture in color. Carl and Ellie are kids in this portrait. Carl has on an old aviator outfit which includes a leather vest, a leather aviator cap and goggles. He is also wearing his square glasses. There is a blue balloon floating behind him and it is tied to one of his arms. Ellie is barefoot and wearing a blue overall with a red and yellow shirt underneath it. She has bright red hair.
I really like how each portrait is frame and sitting on a tripod.
Here are Carl and Ellie as newlyweds. This portrait is in sepia tone. The colors in this photo are beige, brown and faded red. Carl and Ellie standing near the mailbox for their home. Carl is leaning on the mailbox and looking at Ellie. Ellie is wearing a red blouse and has a scarf on her head. She is looking lovingly at Carl. There are two hearts floating between them. On the mailbox is the words Love You and a red heart.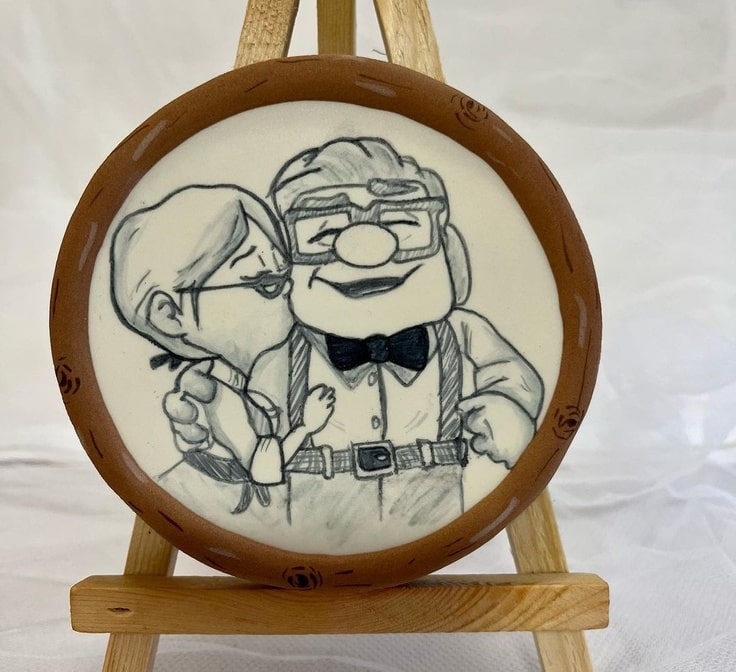 This is Carl and Ellie when they are elderly. This portrait is black and white. Carl is wearing pants, a button shirt and a bow tie. He has on both a belt and suspenders. Elie is now also wearing glasses and she is turned and kissing Carl on the cheek. The expression of joy on Carl's face is adorable.
These cookies are so cute and so romantic.
Looking for more Up party ideas?
These great Up cupcakes feature Carl and Ellie both a newlyweds and in their golden years.
This romantic Up Cake has wonderful hand drawn versions of Carl and Ellie. Behind them is the word love.
This lovely Up Cake has Carl and Ellie kissing while having a picnic.