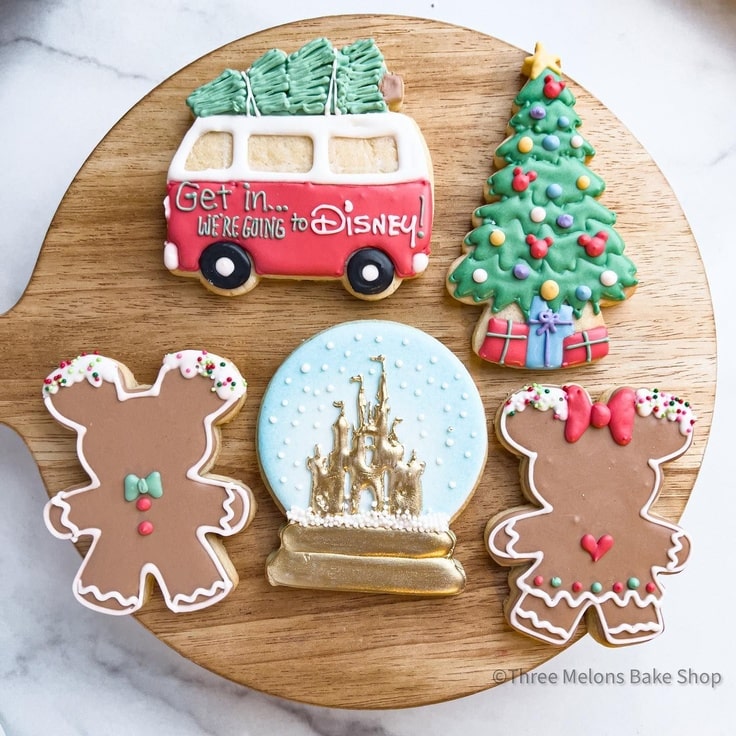 Yesterday, I posted delightful Mickey and Minnie Gingerbread Men made by Three Melons Bake Shop. Today, I'm featuring Megan's Disney Christmas Trip Cookie which feature another cute version of her gingerbread Mickey and Minnie.
This yummy set of cookies includes gingerbread men of Mickey and Minnie Mouse, a snow globe with a castle in the middle, a Christmas Tree and a van announcing "Get In We're Going To Disney!". What a cute and clever way to announce a trip to Disney. I wouldn't mind finding these under my Christmas Tree!
The attention to detail on these Christmas Cookies is wonderful. The snow globe has snow in the air and on the ground. Both the base of the globe and the castle are gold. Mickey has a green bow tie and two red buttons. Minnie is wearing a red hair bow. Her skirt is trimmed in red and green. In a really cute touch, she had a red heart because she's in love with Mickey. The Christmas Tree has presents under it and some of the ornaments are shaped like Mickey Mouse heads. The van which announces the Christmas trip has a Christmas Tree strapped to the top. All these little touches make these cookie so much fun.
Three Melons Bake Shop is located in Woodstock, Virginia and the winner Julia M. Usher Cookie Art Competition. They're on the web, Facebook, Instagram and Pinterest. They have an online store and an Etsy shop.
Looking for more Disney Christmas Cookie ideas?
These Chip and Dale Christmas Cookies include cute Mickey Mouse snowman cookies.
This Tigger Christmas Cookie has him dressed for winter and carrying two giant candy canes.
This cute Christmas Cookie Box features Stitch.