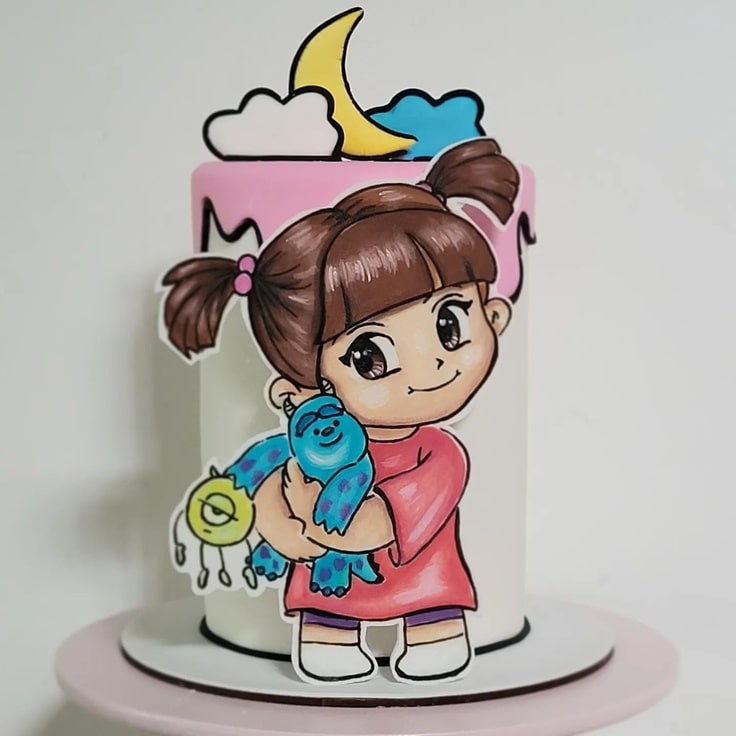 This adorable Boo Cake was made by Diana Kitus. It features Boo, the little girl from Monsters, Inc., holding small stuffed animals of Mike and Sulley.
I really like the design of this cake. Most of the cake is covered in solid white fondant, so it doesn't draw your eyes. This is intentional  because Boo is the focal point.
In addition Boo is flat and doesn't curve like the fondant does. She is also outlined with black lines just like a comic book character. This gives the 2-D Boo an almost 3-D look.
Also Diana did a great job painting Boo. Look at Boo's shirt, face and hair, Diana used different shades while painting each of these. So, she looks fantastic. Plus, I really like that she has cute little stuffed animals of Sulley and Mike. That's an adorable touch.
I love the top of the cake. There is a story behind it.
Cartoon Cake
I'm a such a fan of Tracey Rothwell from Little Cherry Cake Company, that I'm member of her Cherry Brigade. Last year, Tracey posted on social media this cute cartoon of a cake: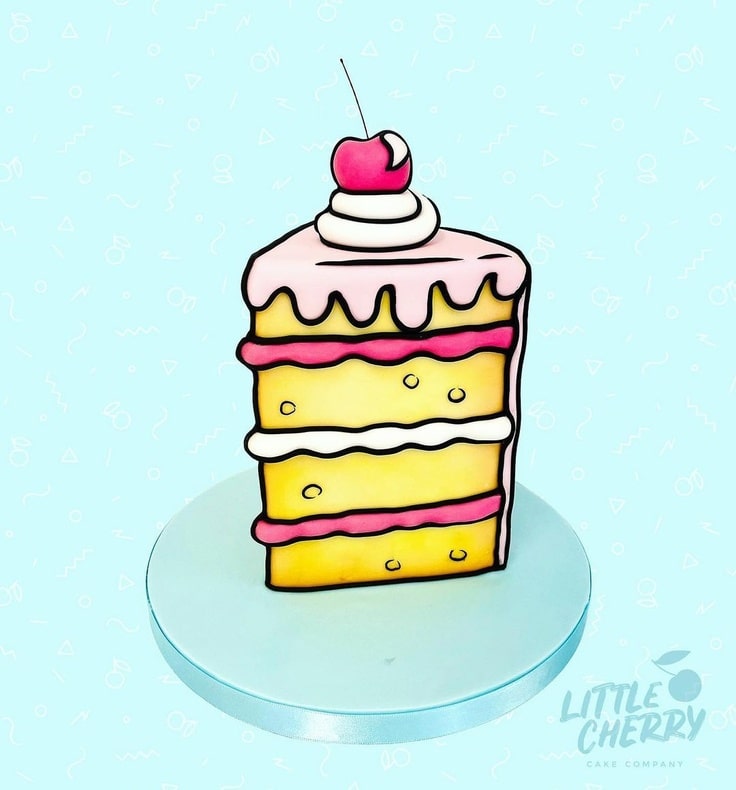 I thought it was a great cartoon. After examining it more, I realized it isn't a cartoon of a cake! It is a cake of a cartoon cake!!! This is without a doubt the most influential cake of 2022.
If you look at the top of the Diana's cake, you'll see that she used a similar technique. The cake has cartoon pink icing overflowing the top. The cake is then topped with cartoon versions of the moon and clouds.
This is brilliant for two reasons:
First, Boo is a cartoon character created with CGI. Diana recreated her, but made her look like a hand painted 2-D cartoon character. So, having cartoon frostings and a cartoon moon and clouds is the perfect way to top this cake.
Second, Boo is dressed in a large oversized shirt and hugging two stuffed animals. That instantly makes me think that she is getting ready for bed. The cartoon moon and clouds on top of the cake, only reinforce that.
A cake this adorable is sure to keep the monsters away!
Looking for Monsters, Inc party ideas?
These spooktacular Monsters Inc. Cake Pops feature Mike and Sulley.
This fun cake features Mike and Sulley from their Monster University days.
These Monsters, Inc. Baby Shower Cookies are adorable!