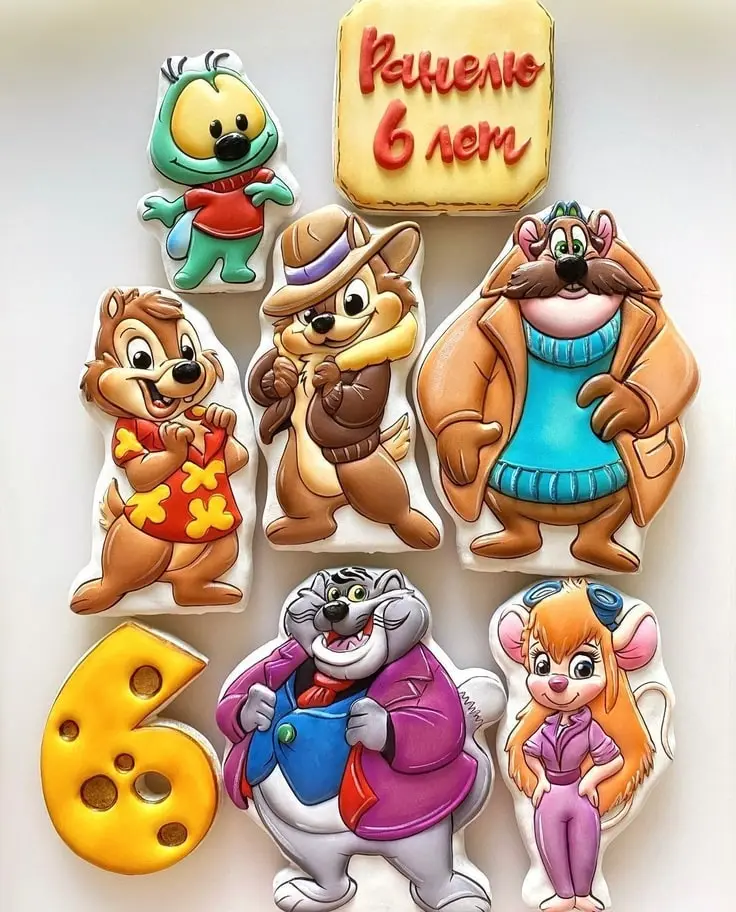 These great Rescue Rangers Cookies with Fat Cat were made by ПРЯНИКИ Казань. These were made for a 6th birthday. They feature individual cookies of Chip, Dale, Gadget, Monterey Jack, Zipper & Fat Cat. There is also a cute 6th birthday cookie that looks like it was made from swiss cheese.
I'm a big fan of the Rescue Rangers. I used to program my VCR to watch it in the evenings after work. I've featured plenty of awesome cake and cookies with them but none of them have included Fat Cat. In fact, the only Disney Afternoon villain I can recall featuring on my blog is Megavolt from Darkwing Duck.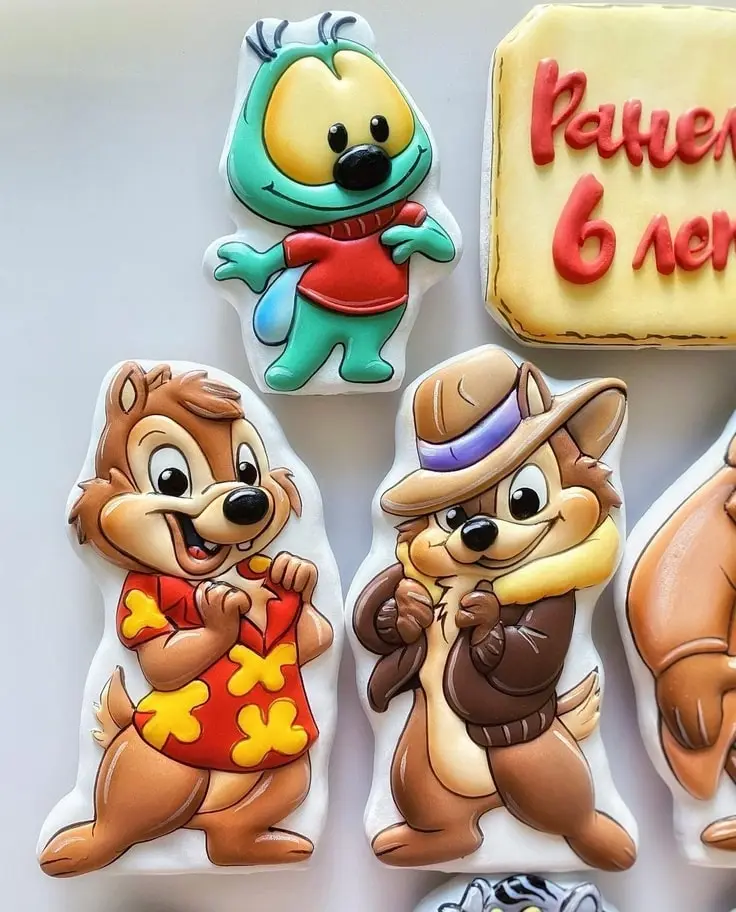 Here are Dale and Chip with Zipper between them. Elza's likeness of each character is amazing.
One thing I absolutely love about these cookies is that Elza uses layers of icing to give them depth and texture. Look at Chip's leather jacket. Chip is holding his jacket closed. Because Elza uses layers, Chip's arms which are in front of his jacket are actual a 2nd layer, so they really are in front of the jacket. The collar is a 3rd layer. This makes these already gorgeous Rescue Rangers stand out even more.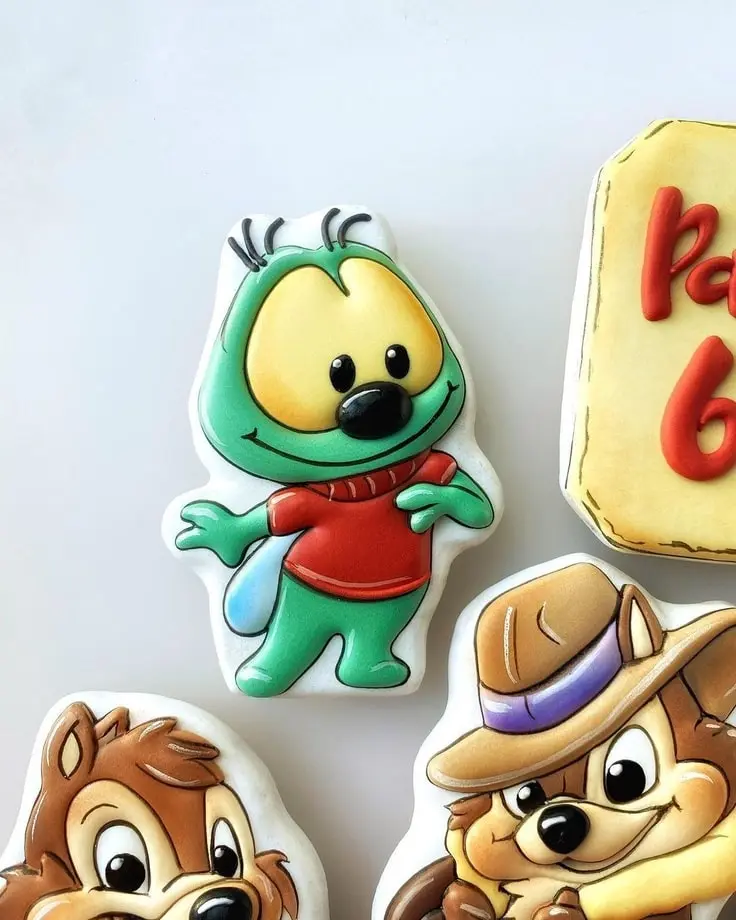 Zipper is such a fun character. His friendship with Monterey Jack is one of the highlights of the show.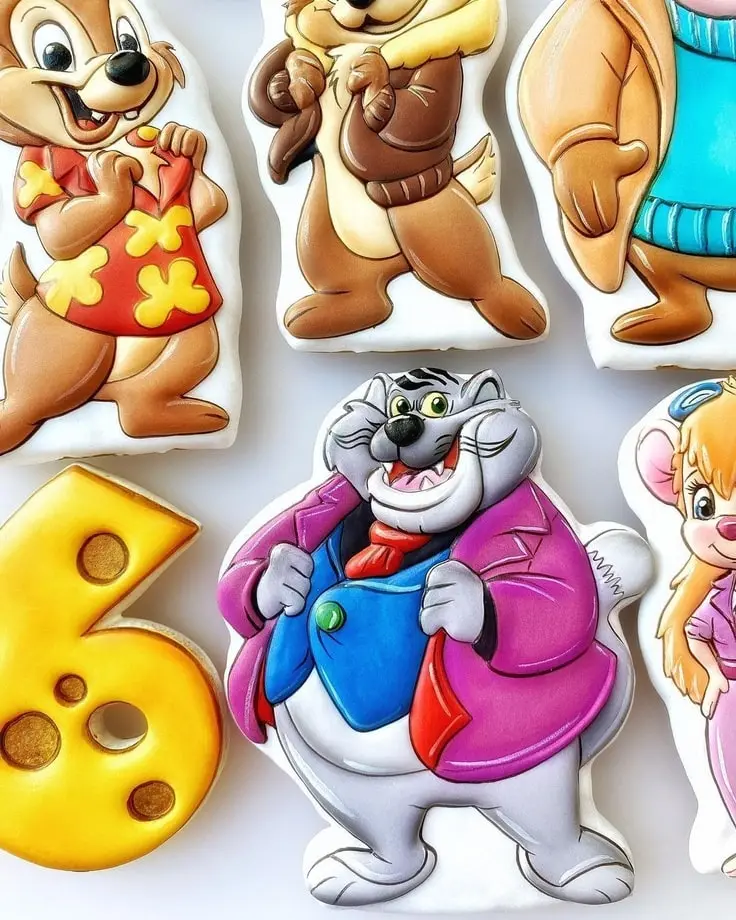 I saved my favorite cookie for last. Elza's Fat Cat Cookie is purrfect! His fur is a very light silver color, this makes his rich colored clothes really stand out. His body language and facial expression are wonderful. You can tell, he think he is the cat's meow. I really like that since he is Fat Cat, the button on his vest looks like it is ready to pop off.
Planning a Disney party? Check out these ideas listed below:
Rescue Rangers 4th Birthday cake with fondant figures of Gadget, Chip, Dale, Monterey
cookies of just Chip n Dale as Rescue Rangers
s terrific Gadget food art piece