These wonderful Three Caballeros Cookies were made by Jenny Jenny Bakes. They feature Donald Duck, José Carioca and Panchito Pistoles.
Here is Jenny's description of this lovely set of cookies from Instagram.
Did someone say Cinco de Mouso?!

Actually it's my Disney obsessed cookie bestie's bday today @burntcookiesbymurrah!! I've been itching to do something southwest flava and thought Murrah's May bday would be a fun mashup, so I had to go with Los Tres Caballeros. I know you're thousands of miles away from me, but this comes with mucho amor, amiga!

Arch cutter is from @flourdbybethany and cactus is @annclarkcookiecutters. Pink baking mat was a gift from my other bestie @yvonnechanbakes. All character images are @disney.

Can you spot my cactus mistake?! 🌵 🌵 🌵
Donald Duck
Donald is dressed in his sailor suit. He looks like he is smiling and about to give José and Panchito a big hug.
José looks dapper with his dapper hat, bow tie and umbrella.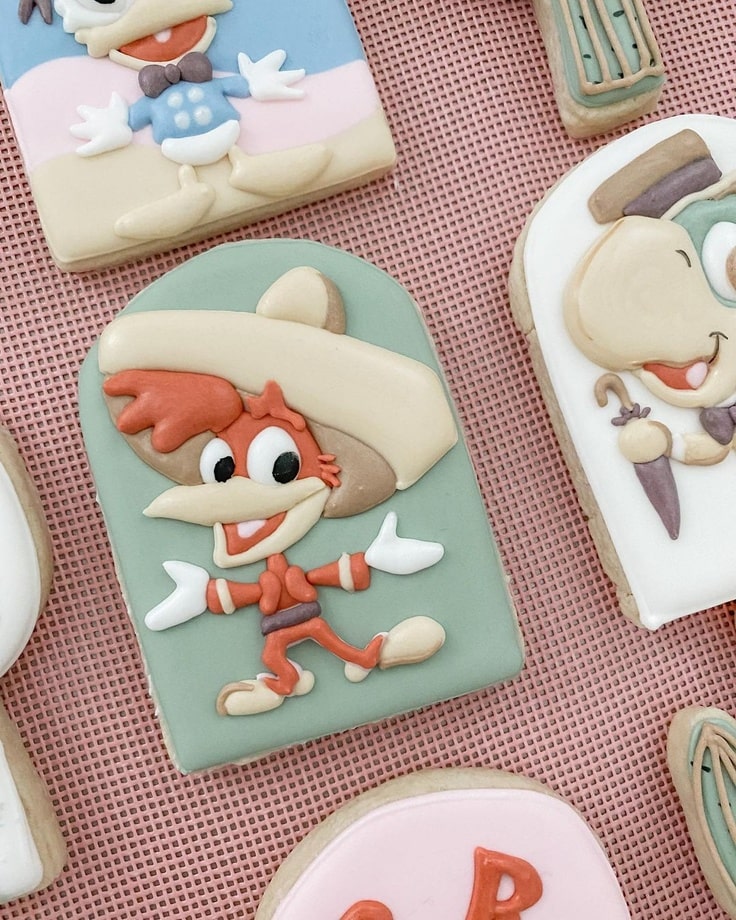 Panchito is dressed in red and wearing a sombrero. He has a big smile and is holding his arms out wide.
Jenny did an amazing job with each character. This is an absolutely gorgeous set of cookies!
Unfortunately, this is the first time I've featured José Carioca or Panchito Pistoles. But, I'm a big fan of Donald Duck and have featured him many times. Here are a few or my favorites:
This cake proves that Donald Duck was a very cute baby
Having a rough day? It could be worse. You could be Donald Duck's Alarm Clock!
Donald Duck is here to save the day on this Duck Avenger Cake.
Want to know a secret? Donald Duck makes a great Easter Egg