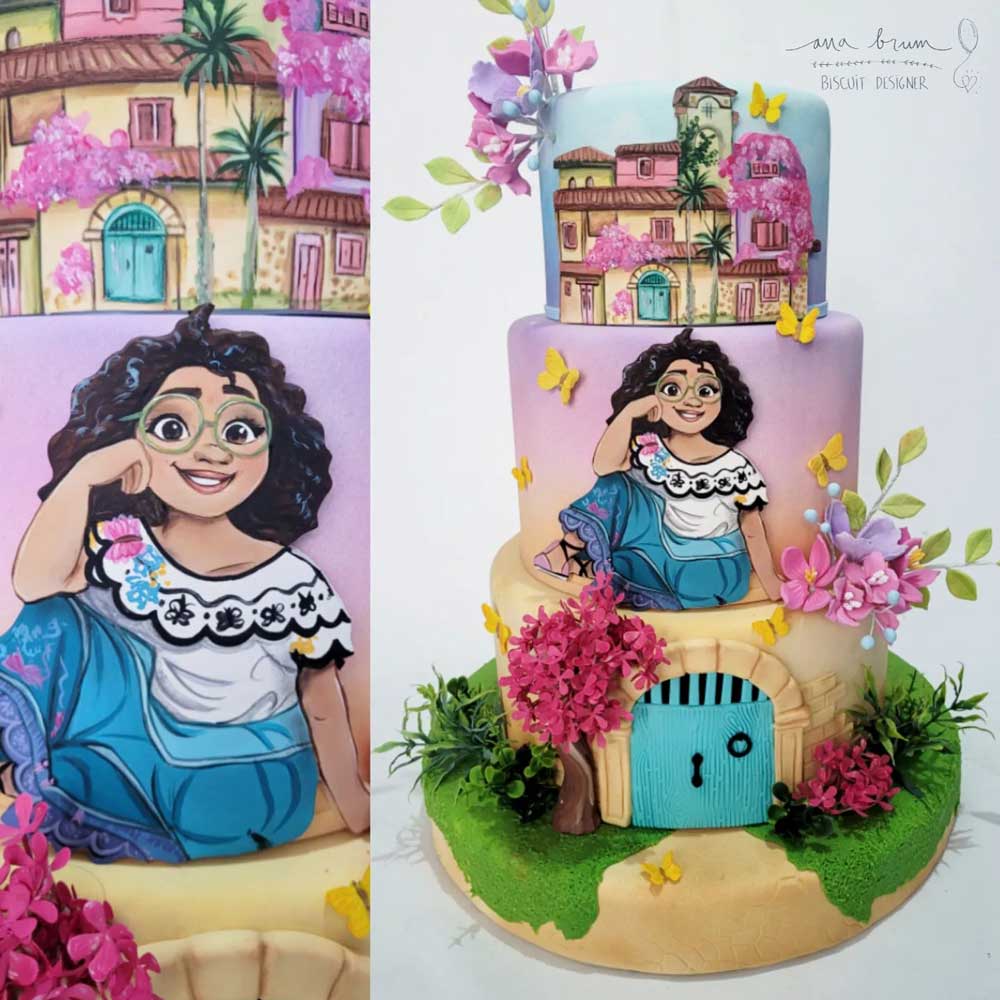 These Encanto Cakes with Mirabel & Casa Madrigal feature Mirabel, Casa Madrigal, and Antonio.
All of these wonderful cakes were made by Ana Brum Biscuit. this artist did several terrific Encanto cakes that I wanted to feature in this post.
This first cake is a 3 tier cake where the top tier has a hand-painting of Casa Madrigal onto a piece of fondant. Gumpaste flowers and yellow butterflies are on the cake to give more 3 dimensional elements. Also the middle tier has a painting of Mirabel on a piece of fondant. And the bottom tier is the door to Casa Madrigal. Pink fondant flowers and green plants are around the bottom of the cake.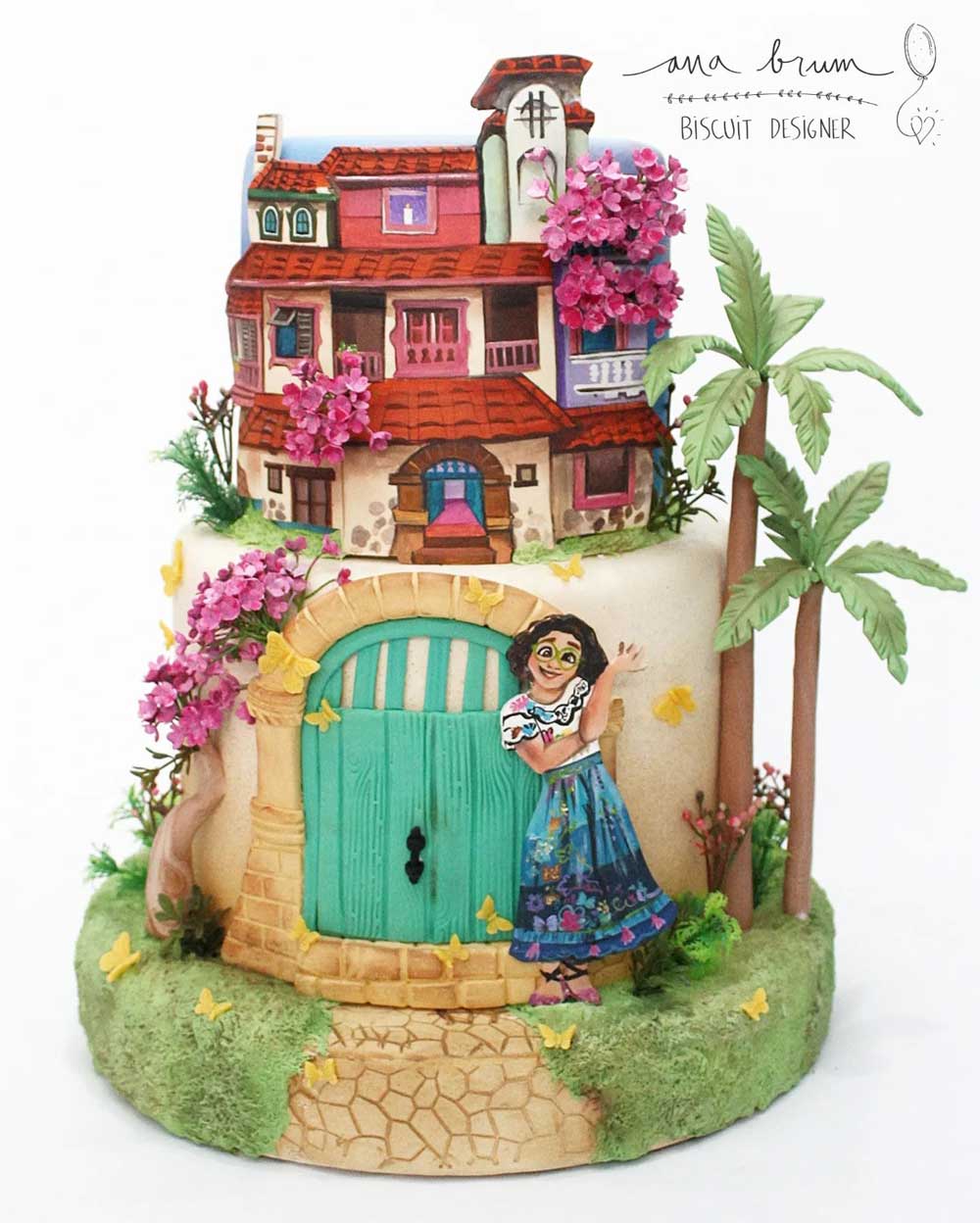 Casa Madrigal and Mirabel Cake
This second cake features hand-p[ainted fondant Casa Madrigal on the top tier and a 2-D hand-painted Mirabel standing beside the door on the bottom tier. Fondant palm trees are beside the cake. I like the detail of the brick pattern around the door and the cobblestone path that leads up the the door. The textured grass around the house is a nice touch. Also this cake has tiny yellow fondant butterflies all over the cake.
Here's close-up of the hand-painted Mirabel.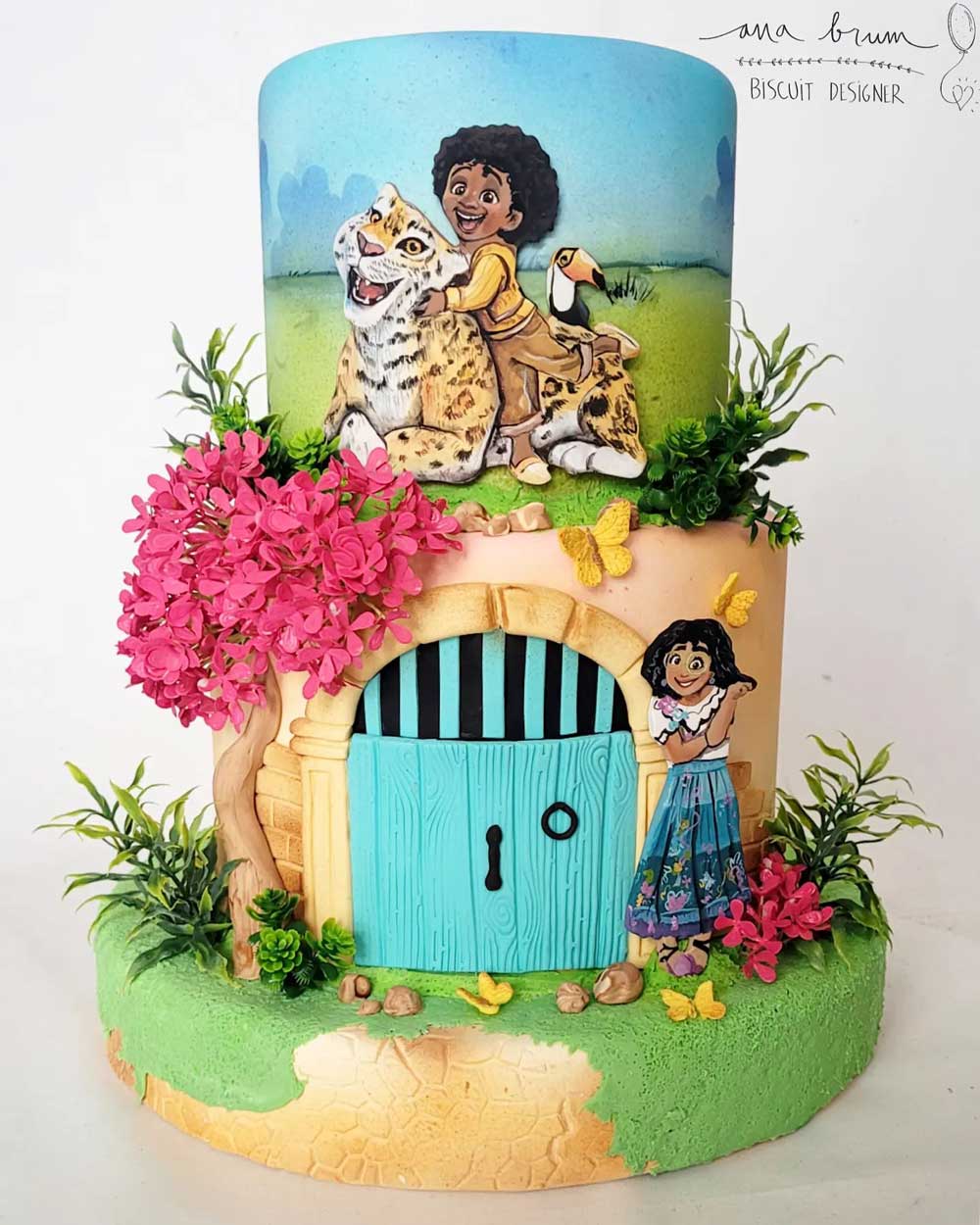 Encanto Cake featuring Antonio
This Encanto cake features a fondant 2-D hand-painted Antonio riding a Jaguar. Also the bottom tier has the Casa Madrigal door with Mirabel standing beside it. This cake has a fondant tree full of pink blooms. More pink blooms and green fondant plants are around the cake.
Encanto Mirabel Cake
This Encanto cake features a large 2-D fondant hand-painted Mirabel on the middle tier. The top tier is blue with gold letters spelling Encanto. Also the bottom tier is the door of the house Madrigal. Fondant green plants and pink blossoms are around the cake.
For more Encanto Cakes and Cookies