Bakerella has created a series of Disney Cake Pops recipes that you can make in your own kitchen.
What's a Cake Pop? You know how a Charms Blow Pop is lollipop on the outside and bubble gum on the inside and a Tootsie Pops is a lollipop on the outside and a Tootsie Roll on the inside. Cake Pops are similar, they're candy coating on the outside and cake and frosting on the inside. Yummy!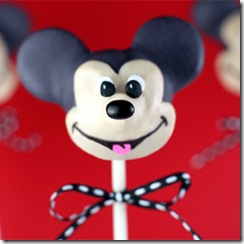 Mickey's ears are candy melts and his eyes are candy sprinkles. To get his skin tone, use white candy coating with just a touch of a peanut butter morsels.
Mickey Mouse Silhouette Cake Pops
This is the easiest of the cake pops recipes. If you've never made cake pops before, I'd try this recipe first.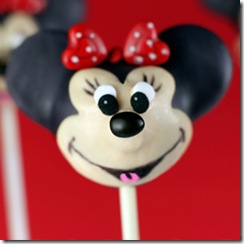 At first glance, Minnie's ribbon looks really difficult. But, it's actually not that bad. You attach two candy hearts or jumbo heart sprinkles and a red rainbow chip sprinkle in between. Then you dot the bow with a toothpick dipped in white candy coating.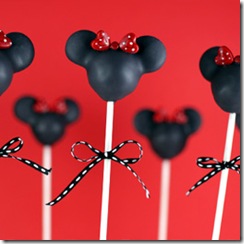 Minnie Mouse Silhouette Cake Pops
A Minnie Mouse Silhouette is a Mickey Mouse Silhouette with Minnie's ribbon added.
The most challenging part of Winnie the Pooh is getting the head the proper shape. The top of the cake ball should be smaller than the bottom and the nose should protrude in the front.
On all of the other cake pops, once you dip the cake ball into candy coating, you set the sucker stick into a piece of Styrofoam to dry. This way, the candy coating dries evenly. On the Hunny Pots, once you drip the cake ball into candy coating, you place the cake pop on a wax-paper covered baking sheet. Some of the coating will rest at the base forming the edge of the pot.
The way you shape Hamm's head is that mold the cake balls into a pear shape. Then gently rub the smaller end on the wax paper to flatten.
This photo doesn't do these cake pops justice. On Bakerella's website, she has an post entitled Hamm & Potatoes. In it she shows Mr. Potato Head with a bunch of different facial expressions.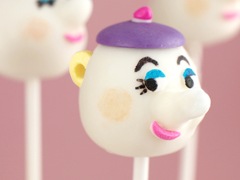 Mrs. Potts' spout is a white Good & Plenty licorice candy attached to the ball of cake with melted candy coating. Mrs. Potts' handle is a piece of yellow candy from a candy necklace.