These are 7 Batman cakes done in 2010.
This cake with realistic looking LEGO figures was done by courtneyscakes She made this for her son's 7th birthday. She made her own molds with silicone plastique to mold the pieces and then finished them off by hand and painted them.
This Batman Bat Pod MotorCycle from The Dark Knight was done by Lauren, a fan on the Bat-Blog.com Fan site. As you can see from the pictures below, the Batman figure and part of the motorcycle body are carved from rice crispy treats. The wheels are cake covered in fondant.
Here is a rehersal dinner cake of the Batman Tumbler and BatPod on Marks110 photo stream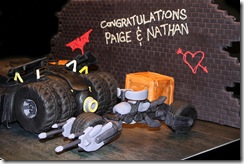 This impressively designed figure of Batman laying down was created by kathscakes in the UK.
This detailed Batman figure against the building skyline was made for a boy's birthday. It can be found at Dragonfly Doces photostream.
This yellow and black Batman cake was made by Cakes by Jessicca. If you live in the Orlando and Tampa, Florida area, you can have her make this cake for your child's next birthday.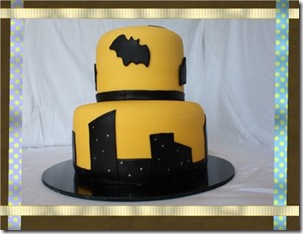 This last cake was created by primacakes
Take a look at these wonderful Batman Cakes