When Batman first appeared in 1939, he drove a red convertible. In 1941, Batman's car was called the Batmobile. Just as cars have changed a lot since 1941, the Batmobile has also changed designs frequently.
These cakes showcase some of the different designs of the Batmobile.
Batman TV Show
Kyla Kae created this cool wedding cake. Batman is wearing a bow tie and Wonder Woman is holding a corsage. Visit Kyla Kae's Flickr Photostream for more pictures of this awesome cake.
googlinglisa created this Batmobile birthday cake to wish Adrian a Happy Birthday.
Batman & Batman Returns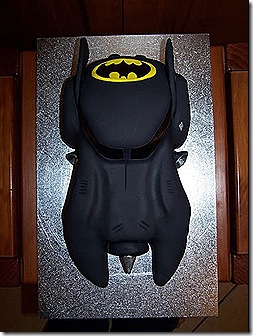 Sandra made this Batmobile cake for her son's 5th birthday.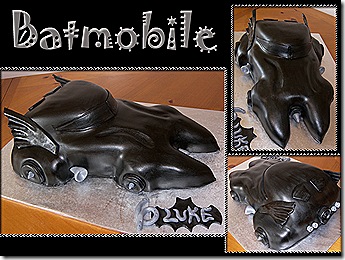 This Batmobile birthday cake was created by InspiredDecorator.
This Batmobile cake is a chocolate and vanilla layer cake with butter cream icing. The "pow", "boff", and "sock" words are made with fondant/gumpaste. The Batmobile is made with modeling chocolate. The buildings are Rice Krispies Treats covered in fondant. The Batsignal is fondant and gumpaste. This wonderful cake was baked by themaytrix.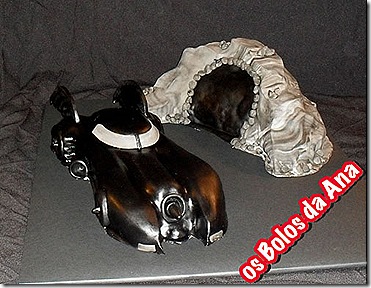 This Batmobile and Batcave cake was made by Os Bolos Da Ana. I love the contrast between the Batmobile and Batcave. The Batmobile is black with silver, while the Batcave is silver with black.
3 Sisters Chocolate created this Batmobile.
This Batmobile Cake was made by Caryn's Cakes.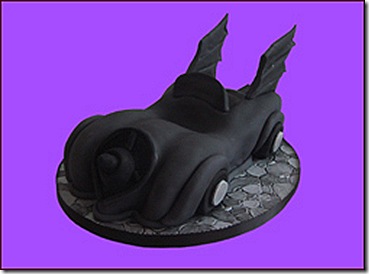 The Small Cake Company in Charlottesville, Virginia created this cake.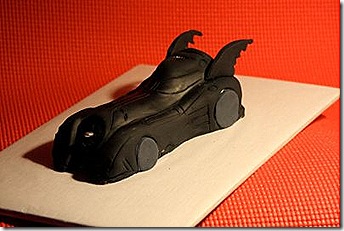 Oulck created this Batmobile cake. Amazingly, this was the first cake Oulck ever decorated.
Batman Forever
Paula Jane at Scrumptious Cakes created this Batmobile Birthday Cake. If you are in Scotland, you can order this cake.