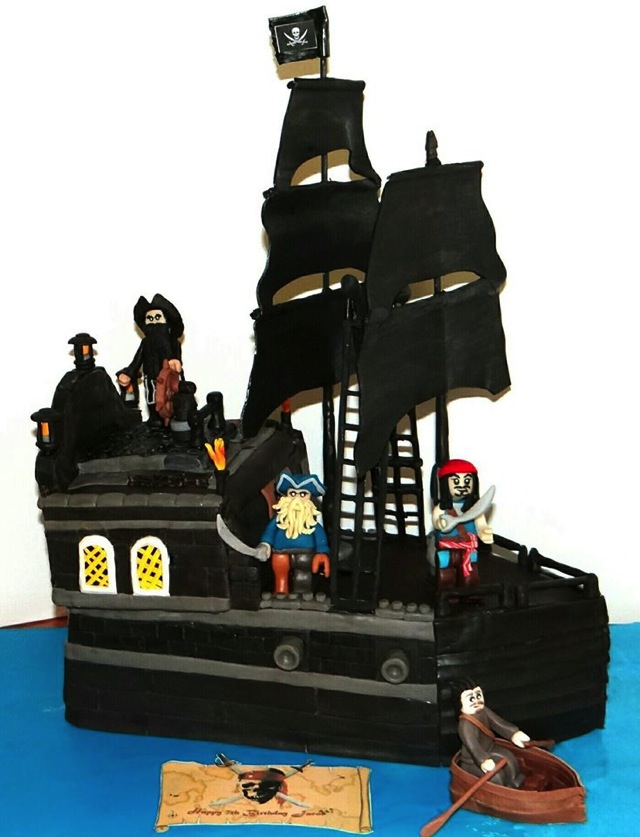 BellaCakes & Confections created this magnificent LEGO Pirates of the Caribbean Cake. The cake includes edible recreations of LEGO's Black Pearl, Captain Jack Sparrow, Captain Barbossa, Davy Jones, and Will Turner.
Captain Jack Sparrow, Davy Jones, and Captain Barbossa stand atop the deck of this edible sailing vessel. Captain Barbossa stands at the stern of the ship beside 3 lanterns and 2 torches. Davy Jones is standing amidships where there are gray edible LEGO bricks on top of the rail of the deck. Captain Jack Sparrow is at the bow of the ship. There are 2 gray cannons sticking out the side of ship and 2 white and yellow windows near the stern of the ship. The Jolly Roger flies on top of the highest mast.
Will Turner is in the life boat rowing away from the Black Pearl. A pirate map is in the center of the ocean with a pirate skull and crossed swords in the middle and words underneath it to say Happy 7th Birthday.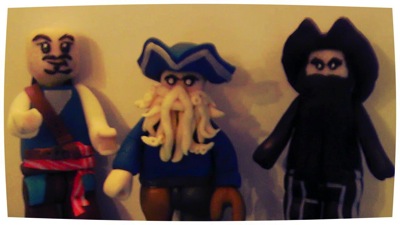 Edible LEGO Minifigures of Jack Sparrow, Davy Jones, and Barbossa.