Welcome to Day 3 of Simpsononymous!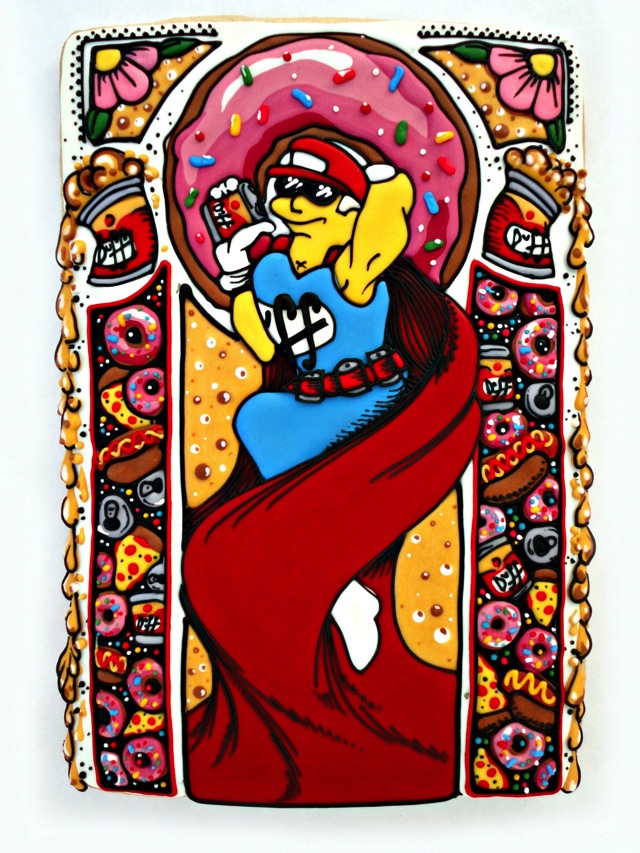 Mallory Mae of ButterWinks created this Fabulous Duffman Cookie. The cookie design was patterned after the works of Alphonse Mucha. The border of the cookie is filled with pink iced donuts,hot dogs, pizza, and Duff beer cans. The middle of the cookie features Duffman wearing a blue outfit with white in the middle and the word Duff in the white. He has a red belt filled with cans of Duff. He is wearing a red cap with a white middle portion and is holding a can of Duff beer. He is surrounded by red cape. Around his head is a donut with Pink icing and sprinkles. There is a pink flower with yellow center on the left and right top corners of the cookie.
Alphonse Mucha Biscuits LeFevre-Utile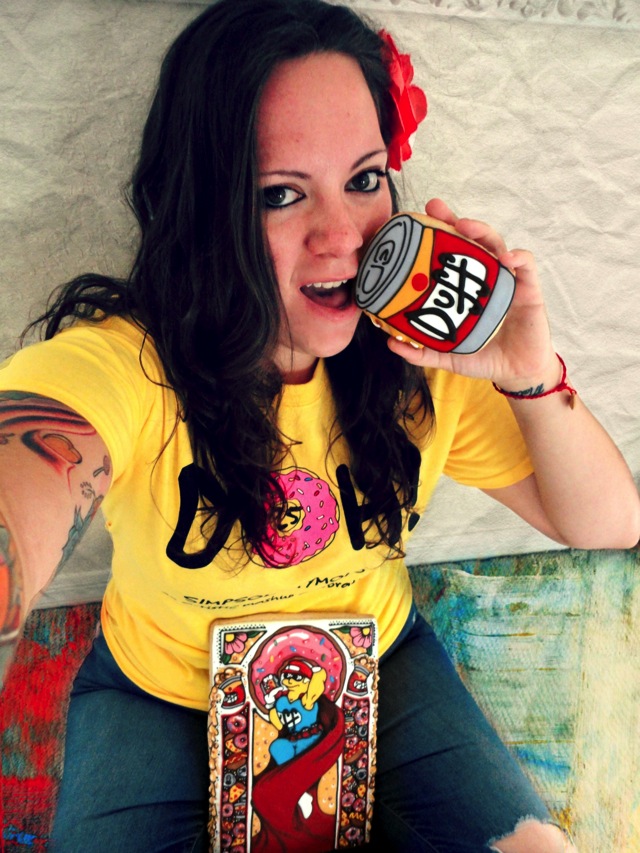 Here's Malory with her Awesome Duffman Cookie and a Duff's Beer can cookie.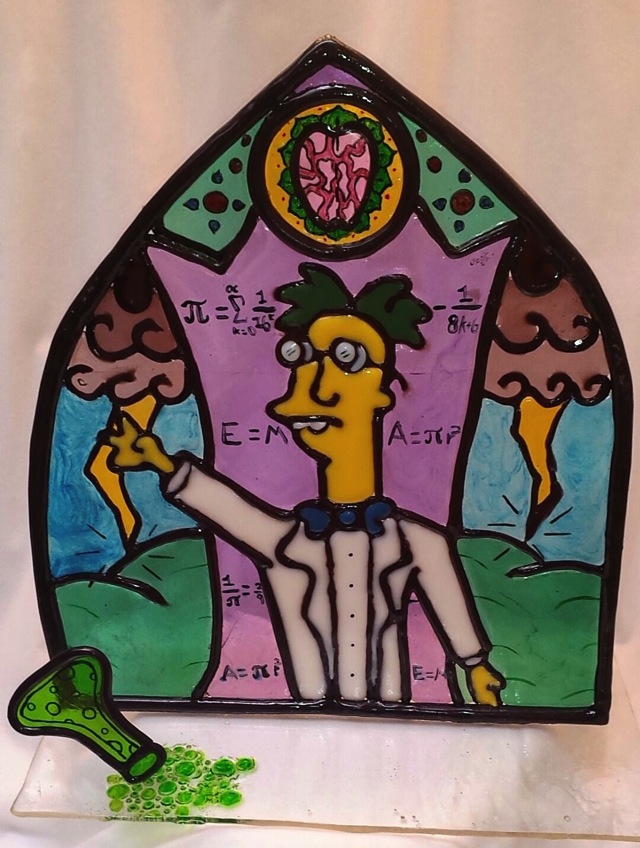 Sidney Galpern of Simi Cakes made this Great Professor Frink Edible Masterpiece. The artwork looks like Cathedral Style Stained Glass with Professor Frink in the middle. He is wearing a white suit and a white shirt with a blue bow tie. Mathematical formulas in a background of purple surround the professor. On either side of the professor are the legs of ballerinas standing on a green hill set in a blue background. The ballerinas have pink and purple dresses. In front of the stained glass, a green beaker is turned over with green liquid spilling out onto the cake board.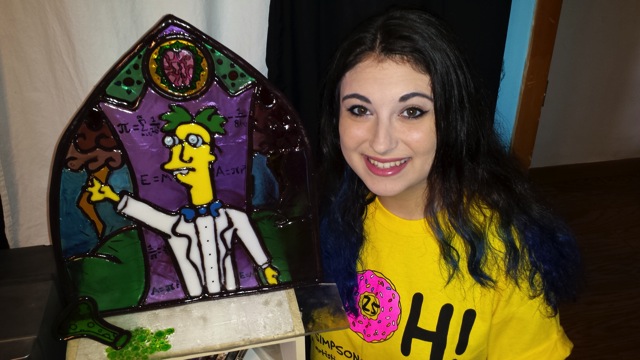 Sidney is beside her Fabulous Simpsons creation.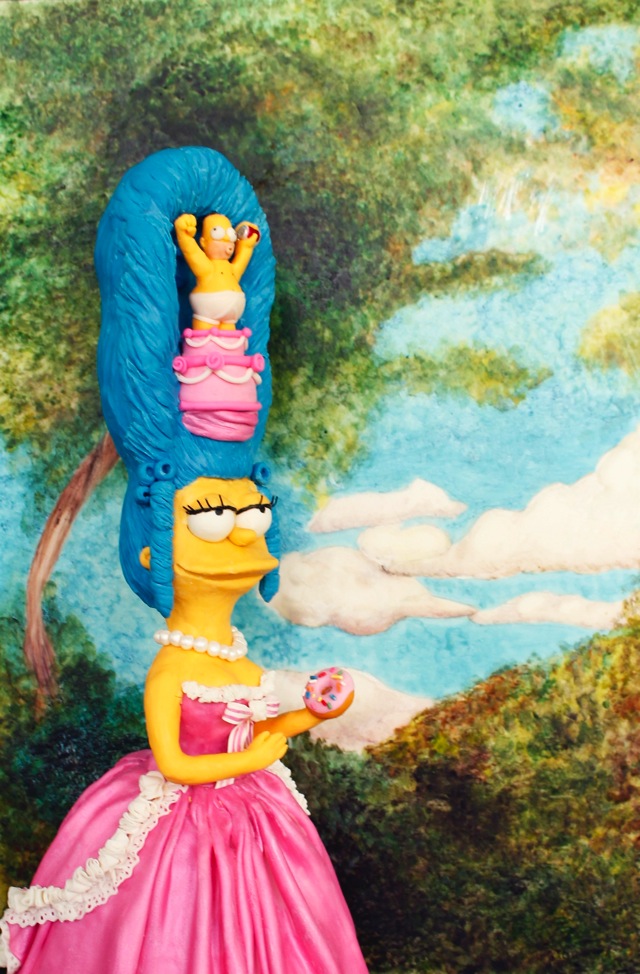 Michelle Boyd of Good Gracious Cakes created this Amazing Marge Simpson Cake. Marge is wearing a long pink formal dress with white lace and ribbon. She is wearing a white pearl necklace. She is holding a donut with pink icing and sprinkles in one hand. Her hair is blue and in the style of a beehive. Homer Simpson is in the middle of her beehive hairdo. Homer is standing on top of a pink cake with pink and white trim and holding a can of Duff. The background for Marge is a painting with green bushes and a green tree and blue sky with white clouds. It looks like Marge is enjoying a nice summer day. Marge Simpson was based on the Marie Antoinette painting by Louise Campbell Clay. Marie Antoinette is wearing a fancy long pink dress and has a large hairdo. She is holding a pink rose while Marge is holding pink donut.
Close-up of Marge's head and blue hair with Homer in the middle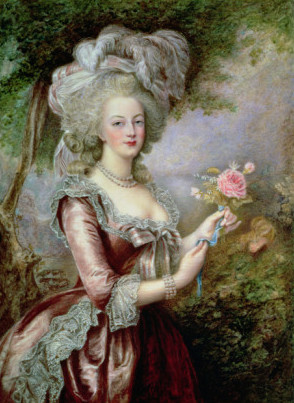 Marie Antoinette by Louise Campbell Clay from Late Baroquee period aka Rococo period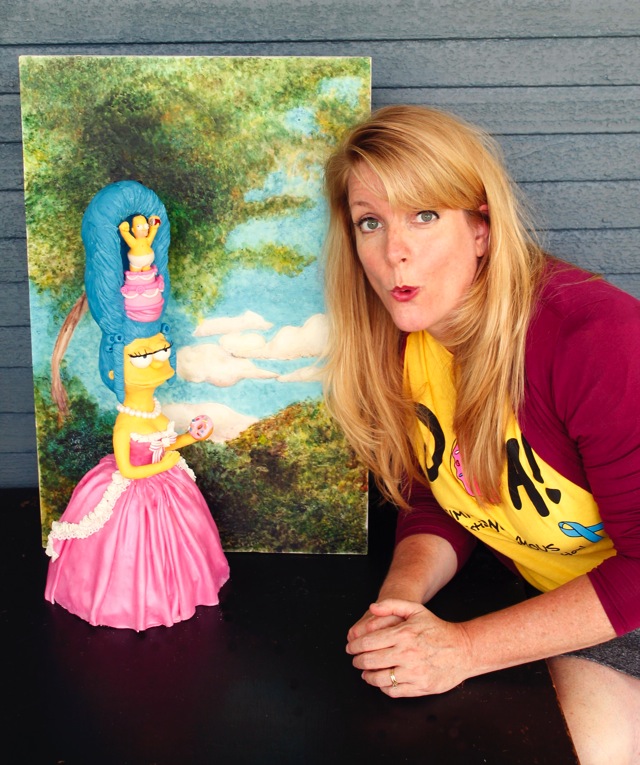 Here's a picture of Michelle Boyd with her Terrific Marge Simpson creation.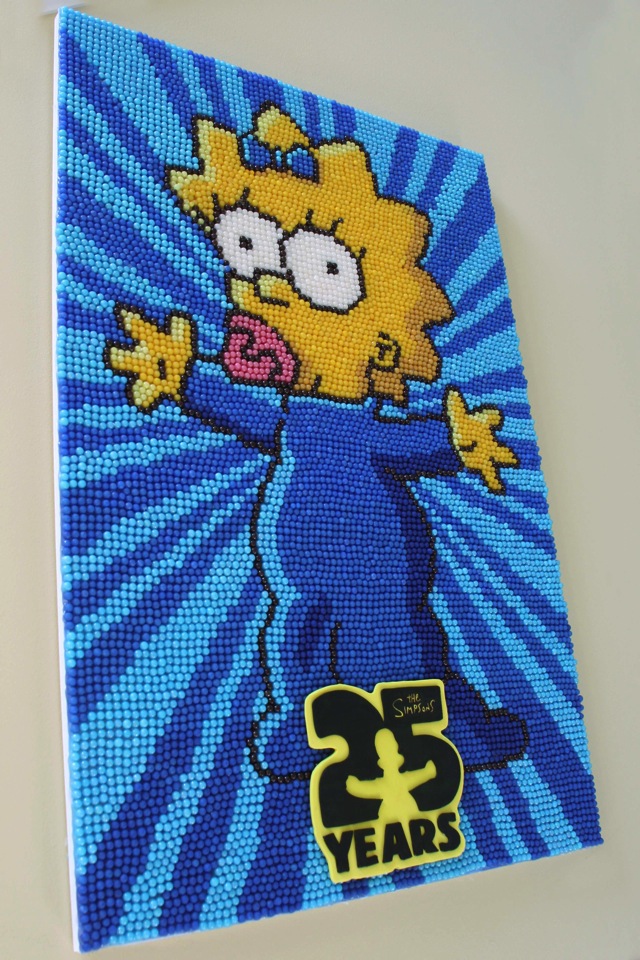 Mark Lie of Piece of Cake – Custom Cakes by Mark made this Wonderful Maggie Simpson edible work of art. It uses the pointillism technique where small dots of color are used to compose the entire painting. This makes it look just like needlepoint. Maggie is wearing a blue outfit and a blue bow in her hair. She has a pink pacifier. There are alternating dark and light blue sun rays coming out from her.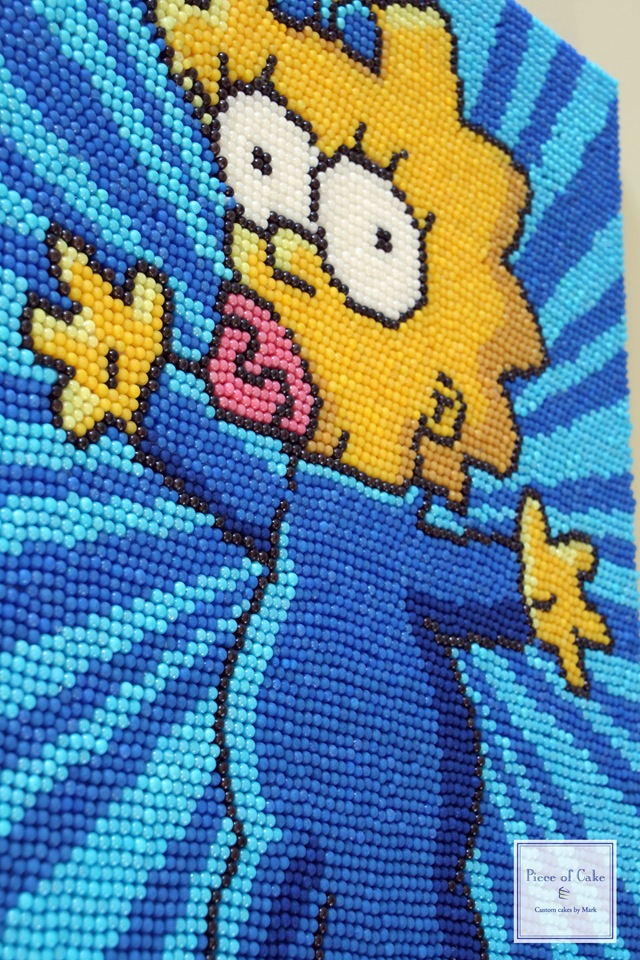 At the bottom, there is a yellow sign with The Simpsons 25 years and a silhouette of Homer Simpson between the 2 and the 5.
Here's a picture of Mark Lie with his Marvelous Maggie Simpson masterpiece.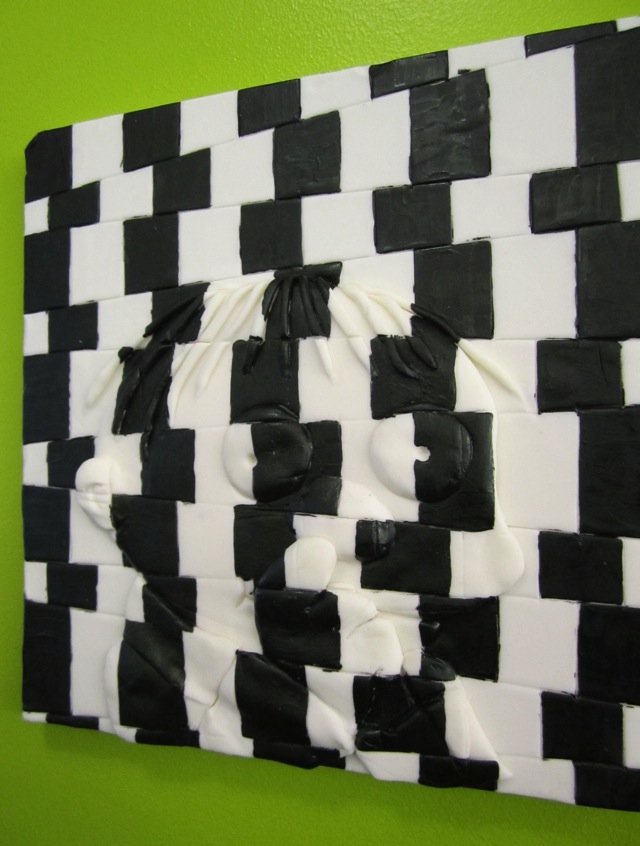 Mimi Hood from Mimi's Mocha Treats crafted this Terrific Ralph Wiggum painting based on the painting Movement in Squares by Bridget Riley. This Simpson's painting is composed of alternating black and white squares with a black and white 3D model of Ralph Wiggum's head sticking up out of the squares. If you look closely, you can see Ralph Wiggum's finger at his nose.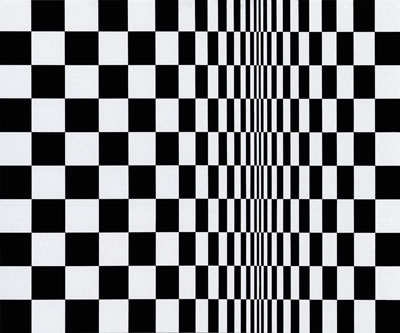 Movement in Squares by Bridget Riley
Mimi Hood is standing beside her Fabulous Simpsons artwork.
Kim M. Simons of Cakes by Kim Simons created this Splendid Bumblebee Man splattered on a windshield edible artwork. The cake board is white with black edges. There is a yellow and black Bumblebee Man with blue wings in the middle of the board. He is surrounded by yellow, black, and green patterns of lines coming out from his location to represent where he hit the windshield and splattered. This Simpsons artwork is based on Jackson Pollock's drip paintings from the abstract expressionist movement.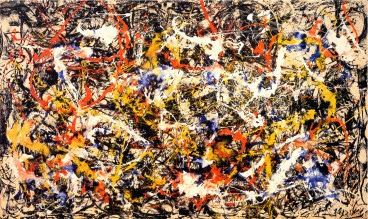 Convergence by Jackson Pollock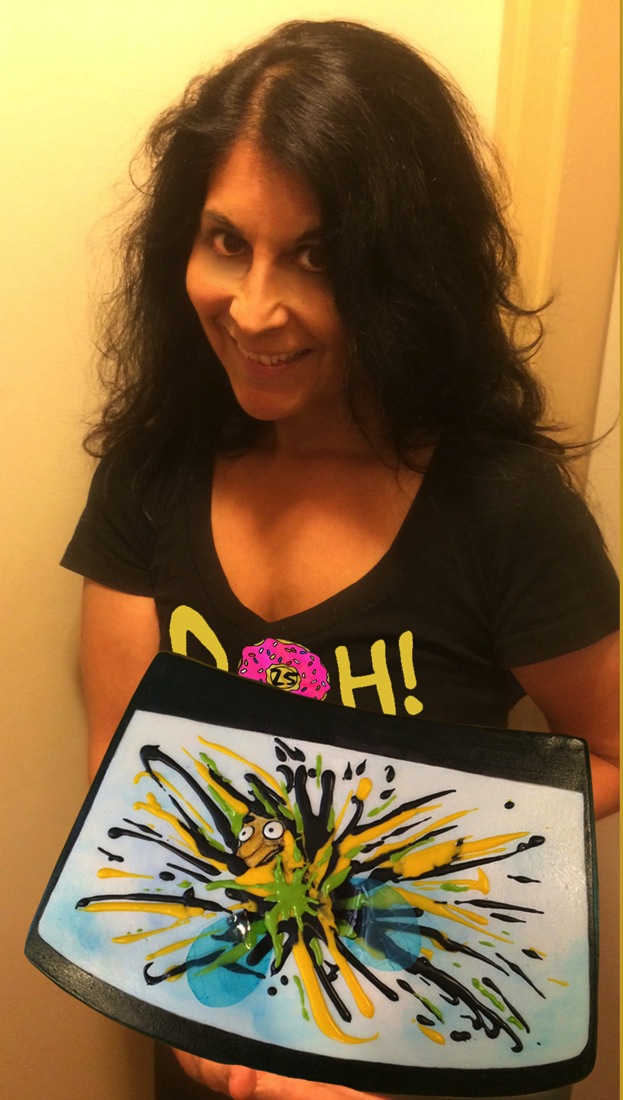 Kim M. Simons is holding her Superb Simpsons Creation.