Welcome to Day 5 of Simpsononymous!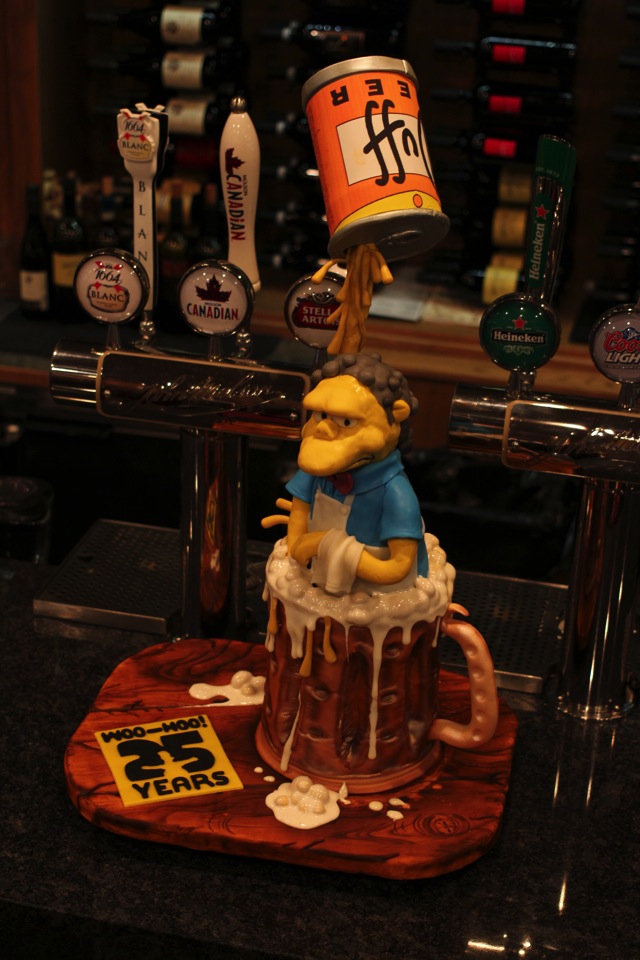 Bo Hons of Wolfbay Cafe crafted this Spectacular Mo the Bartender Cake. The cake board has a woodgrain finish. There is a yellow sign with 25 years for The Simpsons 25th Anniversary. On top of the cake board is a mug of Duff beef filled to the brim and overflowing with white froth and foam. Mo the Bartender is standing inside the mug of Duff beer. He is wearing a blue shirt with a red tie. He has a hand towel draped over his arm and he is wearing a white apron. On top of Mo is a can of Duff beer turned upside down and pouring onto Mo and into the mug. This cake is a blend of Realism and Surrealism. This Simpsons cake captures the essence of Mo the Bartender very well.
Close-up of Mo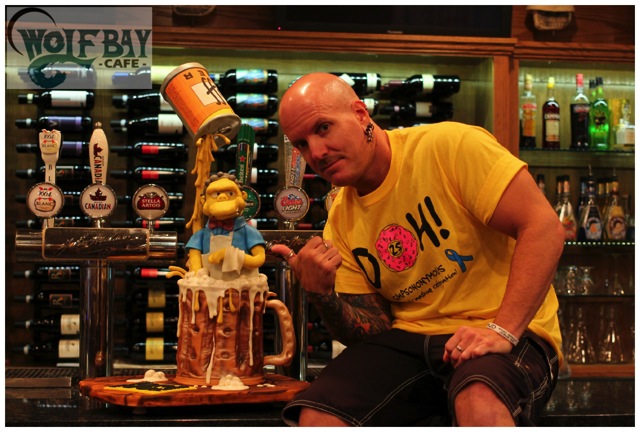 Here's a photograph of Bo Hons at a bar with his Marvelous Simpson's Cake.
Chef Mitchie from Mitchies Munchies made this Awesome Ned Flanders Cake. Ned Flanders is dressed in robes like those that Moses would wear. He is standing on top of a rock with a painting of the Red Sea parted behind him.  Beside him is a stone tablet with the words "THOU SHALL NOT DIDDLY DOODLY IN VAIN." There are stones in front of Ned arranged in the shape of the number 25 for the Simpsons 25 Anniversary. This Simpsons Cake is a mash-up inspired by Frank McCarthy's Ten Commandments movie poster. This piece is dedicated to the family and fans of Frank McCarthy who died of lung cancer in 2002.
Here's a close-up of the stone tablet and the 25 built from small stones.  
Inspiration – Frank McCarthy's The Ten Commandments Movie Poster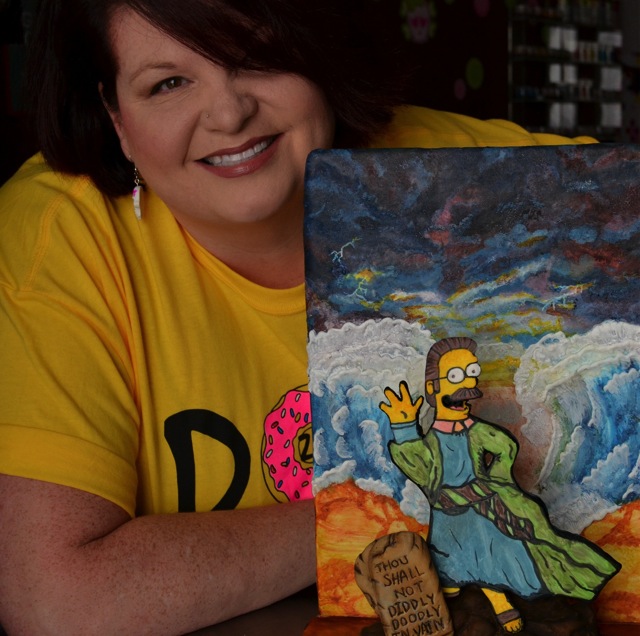 Here's a photo of Chef Mitchie with her Wonderful Simpson's Cake.
Anna Garcia of Designer Cakes by Anna Garcia made this Terrific Santa's Little Helper Cake. The cake board is painted blue to represent water. On the front corner is a section of white with a hand holding a pen. An eye and the word CREATOR is painted on the hand. On the other front corner of the board, Bart's head is sticking up above the water. In front of Bart, a 25 is painted on top of the water. Just behind Bart there is a donut floating in the water. The donut has pink icing with sprinkles. Santa's Little Helper is lying on his back on top of the donut.  Near the back of the board, Maggie Simpson's head is just sticking above the water. There is a backdrop board painted blue for the sky. It has green grass at the bottom where it meets the cake board. A red fire hydrant with blue water flowing out takes up one side. The other side has a constellation in the shape of Marge Simpson. On top of that is a white moon with a silhouette on top of it. This Marelous Simpsons edible artwork is done in a Surrealism art style.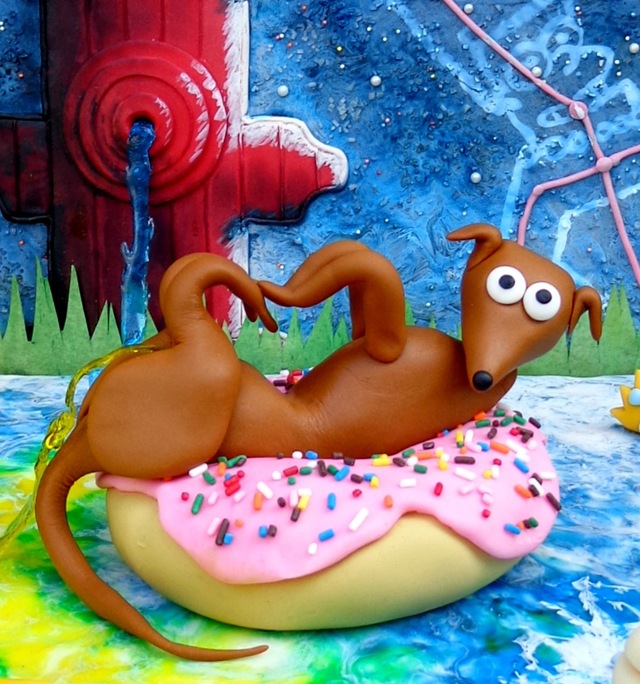 Santa's Little Helper
The Simpsons Hand of the Creator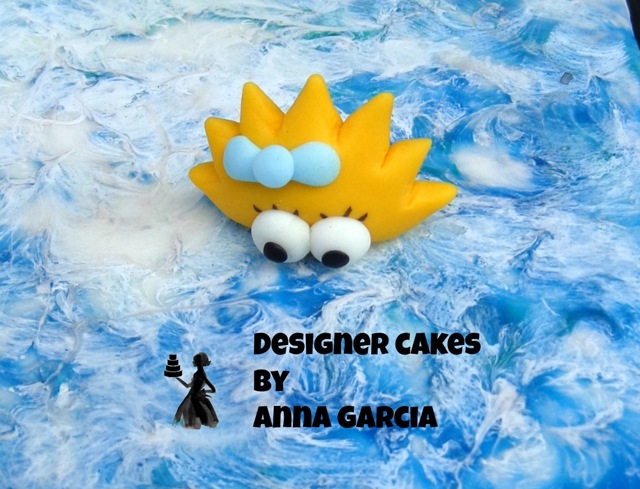 Maggie Simpson 
Here's a shot of Anna Garcia with her Marvelous Simpson's creation.
Julie Freund from Of Cakes and Cupcake (and Apollo too) made this Magnificent Homer Simpson wearing a Muumuu edible masterpiece. Homer is also known as Muumuu Homer here. Homer looks like he is about the size of a cupcake. Homer has on a blue Muumuu with pink flowers. He is wearing blue slippers and a white cap. He is standing in the room of an art gallery with a wooden floor and 2 walls. On the first wall is a sculpture of a two headed bear wearing red hats and a red heart in front of the bear with 7 knives sticking into it. This chocolate bear sculpture is based on Liz Mcgrath's sculpture Bear of Seven Sorrows. Beside the bears is a painting in the shape of a cross. The painting has a girl with wings covered by a large steak. A golden crown floats above her. Below her is a pond and a cow. On either side of her are pictures of steaks, roasts, and hot dogs. This painting was based on Mark Ryden's The Angel of Meat. On the other wall there is a large picture of Homer lying on a beige couch wearing only donuts. There is an aquamarine blanket on top of the couch. The Aquamarine rug on the floor in front of the couch is covered with crushed red Duff beer cans. Beside the couch is a purple table with an aquamarine phone. The walls of the painting are pink. This painting  with Homer is based on Lucien Freud's Benefits Supervisor Sleeping. The main idea of this Wonderful Simpson's masterpiece was to show Homer dressed in a Muumuu in an art gallery contemplating a portrait of himself.  The other portraits were some of the artist's favorite works of art. 
Homer Simpson in the art gallery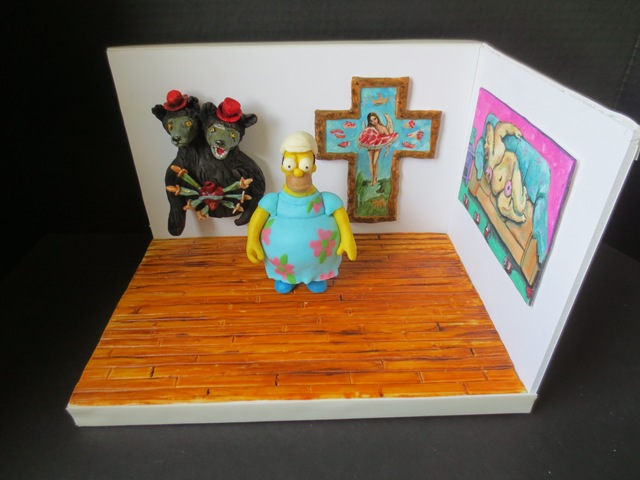 Homer in a different place in the room
Homer is contemplating the Simpsons version of Benefits Supervisor Sleeping where he is the central figure.
Top view of the art gallery
Top view of the 2 headed bear sculpture
Inspiration # 1 – Lucian Freunds' Benefits Supervisor Sleeping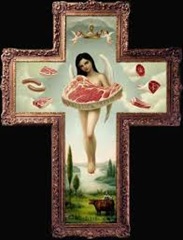 Inspiration # 2  – Mark Ryden's The Angel of Meat 
Inspiration # 3 – Elizabeth McGraths' Bear of Seven Sorrows
Here's a picture of Julie Freund holding her Superb Homer Simpson edible masterpiece.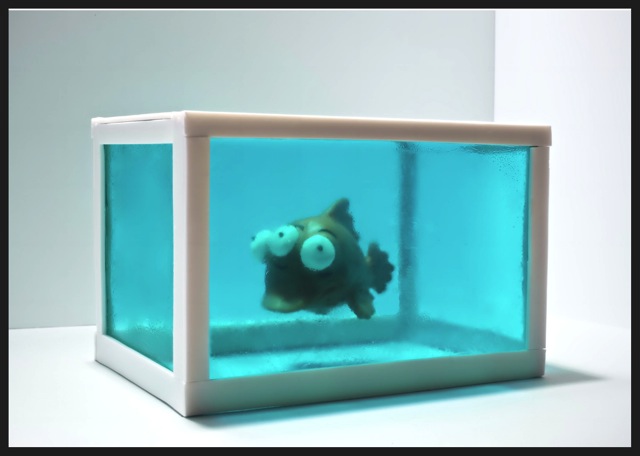 Kasey Amanda Smith of Kakes by Klassic made this Marvelous Blinky Cake. Blinky is orange and has 3 eyes. He is in a fish tank filled with blue water. The frame of the fish tank is white. This artwork was inspired by Damien Hirsts' The Immortal.  Blinky takes the place of the shark in The Immortal.
 Inspiration – Damien Hirsts' The Immortal
Kasey Amanda Smith is standing over her Superb Simpson's creation.
Avalon Yarnes of Avalon Cakes made this Superb Krusty the Clown Cake. One version of Krusty is wearing green pants and a purple shirt. The other version of Krusty is wearing a black suit with a white shirt and a blue bow tie and large red shoes on his feet. Both have green hair, white gloves, and a red nose.  Both have a wood grained background. This work of edible art shows the on-air Krusty versus the off-air Krusty. This Wonderful Simpsons creation was based on Marisol's Portrait of Sidney Janis Selling Portrait of Sidney Janis.
 Close-up of Krusty
Marisol's Portrait of Sidney Janis Selling Portrait of Sidney Janis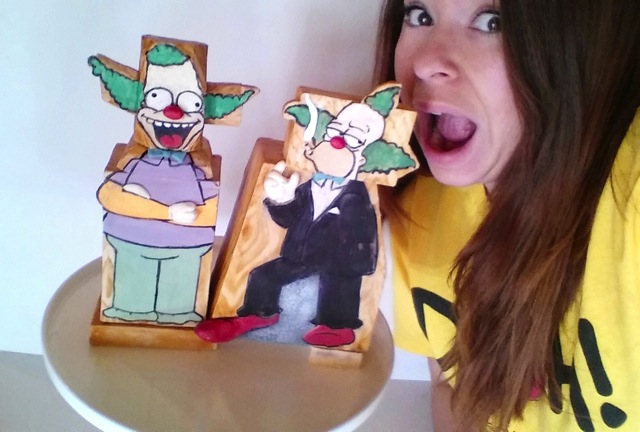 Avalon Yarnes is holding her Splendid Simpsons artwork.