Welcome to Day 4 of Simpsononymous!
Gonzuela Bastarache of KupKake Tree created this Fantastic Lisa Simpson Cake Sculpture. This sculpture is composed of a patchwork of many different colored triangles and rectangles. Each layer of cake is shaped as a rectangle where the top is larger than the bottom and each layer is offset by ninety degrees from the one adjacent to it.  The entire Simpsons family of Homer, Marge, Bart, Lisa, and Maggie are painted on the side of the middle layer. The top of the cake is a bust of Lisa Simpson. She is wearing a red top and a white pearl necklace. The entire bust is made up of geometric shapes. This Simpson's Cake is based on the Cubism Art Style which uses geometric shapes and interlocking planes.
Here's a picture of Gonzuela Bastarache with her Fabulous Simpsons Cake sculpture masterpiece.
Paul Joachim of The Chocolate Genius created this Marvelous Bart Chocolate sculpture in the likeness of The Thinker. Bart is sitting on a tree stump while propping his chin on his hand just like the sculpture of The Thinker below.  Thirty-nine pounds of yummy chocolate were used to make this 22 inch high Bart statue.
Side view of Bart Simpson
Rear view of Bart chocolate statue
The Thinker by Auguste Rodin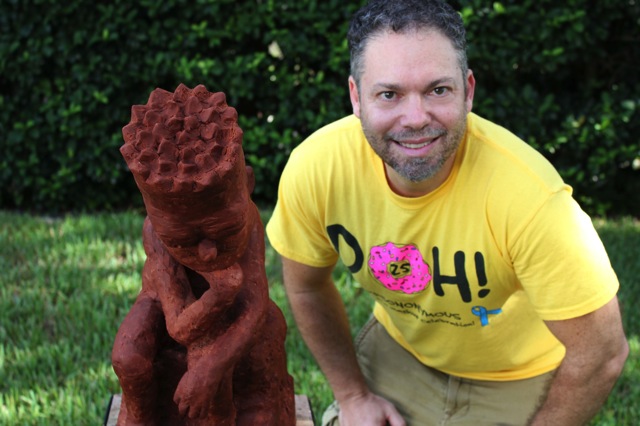 Here's a photograph of Paul Joachim beside his Bart Simpson Chocolate Statue.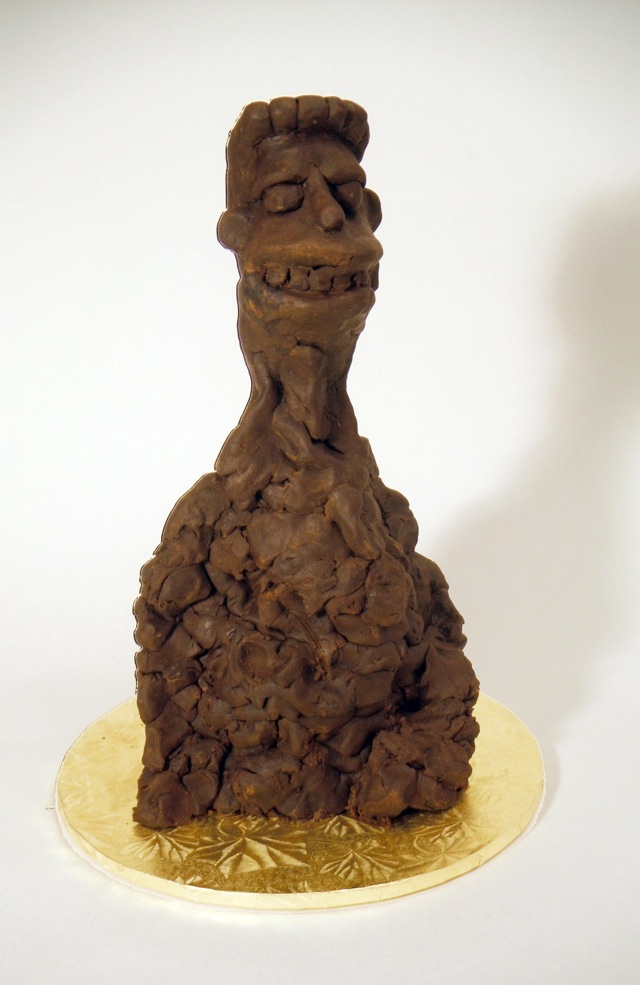 Burton Farnsworth of Cake FX created this Marvelous edible version of Troy McClure. This sculpture looks just like a stalagmite. Troy is at the top of a chocolate rock formation and is on a golden cake board. Troy's head narrows at the top just like a stalagmite narrows at the top. This Simpson's cake is based on the works of Swiss Sculptor Alberto Giacometti.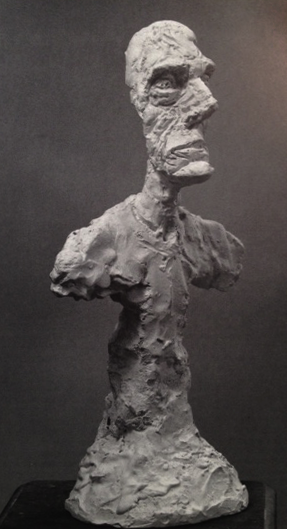 Inspiration – Bust of a Man by Alberto Giacometti
Here's a photo of Burton Farnsworth hanging beside his Splendid Simpsons artwork.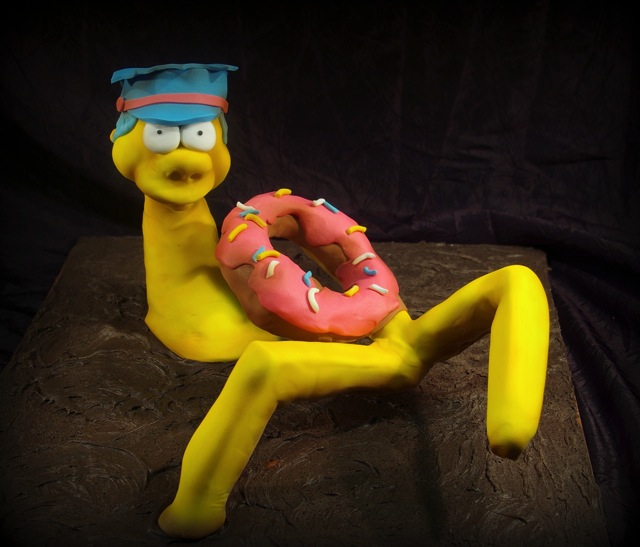 This Awesome Chief Wiggum sculpture was made by Eat Cake Party. Chief Wiggum is yellow and thin. His leg looks somewhat like a banana. He is wearing a blue cap with a pink band. A pink iced donut is sitting on top of him. The cake board is brown with a rough texture.  The figure of Chief Wiggum is reclining on the cake board. This Simpsons sculpture was inspired by the works of British scultpor Henry Moore.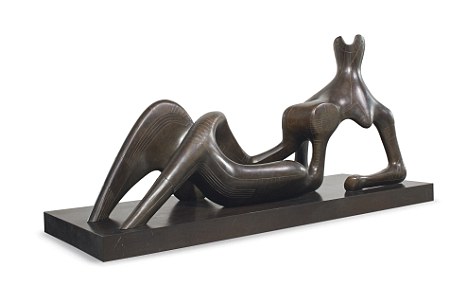 Inspiration – Reclining Figure by Henry Moore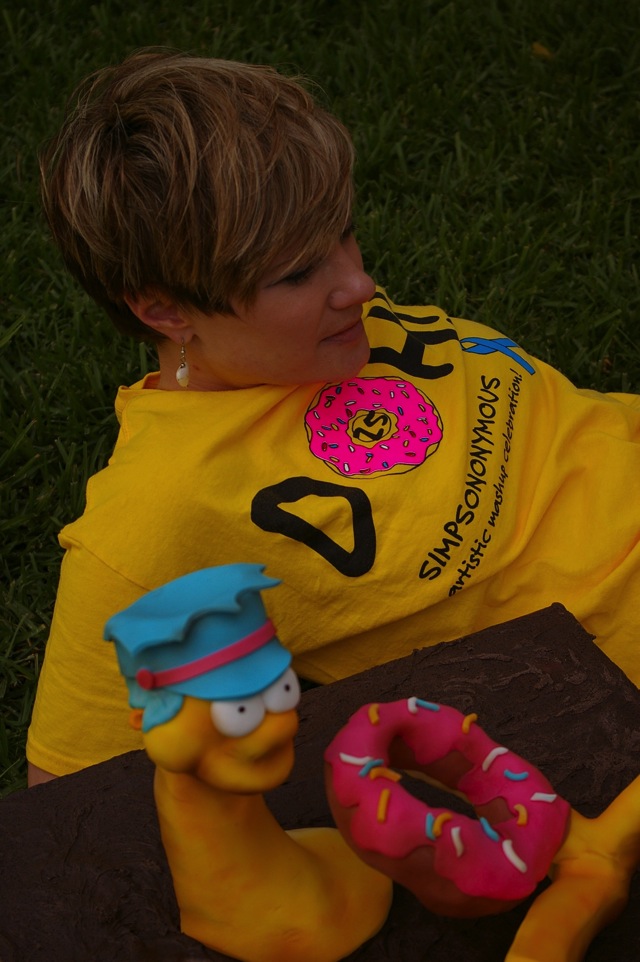 Here's a picture of Dorothy Klerk posing beside her Superb Chief Wiggum sculpture.
Kyoko from Sugar Voyager crafted this Magnificient Apu edible artwork masterpiece that consists of three separate pieces featuring Apu. He is a statue holding a Happy 25th Anniversary sign and looks like he could be a cake topper. Apu is in a painting modeled after Henri Matisse painting The Sorrow of the King and he is featured in a sculpture based on the Gustav Klimt painting The Kiss.
Close-up of Apu figure standing beside the picture with Apu in the left hand lower corner.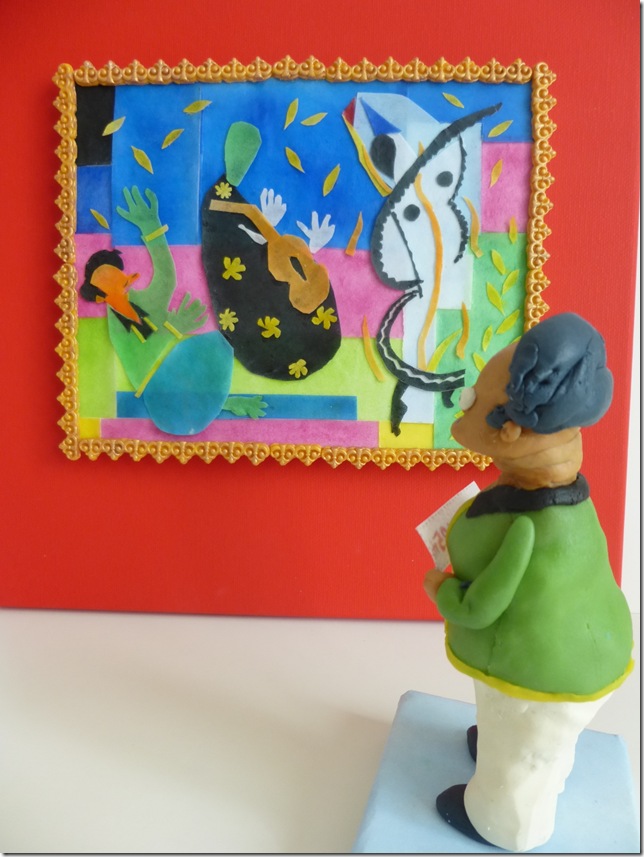 Apu statue looking at The Sorrow of the King Simpson style.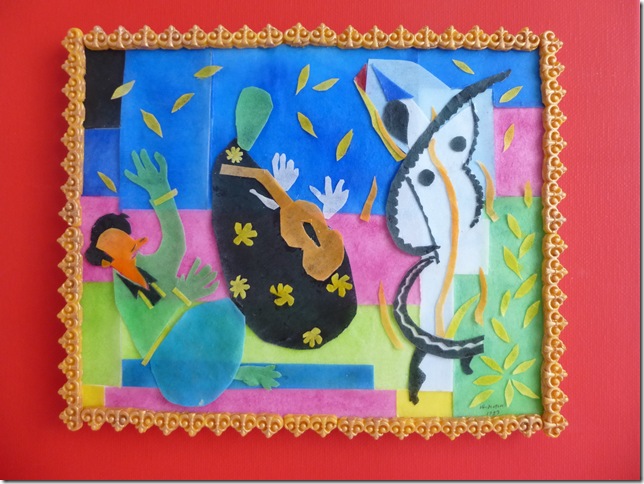 Simpsons painting modeled after The Sorrow of the King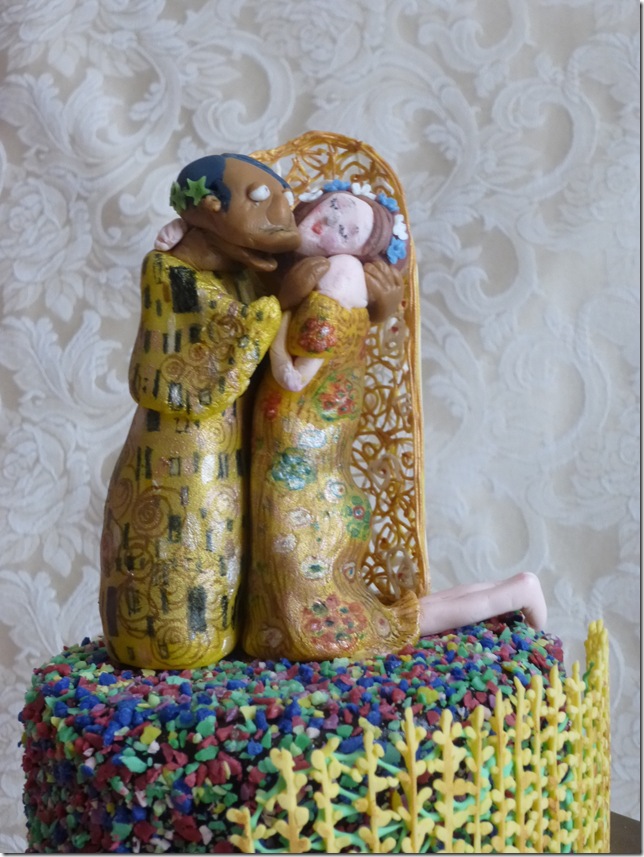 Apu in a Simpsons version of The Kiss
Close-up of Apu in the Simpsons version of Gustav Klimt The Kiss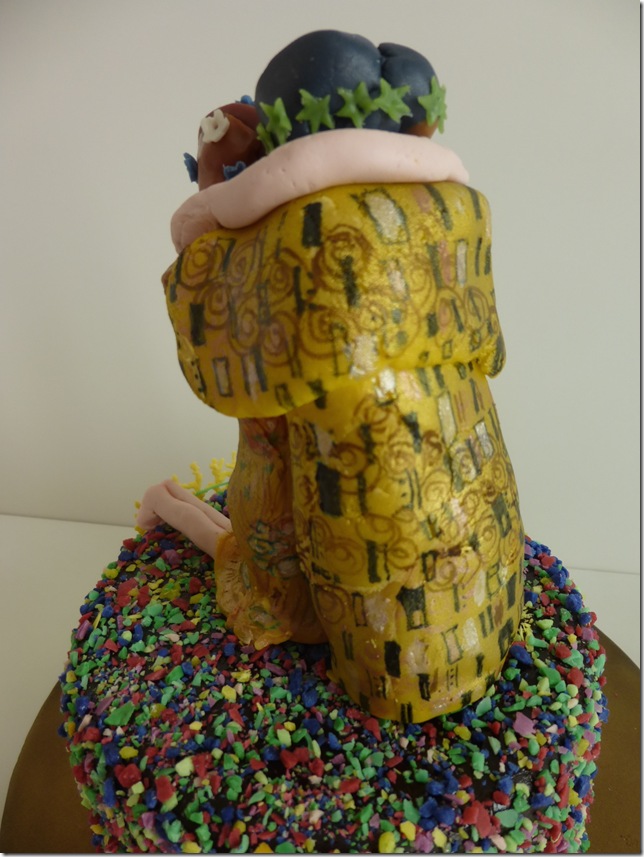 Back view of Apu sculpture
Inspiration – Gustav Klimt The Kiss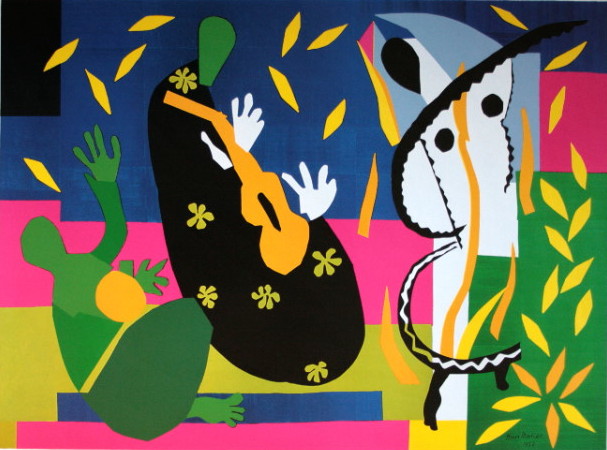 Inspiration – Henri Matisse The Sorrow of the King
Kyoko with her Fabulous Simpson's creations.