Welcome to Day 2 of Simpsononymous!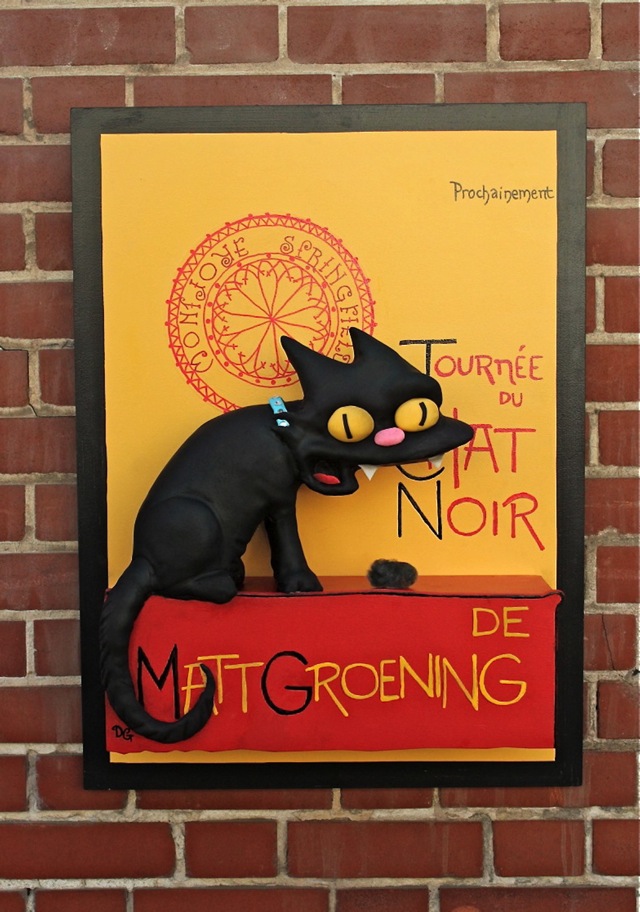 Debbie Goard of Debbie Does Cakes created this fabulous edible poster with Snowball from The Simpsons. This marvelous poster is based on Tournée du Chat Noir below. The poster has a yellow background with red and black writing. At the bottom is a red platform where Snowball is sitting. There is a small hairball in front of Snowball.
I love this photo of the edible version beside a picture of the original Tournée du Chat Noir, a Vintage Poster by Theophile Alexadre Steinlen.
Here's a picture of Debbie Goard with her edible masterpiece.
Michelle Lynn Honeman from Artisan Cakes By Michelle made this Marvelous Itchy and Scratcy edible painting. The background of the painting is a wonderful orange and yellow sunset. Itchy and Scratchy have giraffe life legs and have a bottle of Duffs beer on top of each of them. There is a small character on the ground between them.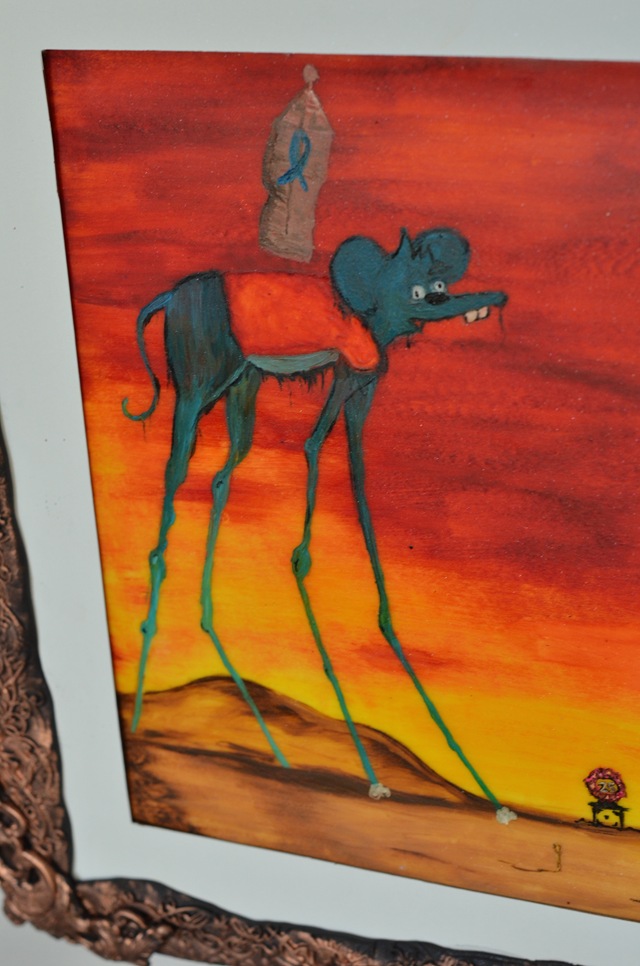 Close-up of Itchy
Close-up of Scratchy
The detail on the frame is amazing!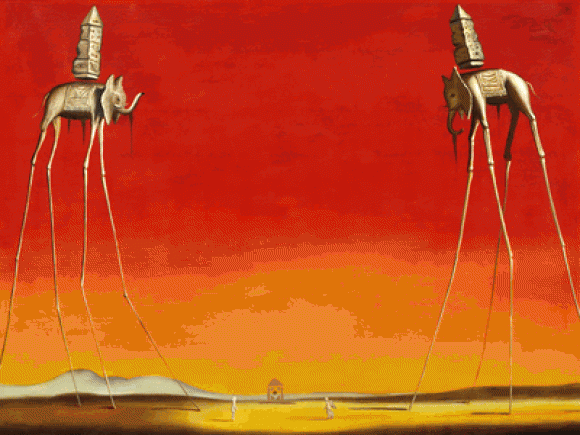 The Itchy and Scratchy painting is based on Salvador Dali's The Elephants.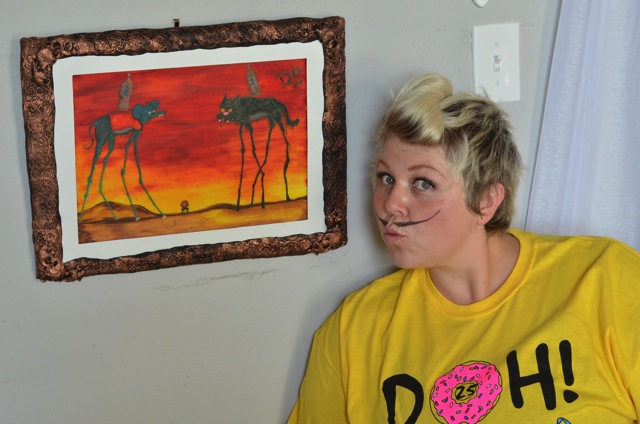 Here's a picture of Michele Lynn Homeman (with a Salvador Dali mustache) and her delicious creation.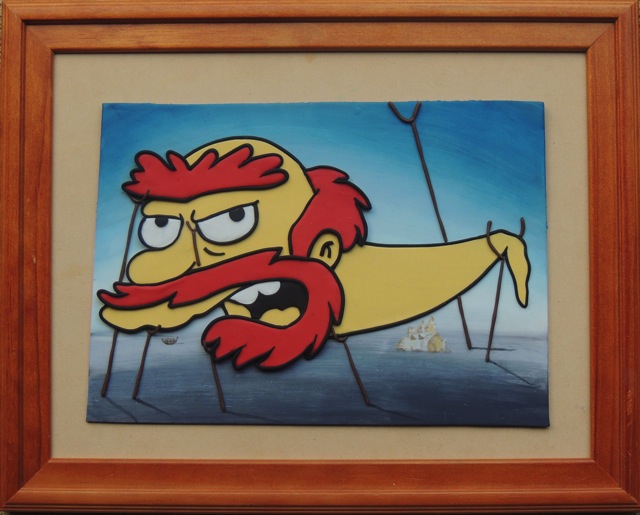 Raewyn Read from Cakes by Raewyn made this terrific Willie the Groundskeeper edible portrait. Willie is over the ocean suspend on on hooks. Whit the giant head and his arm stretched out behind him, he is shaped much like a whale.
Raewyn inspiration for this cake was another Salvador Dali painting. This time it was Dali's Sleep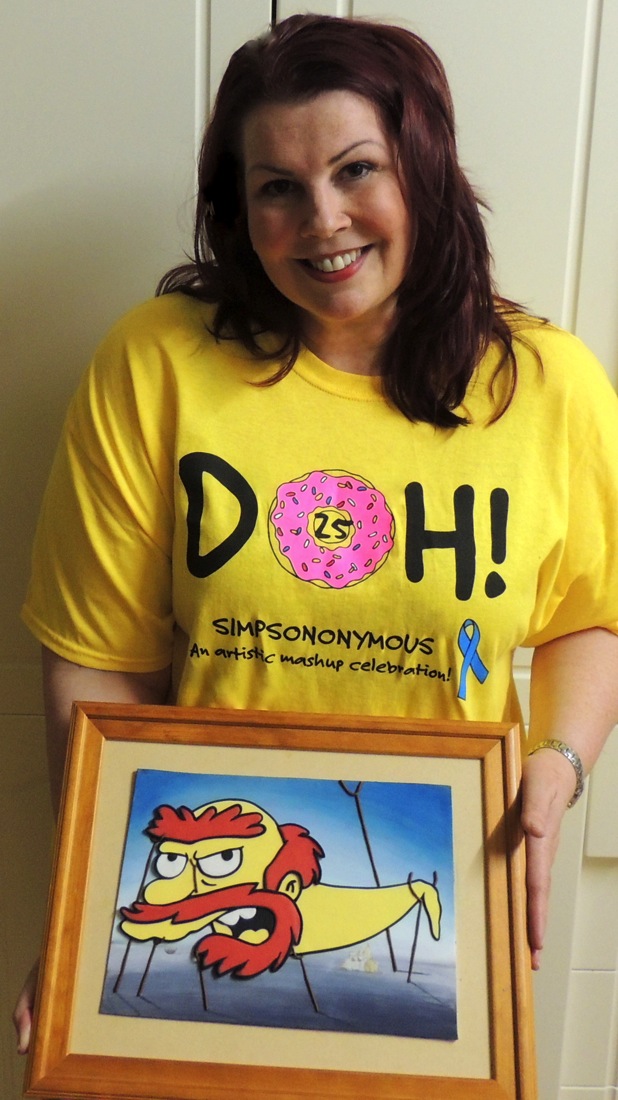 Here's a picture of Raewyn Read with her edible work of art.
Rudy Martinez of Man Bakes Cake created this Fabulous Patty and Selma Bouvier portrait. Patty and Selma are wearing long dresses and have a red ribbon that runs from the neck of one to the neck of the other. At each end of red ribbon is a red heart that is in the middle of each lady's chest. They both have gray hair. One is holding scissors in her hand. The background of the painting looks like multicolored blue choppy seas with white caps.
The inspiration for this cake was The Two Fridas by Frida Kahlo.
Here's Rudy Martinez with his Great edible painting.
Liz Marek of Artisan Cake Company did this Superb edible portrait of Mr. Burns from The Simpsons. Mr. Burns is standing inside a pink seashell. His only covering is money in needed places. On one side of him is a woman with long red hair wearing a long white flowered dress and holding a cloak for him to put on. On the other side is a winged couple.
Here are three close-ups of this portrait.
This is based on The Birth of Venus which is shown below.
The Birth of Venus by Sandro Botticelli
Here's a picture of Liz Marek with her fantastic edible artwork.