Simpsononymous is an Artistic Mashup Celebration organized by Jean Schapowal of Cakes with Character. She has gotten 40 top sugar artists and cake designers together to do a series of cakes and other edible artwork to celebrate the Simpsons 25th Anniversary.  Each of these edible creations uses one Simpsons character and a design that has the character combined with pop, impressionism, or surrealism or a design that is fashioned after a famous painting.  This unveiling on September 28th 2014, coincides with the 2014 television season premiere of The Simpsons. These creations will be featured in the November issue of Cake Masters magazine.
A great thing about this event is that it is promoting cancer awareness and prevention because Sam Simon, one of the co-creators of the Simpsons, has terminal colon cancer. Each baker is wearing a Simpsononymous t-shirt with the blue colon cancer ribbon on it in their photo with their creation.
Jean asked me to help promote this event so Between The Pages will be featuring these wonderful Simpson's edible works of art for the entire week to celebrate 25 years of The Simpsons and to help promote cancer awareness and prevention.  Simpsononymous has a website and Facebook page.
The first of these is from Jean Schapowal of Cakes with Character from Hicksville, NY, the organizer of this wonderful event.
The character that Jean chose from the Simpsons was Comic Book Guy. For this terrific cake, Comic Book Guy has red and blue dots all over him as he pops up out of a comic book sound effect holding in his hand a man. The comic book sound effect has red dots, black and white stripes, and 25 years in yellow. This Simpson's cake was modeled after Roy Lichtenstein artwork and the cover of the first issue of The Fantastic Four.  Roy Lichtenstein is famous for paintings and sculptures stylized after 4 color comics where you can see the actual color dots.  Jack Kirby's cover to Fantastic Four #1 has a monster on it, popping up out of the pavement and holding someone in his hand. It think it is great the way Jean modeled her cake after a well-known comic book cover for her Simpson's character Comic Book Guy.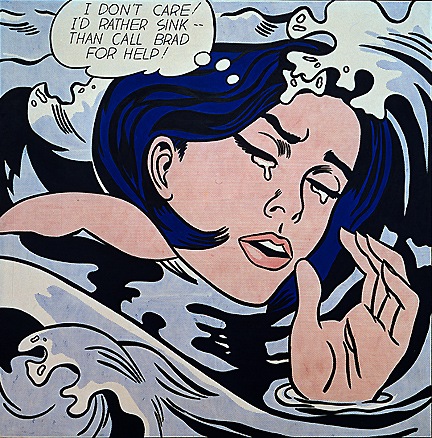 Roy Lichtenstein's Drowning Girl
Roy Lichtenstein's Head With Blue Shadow
The cover of Fantastic Four #1 by Jack Kirby and Art Simek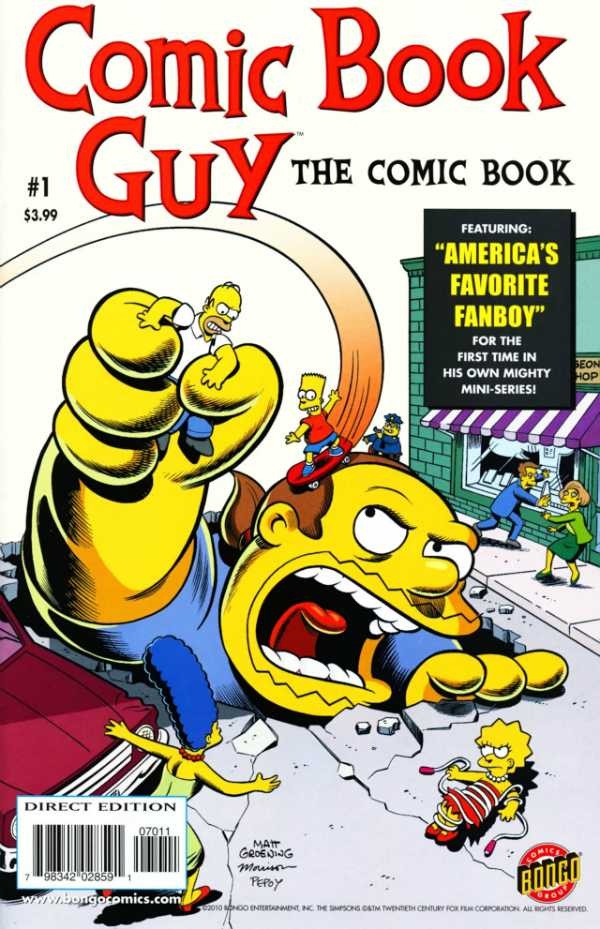 When Bongo Comics gave Comic Book Guy a mini-series, they chose to make the cover to the first issue a homage to Fantastic Four #1.
Here's a picture of Jean Schapowal with her Comic Book Guy Cake.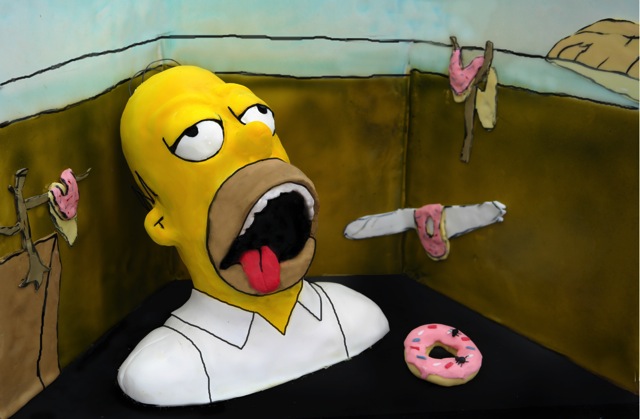 Lara Clarke of Tasty Cakes made this Wonderful Homer Simpson art masterpiece. This piece features Homer with flattened donuts hanging around him. Homer is wearing a white shirt and has his tongue hanging out. There are deflated donuts hanging around him and a pink iced donut with flies on it in front him. This cake is based on Salvador Dali's The Persistence of Memory. There are flattened clocks on the original piece while there are donuts on the Homer Simpson version.
The Persistence of Memory
Here is the artist Lara Clarke beside her creation pretending to eat the donut that was in front of Homer.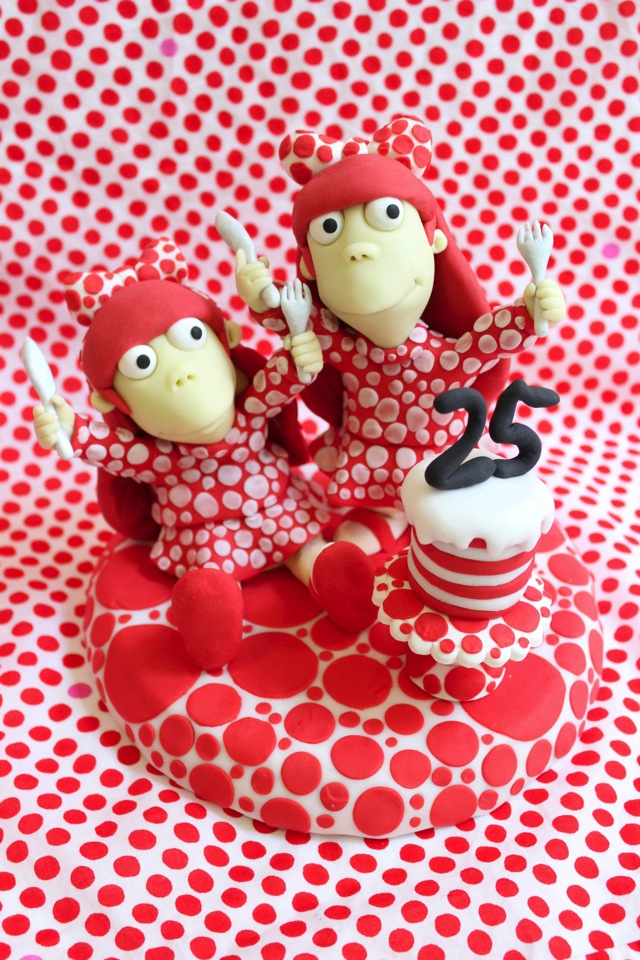 Sachiko Windbiel of Mimicafe Union made this Fabulous Cake featuring Sherri and Terri Mackleberry from The Simpsons. The cake board is covered in a white background with red dots of different sizes. Sherri and Terri have red hair and are wearing red dresses with white dots, while sitting in red chairs. They are wearing red shoes. There is a white table in front of them with red dots that holds a red and white striped cupcake topped in white with a black number 25 at the top. This Cake was based on the work of Yayoi Kusama.  One of the things that Yayoi is famous for is red and white polka dotted artwork.  Many photographs have her with red hair and wearing a dress almost identical to the ones worn by Sherri and Terri.
Yayoi Kusama created this for Louis Vuitton
Yayoi Kusama's Dots Obsession
Here is a picture of Sachiko Windbiel holding her fabulous Sherri and Terri Cake.
Erin Salerno created this marvelous Edna Krabappel figure. Edna is wearing green and has brown hair and brown wings.  The figure beside her also has brown hair and brown wings. This edible masterpiece is based on the cherubs in The Sistine Madonna by Raphael.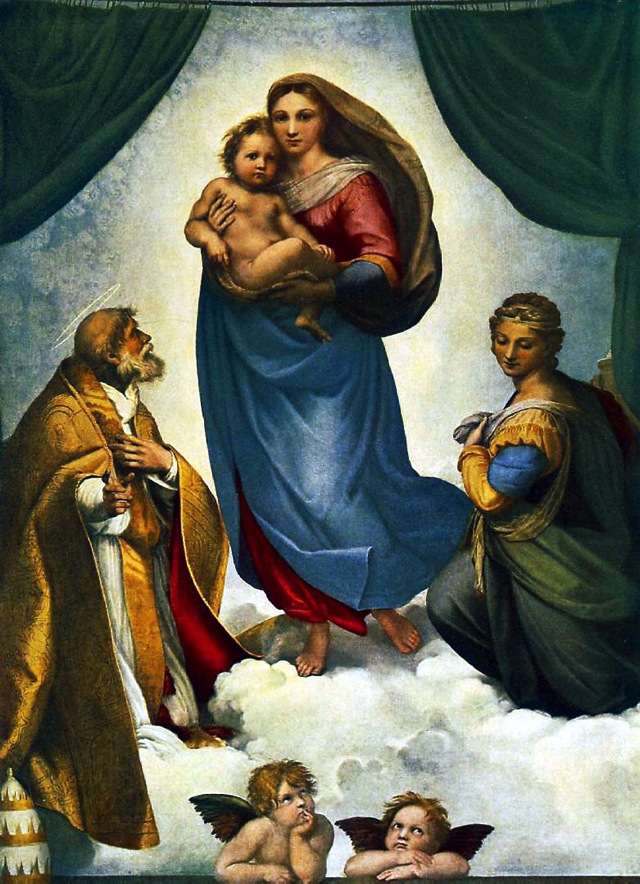 Here's the Sistine Madonna by Raphael with the two cherubs at the bottom.  These cherubs have brown wings and golden hair and the same facial expression as on Erin's cake.
Here is Erin with her gorgeous Edna Krabappel cake.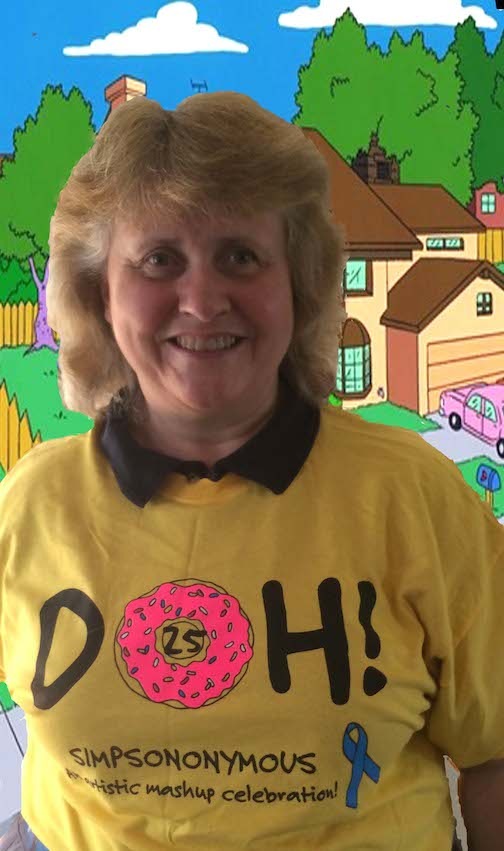 Jean also sent me a Simpsononymous shirt! 
Remember to come back tomorrow and all week for more Simpsons goodness.