Welcome to Day 7 of Simpsononymous!
Steve Barela of Child's Pastry Shop created this Magnificent blue Otto Mann picture. The entire picture is done is shades of blue except for the guitar, which is in light and dark brown and Otto's hair and eyes, which are black. This edible portrait was airbrushed onto fondant. This Wonderful Simpson's picture is based on The Old Guitarist by Picasso.
Inspiration – The Old Guitarist by Picasso
Here's a photo of Steve Barela with his Terrific Otto Mann portrait.
Kerri Partridge Morris from Somethin' Sweet made this Fabulous Crazy Cat Lady edible masterpiece. The Crazy Cat Lady aka Eleanor Abernathy has her cats gathered together to go onto the ark. The Cat Lady is wearing a pink long dress with a light purple cloak. She has a wooden staff and has 2 blue cats at her feet. She is holding 2 black cats and 2 orange and black striped cats. This Simpson's edible painting is based on Noah's Ark by Edward Hicks.
Here's a picture of a real cat with the Crazy Cat Lady and her cats
Close-up of Eleanor Abernathy aka Crazy Cat Lady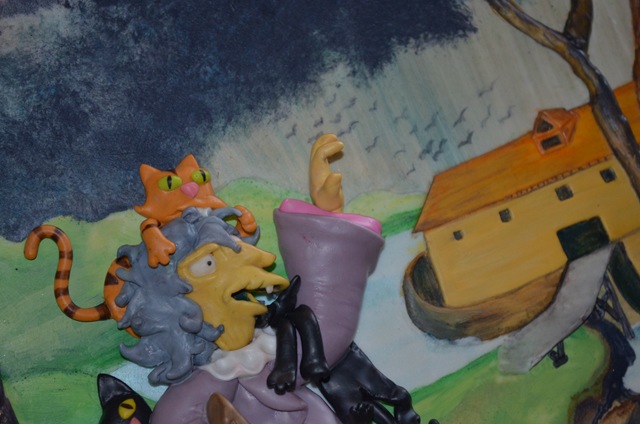 Close-up of Orange and black striped cat on Crazy Cat Lady's head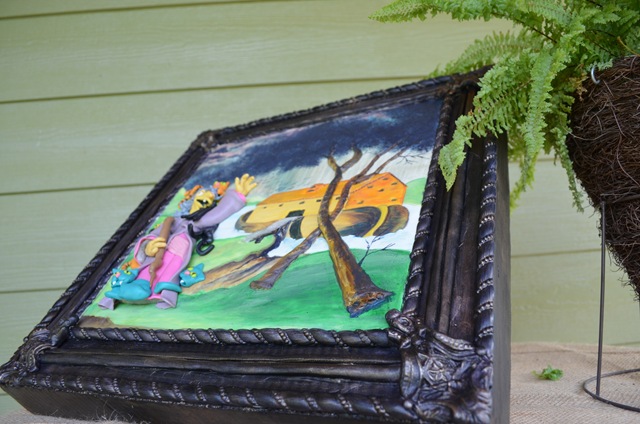 Picture frame view
Close-up of picture frame corner 
Inspiration – Noah's Ark by  Edward Hicks
Here's a picture of Kerri Partridge Morris with her Great Simpson's edible artwork.
Hajnalka Mayor of Zorica's Cake Art made this Superb edible Simpsons artwork featuring Lunch Lady Doris aka Doris Freedman. Doris is wearing a blue patterned skirt. There is a brown bear and ladies in white standing around her. This Amazing Lunch Lady Doris was inspired by Gustav Klimt's Beethoven Frieze. Lunch Lady Doris replaced a figure that represented intemperance in the original artwork. This picture was hand painted onto a fondant canvas with edible colors, an edible marker, and cocoa butter. 
Left side of the picture
Right side of the picture
Inspiration Klimts' Beethoven Frieze
Here's a shot of Hajnalka Mayor with her Splendid Simpson's creation.
Jamie Ho of Wicked Little Cake Company created this Fabulous Disco Stu from the Simpsons. Disco Stu is sitting on top of a silver disco ball. He is wearing a white suit with a black shirt.  The disco ball is crashing into a white cement block wall.  The hole left in the wall by the disco ball is rainbow colored. This Terrific Simpson's artwork was inspired by the works of Banksy.
Inspiration – The artist Banksy
Here's a photograph of Jamie Ho with her Great Disco Stu work of art.
Faye Cahill of Faye Cahill Cake Design made this Wonderful edible portrait of Luann Van Houten from the Simpsons. Luann is sitting on a bed propping on a white pillow. She is wearing navy blue leggings with a light blue dress. She has long blue gray hair and is wearing red glasses. The painting has a dark orange background. This painting was painted onto fondant using edible paints and framed with a moulded fondant frame. This Wonderful Simpson's masterpiece is based on Andre Derian's – Dancer at Le Rat Mort also called Woman in Blue.
Inspiration – Andre Derian's – Dancer at Le Rat Mort
Here's a picture of Faye with her Splendid edible masterpiece.