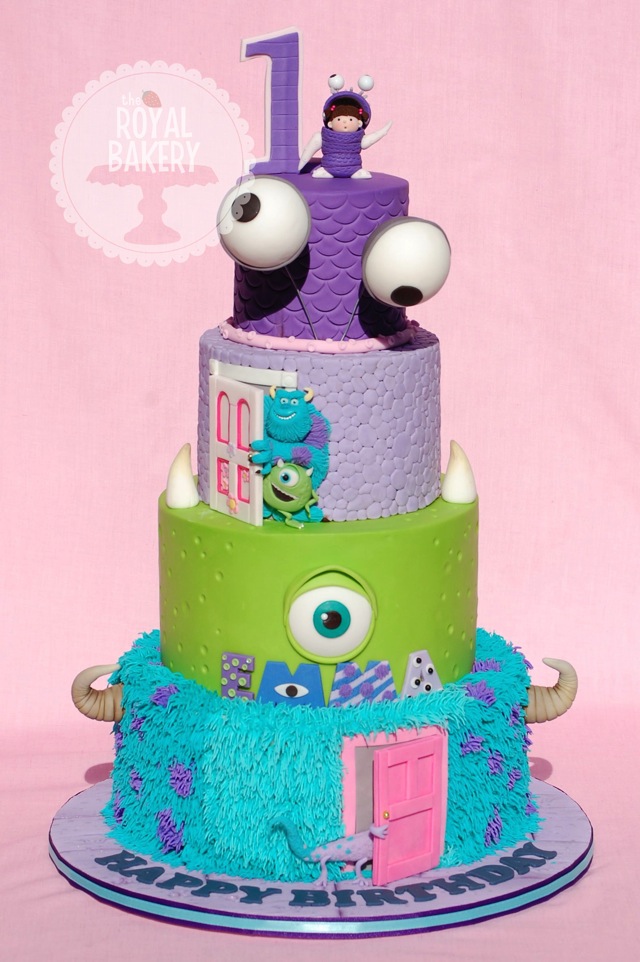 Boo Says Happy Birthday! Monsters Inc Style with this Monsters, Inc cake representing Mike, Sulley, Randall, and Boo. This Fabulous Monsters, Inc. Birthday Cake was made by the The Royal Bakery.
This Disney cake is a four layer mashup of the Monsters, Inc. characters: Mike Wazowski, James P. Sullivan (Sulley), Randall Boggs, and Boo (her costume texture). In addition the cake board is light purple/mauve and has Happy Birthday written in large dark blue letters. Also the cake was made using 10 inch, 8 inch, 6 inch, and 4 inch cake layers.
Firstly the bottom layer represents Sulley and has his blue and purple fur and two horns, one on each side of the cake layer. It took three hours to make his marvelous blue fur with purple spots using a grass decorating tip. In the middle of this layer is a pink door and pink doorframe. Also Randall is coming out of the door and blending into the color of the blue cake in the chameleon manner for which he is known.
Next the next layer represents Mike Wazowski and is lime green with two white horns on top and a single large eye in the middle. Also the Birthday girl's name is at the bottom of the layer. In addition each letter has a different Monsters, Inc. related pattern.
Also the next layer is a textured mauve color to represent Randall's skin. It took three hours to place each individual scale of Randall's skin onto the cake. Furthermore Mike and Sulley are coming out of Boo's door. The door is white with pink trim and pink flowers.
After that the top layer of the cake is purple with the pattern of Boo's monster costume. There are 2 large round eyes sticking up in front of the cake, just like the ones on Boo's costume. Boo is on top of the cake in her purple monster costume waving a Happy Birthday greeting. She is standing beside a large purple number '1' for the birthday age.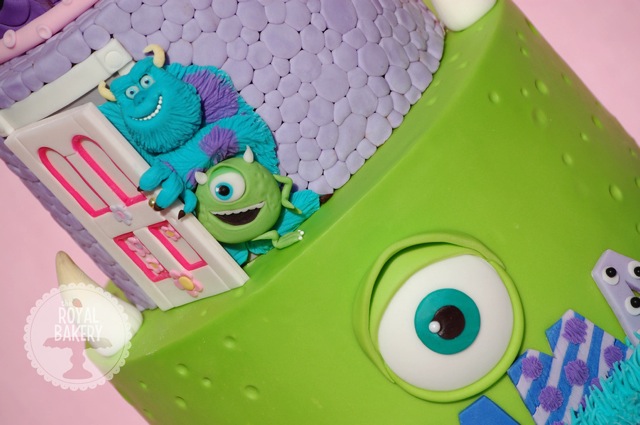 Finally here's a Close-up of Mike and Sulley peaking out of Boo's door.
Looking for Monsters, Inc party ideas?
Spooktacular Monsters Inc. Cake Pops
Boo's Birthday celebration with James Sullivan and Mike cake